Reviewed by Katrina Ortega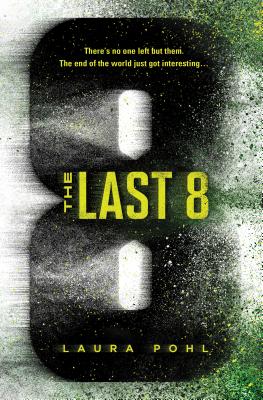 DESCRIPTION OF THE BOOK: Clover Martinez has always been a survivor, which is the only reason she isn't among the dead when aliens invade and destroy Earth as she knows it. When Clover hears an inexplicable radio message, she's shocked to learn there are other survivors—and that they're all at the former Area 51. When she arrives, she's greeted by a band of misfits who call themselves The Last Teenagers on Earth. Only they aren't the ragtag group of heroes Clover was expecting. The group seems more interested in hiding than fighting back, and Clover starts to wonder if she was better off alone. But then she finds a hidden spaceship, and she doesn't know what to believe…or who to trust.
MY TWO CENTS: The Last 8 is a solid science fiction read. For those who are passionate about sci-fi, the book presents a really enticing plot that keeps the reader on the edge of their seats. Readers are taken on a journey with Clover and forced to contend with the mysterious beings that have taken over the planet and decimated all forms of life (with the exception of a tiny population of which Clover is a member). Clover can find no way of killing them, and is completely clueless as to why they do not seem to notice her, even though they've obliterated every other living thing around her.
Her arrival at Area 51, six months after the initial contact with these otherworldly beings, introduces her to a seemingly random group of other teens who, like her, pass unnoticed by these violent beings. This group of teens, as it turns out, may not be as random as the reader thinks (but I won't give any spoilers!). The plot is a pretty solid suspense ride, with thrills heightening as these teens try to figure out a way to overcome these new alien overlords.
The best thing about this book is Clover. Clover is a complicated and well-formed character.
She highlights a number of really interesting qualities that are not often explored in YA (or any) literature. First, though it's never delved deeply into, she seems to be a character who is not immediately looking for romance or any sort of sexual relationship (i.e. Clover is aromantic/asexual – it's never blatantly stated, but heavily implied). The reader comes to understand her complicated relationship with her ex-boyfriend, as one that Clover was appreciative of because she is able to appreciate people in her life without it needing to be about romance or sex.
Additionally, throughout her journey to Area 51, Clover goes through periods of serious helplessness and severe depression to the point that she realistically contemplates suicide. I find it refreshing that Pohl is up-front about Clover's feelings as she travels through the country for the six months between the initial alien contact and her arrival at Area 51.
Another great thing about this book is that it involves a large and diverse cast. The readers see young people who come from all areas of this country, and even from abroad. There is a great variety of ethnicities and sexual identities. I appreciate that this is becoming more common in YA literature, but an example like this one, where the characters are intersectionally diverse (ethnically and sexually diverse at the same time) is particularly admirable.
While an overall good start to this series, there are a couple of weaker points. First, though it's made clear that Clover has been flying planes for a large part of her life and that she is genetically designed to be better at this than any other living being on Earth, it was still hard to wrap my head around the idea that she's not only adept at flying very high-level military grade aircrafts, but that she's so adept she can fly several different ones with no training whatsoever. Now, I completely understand that this can be explained by the idea that she's not entirely human and therefore has superhuman capabilities, but it was still a stretch for me.
Lastly, the ending was not only confusing, but it seemed very rushed and slapped together. This is particularly unfortunate because Pohl spends a good amount of time really building up the middle portion of the book. It would have been worthwhile to focus on continuing that trend through the rest of the novel.
Overall, though, this was a great read, and I'm excited to see what happens in the second book of this duology!
TEACHING TIPS: The Last 8 was a thoroughly entertaining read, and any lover of sci-fi or adventure novels would find it a fast and fun read.
This book's greatest teaching points come from the conversations about relationships and mental health that the book encourages. I love that many YA writers make it a point to destigmatize the diversity of these two things and challenge the ways readers might think about these topics. Honestly, if you think about the situation that Clover finds herself in, it is plain that anyone would be overcome with a sense of hopelessness and loss. Pohl's description of Clover's thought processes is legitimate and accurate and can be a great way to begin having conversations about what loneliness and depression are and how both can affect our mental health.
The book also brings to light relationships and individuals that are healthy and diverse. Clover's relationships with her grandparents, her ex-boyfriend, and her newfound group of friends illustrate how vastly different relationships can look. Additionally, Clover's character is one that is in charge of the interactions that she wants to have with people. She's open and honest about how she feels, romantically or friendship-wise, and that is absolutely something that should be explored more in conversations with youth and adults.
ABOUT THE AUTHOR (from Author's Website): Laura Pohl is a YA writer and the author of THE LAST 8 (Sourcebooks, 2019). She likes writing messages in caps lock, quoting Hamilton and obsessing about Star Wars. When not taking pictures of her dog, she can be found curled up with a fantasy or science-fiction book. A Brazilian at heart and soul, she makes her home in São Paulo.
ABOUT THE REVIEWER: Katrina Ortega (M.L.I.S.) is the Young Adult Librarian at the Hamilton Grange Branch of the New York Public Library. Originally from El Paso, Texas, she has lived in New York City for six years. She is a strong advocate of continuing education (in all of its forms) and is very interested in learning new ways that public libraries can provide higher education to all. She is also very interested in working with non-traditional communities in the library, particularly incarcerated and homeless populations. While pursuing her own higher education, she received two Bachelors of Arts degrees (in English and in History), a Masters of Arts in English, and a Masters of Library and Information Sciences. Katrina loves reading most anything, but particularly loves literary fiction, YA novels, and any type of graphic novel or comic. She's also an Anglophile when it comes to film and TV, and is a sucker for British period pieces. In her free time, if she's not reading, Katrina loves to walk around New York, looking for good places to eat.