Review by Marcela Peres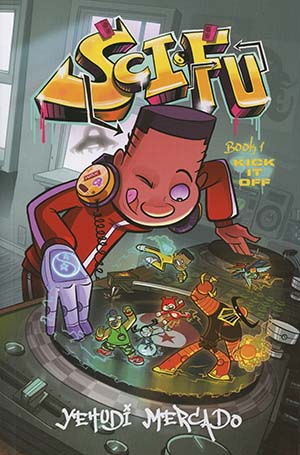 DESCRIPTION OF THE BOOK: Thirteen-year-old Wax's life may not be perfect. But that doesn't stop him from spinning some of the sickest beats on their Brooklyn block… but he's a better DJ than he thinks.
One night, while making a mixtape for his crush, Wax scratches the perfect beat and responds to an interstellar challenge that transports him and the entire block to the robot-filled planet of Discopia. Mistaken by the locals for a master of the futuristic, sound-bending martial art known as SCI-FU, Wax finds himself on the wrong side of a showdown against the Five Deadly Dangers and their leader, Choo Choo.
With help from the sci-fu master Kabuki Snowman and Wax's crew—including his best friend Cooky P, his sister The D, and even his crush, Pirate Polly—Wax has to become a sci-fu master or risk losing Earth forever!
MY TWO CENTS: Sci-Fu is a love letter mixtape to all things 80s hip hop that can be appreciated by middle grade readers and adults alike. It's a book that demonstrates the power of graphic novels to speak to the senses: the colors and lettering, heavily influenced by graffiti art and 8-bit video game graphics, are so vibrant and kinetic that you can almost hear the music popping off the page. At the end, writer-illustrator Yehudi Mercado includes a link to a Spotify playlist of iconic old school hip hop that will make you want to re-read the book while listening—and actually, I'd recommend it.
Main character Wax moves through his hero's journey against a psychedelic sci-fi background, first in a diverse, multilingual 1980s Brooklyn alive with cool characters, fashion, and of course, sick beats, and then on to Discopia, the alien robot planet Wax has to save. He dreams of becoming the best DJ in the universe, but also struggles with normal kid problems, like fending off bullies and finding the courage to talk to his crush. Under the tutelage of his alien Sci-Fu sensei, Kabuki Snowman, and support from his friends and family, Wax faces off against a team of fantastical villains that, in classic hip hop fashion, are clearly sampled from some of the best of 80s pop culture. He'll learn the skills he needs to save the universe and come into his own as a DJ and a person in the process, learning valuable lessons about hard work, friendship, and standing up for oneself.
There is a lot to love about Sci-Fu, especially its cast of interesting supporting characters. Pirate Polly escapes the typical love interest trope with an exciting side plot and destiny, and smart, take-charge little sister The D deserves a spin-off series of her own. Sidekick Cooky P is a loyal friend who pushes Wax to keep improving, and ice cream-truck driving guardian Uncle Rasheed provides some comic relief in the form of dessert-flavored expletives. The villains rap, in a fun twist on typical superhero-fight banter, and bring their own surprise swerves to the storyline and its eventual resolution.
Many elements, from the plot to the characters to the visual style, are clear homages to music, films, and even other comics. Perhaps strongest here is the "boys adventure" plot type, like the classic Stand by Me or modern throwback show Stranger Things. However, refreshingly, here we get a kids adventure with a mix of genders and backgrounds, and a plot firmly rooted in African-American and Afro-Latinx culture. This is not the 1980s of frizzy perms and synthesizer pop. This is tracksuits and sweatbands, Pan-African pendants, chunky hoop earrings and roller skates, and De La Soul. And the best part is, it's only Book One.
TEACHING TIPS:
Writing: Students could be encouraged to write raps (and rhymes) about their own lives in alternating pairs, just like many of the tracks we hear from Wax and Cooky P.
Using onomatopoeia to tell stories: Many of the sound effects in Sci-Fu are examples of onomatopoeia (click, BOOM, whing) or in the Sci-Fu martial art, slang words (wiggedy wack) can be used as attacks. Ask students to illustrate scenes using onomatopoeia sound effects to bring their stories to life.
Kung-Fu: One aspect of Sci-Fu that could be better explored is the major influence of kung-fu and martial arts. Research the history of kung-fu and martial arts in American culture, especially in film and its impact on Black culture (for example, on breakdancing).
History of hip-hop: Learn about the history of hip hop, especially around when Sci-Fu takes place. Visit online collections such as The Cornell Hip Hop Collection and the Hiphop Archive & Research Institute to see examples of early intersections between hip hop and visual culture (graffiti, DJ flyers, zines). Create zines or flyers inspired by these works.
ABOUT THE AUTHOR/ILLUSTRATOR: Yehudi Mercado is a self-proclaimed Pizza Laureate, cartoonist, writer and animator living in Los Angeles by way of Austin, Texas. Yehudi spent many an afternoon in detention during his formative years and credits that "thinking about what you've done time" for his unstoppable imagination. As a latchkey kid, Yehudi would choreograph elaborate kung-fu fight scenes set to his Run-D.M.C. and Beastie Boys records, thus providing the foundation for Sci-Fu. His projects as writer-illustrator include Rocket Salvage, Hero Hotel and Pantalones, TX.
ABOUT THE REVIEWER: Marcela was born in Brazil and moved to the U.S. at the age of three, growing up in South Florida. She is now the Library Director at Lewiston Public Library in Maine. Marcela holds a Master of Library and Information Science degree from the University of Illinois at Urbana-Champaign, where she concentrated on community informatics and library services to teens. She is a copy editor for NoFlyingNoTights.com, has served on the Will Eisner Graphic Novel Grants for Libraries jury, and speaks about comics in libraries at library conferences and comic conventions. She can be found on Twitter @marcelaphane and Goodreads.