.
We are an affiliate with Indiebound and Bookshop. If If you make a purchase through these links, at no additional cost to you, we will earn a small commission.
In addition to listing 2022 titles by/for/about Latinx on our master list, we will remind readers of what's releasing each month.
CONGRATULATIONS to these Latinx creators. Let's celebrate these February book babies!
.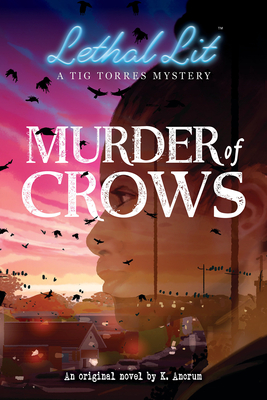 MURDER OF CROWS (Lethal Lit Novel #1) by K. Ancrum (Scholastic Inc., February 1, 2022). Young Adult. Lethal Lit follows Tig Torres, a Cuban American teen detective, in her hometown of Hollow Falls. In season one of the hit podcast, Tig used her smarts and fearlessness to track down the infamous "Lit Killer," a serial killer who staged his murders after death scenes from famous books. But there's no rest for courageous, mystery-solving teens in a place like Hollow Falls, and though the Lit Killer is now behind bars, his protégé, Tig's classmate and crush Oly, has disappeared!
And that's not the only game afoot. Tig has caught the attention of the town's local armchair detective group, the Murder of Crows. They're obsessed with Hollow Falls' dark past and fixated on a dangerous search for the missing body of the town's founder. There are rumors about what's buried with the body that could be life-changing for whoever finds it, and with a mission like that underway, it's not long before a member of the Murder of Crows turns up dead.
Tig, along with her friends Max and Wyn, steps in to help, but the stakes are getting higher and the hunt more deadly. Someone's willing to kill to keep the town's secrets buried, and if Tig's not careful, she'll be the Murder of Crows' next victim.
.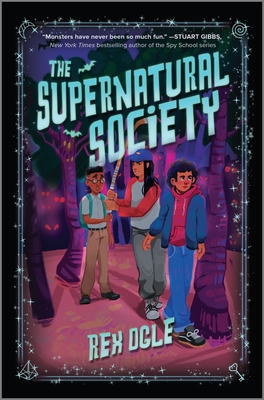 THE SUPERNATURAL SOCIETY by Rex Ogle. (Inkyard Press, February 1, 2022). Middle Grade. Will Hunter thought his life couldn't get any worse: His parents just got divorced, his best (and only) friend now is his dog, Fitz, and his mom moved them from New York City to the middle-of-nowhere town called East Emerson.
But Will was wrong–things are about to get way worse. Because East Emerson is filled with a whole lot of monsters, and he's the only person who can see them.
When all the town pets (including Fitz) go missing, Will suspects there's something sinister going on. So he joins forces with outcast Ivy and super-smart Linus to uncover the ancient secrets of East Emerson. Besides, nothing bad could happen when three sixth graders team up against monsters, magic, myths, and mad science . . . right?
.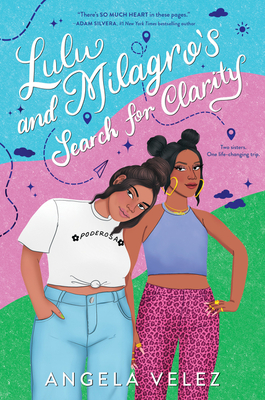 LULU & MILAGROS SEARCH FOR CLARITY by Angela Velez (Balzer + Bray, February 8, 2022). Young Adult. Overachiever Luz "Lulu" Zavala has straight As, perfect attendance, and a solid ten-year plan. First up: nail her interview for a dream internship at Stanford, the last stop on her school's cross-country college road trip. The only flaw in her plan is Clara, her oldest sister, who went off to college and sparked a massive fight with their overprotective Peruvian mom, who is now convinced that out-of-state-college will destroy their family. If Lulu can't fix whatever went wrong between them, the whole trip—and her future—will be a waste.
Middle sister Milagro wants nothing to do with college or a nerdy class field trip. Then a spot opens up on the trip just as her own spring break plans (Operation Don't Die a Virgin) are thwarted, and she hops on the bus with her glittery lipsticks, more concerned about getting back at her ex than she is about schools or any family drama. But the trip opens her eyes about possibilities she'd never imagined for herself. Maybe she is more than the boy-crazy girl everyone seems to think she is.
On a journey from Baltimore all the way to San Francisco, Lulu and Milagro will become begrudging partners as they unpack weighty family expectations, uncover Clara's secrets, and maybe even discover the true meaning of sisterhood.
.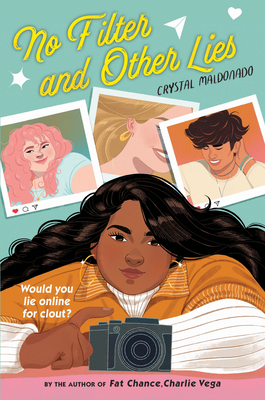 NO FILTER AND OTHER LIES by Crystal Maldonado. (Holiday House, February 8, 2022). Young Adult. Twenty one-year-old Max Monroe has it all: beauty, friends, and a glittering life filled with adventure. With tons of followers on Instagram, her picture-perfect existence seems eminently enviable.
Except it's all fake.
Max is actually 16-year-old Kat Sanchez, a quiet and sarcastic teenager living in drab Bakersfield, California. Nothing glamorous in her existence—just sprawl, bad house parties, a crap school year, and the awkwardness of dealing with her best friend Hari's unrequited love.
But while Kat's life is far from perfect, she thrives as Max: doling out advice, sharing beautiful photos, networking with famous influencers, even making a real friend in a follower named Elena. The closer Elena and "Max" get—texting, Snapping, and even calling—the more Kat feels she has to keep up the façade.

But when one of Max's posts goes ultra-viral and gets back to the very person she's been stealing photos from, her entire world – real and fake — comes crashing down around her. She has to figure out a way to get herself out of the huge web of lies she's created without hurting the people she loves.

But it might already be too late.
.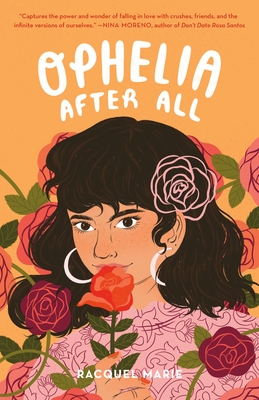 OPHELIA AFTER ALL by Racquel Marie (Feiwel & Friends, February 8, 2022). Young Adult. Ophelia Rojas knows what she likes: her best friends, Cuban food, rose-gardening, and boys – way too many boys. Her friends and parents make fun of her endless stream of crushes, but Ophelia is a romantic at heart. She couldn't change, even if she wanted to.
So when she finds herself thinking more about cute, quiet Talia Sanchez than the loss of a perfect prom with her ex-boyfriend, seeds of doubt take root in Ophelia's firm image of herself. Add to that the impending end of high school and the fracturing of her once-solid friend group, and things are spiraling a little out of control. But the course of love—and sexuality—never did run smooth. As her secrets begin to unravel, Ophelia must make a choice between clinging to the fantasy version of herself she's always imagined or upending everyone's expectations to rediscover who she really is, after all.
.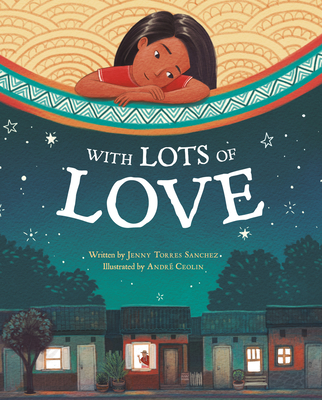 WITH LOTS OF LOVE by Jenny Torres Sanchez, illustrated by Andre Ceolin. (Viking Books for Young Readers, February 8, 2022). Picture Book. Rocio has grown up in Central America, but now she and her family are moving to the United States. Rocio does her best to adjust to a new way of living, but there are many things she misses from her old life—Abuela's cooking, Abuela's piñata creations, Abuela's warm hugs, and of course, Abuela herself most of all. But Abuela finds a way to send Rocio something special just in time for her birthday—a gift wrapped with lots of love—and that fills Rocio to the brim.
.
.
.
.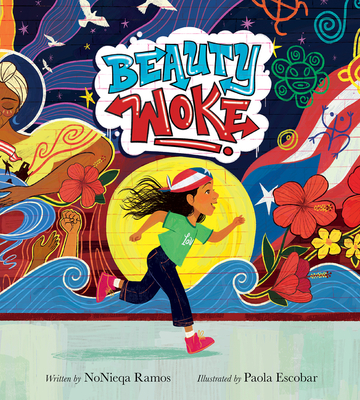 BEAUTY WOKE by NoNieqa Ramos, illustrated by Paola Escobar (Versify, February 15, 2022). Picture Book. Beauty is a Puerto Rican girl loved and admired by her family and community. At first, she's awake to their beauty, and her own—a proud Boricua of Taíno and African descent. But as she grows older, she sees how people who look like her are treated badly, and she forgets what makes her special. So her community bands together to help remind her of her beautiful heritage.
.
.
.
.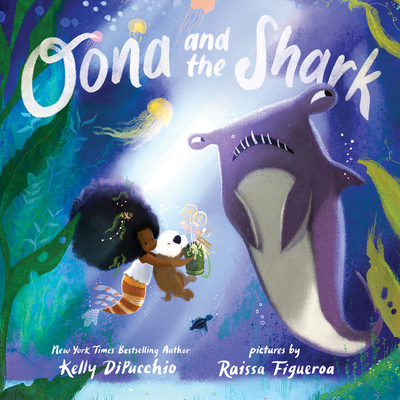 OONA AND THE SHARK by Kelly DiPucchio, illustrated by Raissa Figueroa (Katherine Tegen Books, February 15, 2022). Picture Book. Oona loves to share her inventions with her friends. They're big and bold and LOUD—just like her! But there's one underwater creature who doesn't seem to enjoy Oona's company, or her creations.
Stanley the shark! He doesn't care for her squeaky unicorn. And he's far too busy for the Sea Horse Carousel. And oh GOODNESS! Oona's latest hopping, chopping, and popping inventions just make him angry.
Oona may not know what Stanley likes, but she does know what he doesn't. And maybe that's a good place to start. Because mermaids never stop trying…not when there's a friend out there to make.
.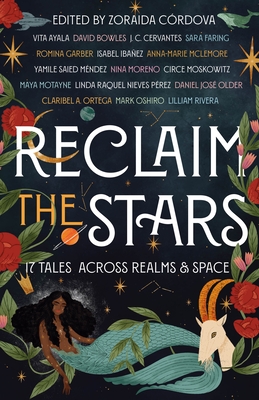 RECLAIM THE STARS: 17 Tales Across Realms & Space Edited by Zoraida Córdova (Wednesday Books, February 15, 2022). Young Adult Anthology. From stories that take you to the stars, to stories that span into other times and realms, to stories set in the magical now, RECLAIM THE STARS takes the Latin American diaspora to places fantastical and out of this world.
Follow princesses warring in space, haunting ghost stories in Argentina, mermaids off the coast of the Caribbean, swamps that whisper secrets, and many more realms explored and unexplored, this stunning collection of seventeen short stories breaks borders and realms to prove that stories are truly universal.
Reclaim the Stars features both bestselling and acclaimed authors as well as two new voices in the genres: Vita Ayala, David Bowles, J.C. Cervantes, Zoraida Córdova, Sara Faring, Romina Garber, Isabel Ibañez, Anna-Marie McLemore, Yamile Saied Méndez, Nina Moreno, Circe Moskowitz, Maya Motayne, Linda Raquel Nieves Pérez, Daniel José Older, Claribel A. Ortega, Mark Oshiro and Lilliam Rivera.
.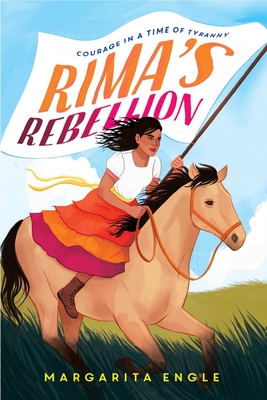 RIMA'S REBELLION: Courage in a Time of Tyranny by Margarita Engle (Atheneum Books for Young Readers, February 15, 2022). Young Adult. Rima loves to ride horses alongside her abuela and Las Mambisas, the fierce women veterans who fought during Cuba's wars for independence. Feminists from many backgrounds have gathered in voting clubs to demand suffrage and equality for women, but not everybody wants equality for all—especially not for someone like Rima. In 1920s Cuba, illegitimate children like her are bullied and shunned.
Rima dreams of a day when she is free from fear and shame, the way she feels when she's riding with Las Mambisas. As she seeks her way, Rima forges unexpected friendships with others who long for freedom, especially a handsome young artist named Maceo. Through turbulent times, hope soars, and with it…love.
.
.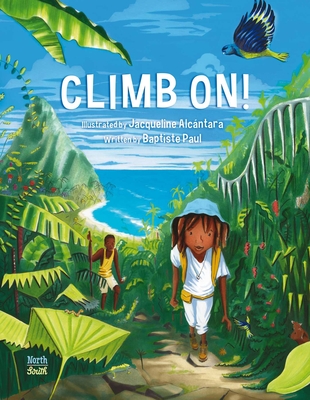 CLIMB ON! by Baptiste Paul, illustrated by Jacqueline Alcántara (NorthSouth Books, February 22, 2022). Picture Book. When a young child reminds her dad about the hike they planned, her father is hesitant —To the tippy top? It's a great day to watch futbol (soccer). But as the two climb on, her enthusiasm is contagious. Filled with setbacks, surprises, and stunning views, this warm and humorous story highlights in vivid colors the bonding power of a shared experience. A list of creatures at the end prompts a second look for keen-eyed readers to make discoveries of their own.
.
.
.
.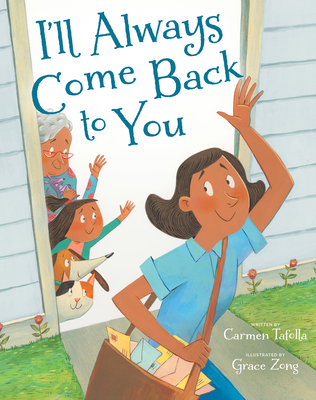 I'LL ALWAYS COME BACK TO YOU by Carmen Tafolla, illustrated by Grace Zong (Eerdmans Books for Young Readers, February 22, 2022). Picture Book. What happens when someone you love heads out the door? A mother goes out to deliver letters around the world, and her daughter stays behind. Mom might have to cross mountains, fight bears, or scare away pirates before she comes back. Her daughter might have to wait with Gramma or a friend at home. But whether their time apart has been long or short, boring or exciting, the family will soon be together again.
.
.
.
.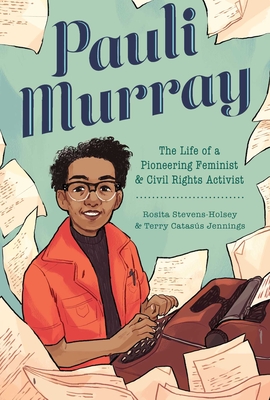 PAULI MURRAY: The Life of Pioneering Feminist & Civil Rights Activist by Terry Catasús Jennings, Rosita Stevens-Holsey (Yellow Jacket, February 22, 2022). Nonfiction biography for middle grade. Pauli Murray was a thorn in the side of white America demanding justice and equal treatment for all. She was a queer civil rights and women's rights activist before any movement advocated for either–the brilliant mind that, in 1944, conceptualized the arguments that would win Brown v. Board of Education of Topeka; and in 1964, the arguments that won women equality in the workplace.
Throughout her life, she fought for the oppressed, not only through changing laws, but by using her powerful prose to influence those who could affect change. She lived by her convictions and challenged authority to demand fairness and justice regardless of the personal consequences. Without seeking acknowledgment, glory, or financial gain for what she did, Pauli Murray fought in the trenches for many of the rights we take for granted. Her goal was human rights and the dignity of life for all.
.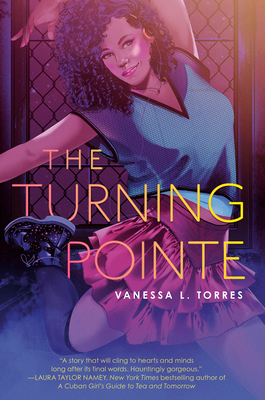 THE TURNING POINTE by Vanessa L. Torres (Knopf Books for Young Readers, February 22, 2022). Young Adult. When sixteen-year-old Rosa Dominguez pirouettes, she is poetry in pointe shoes. And as the daughter of a tyrant ballet Master, Rosa seems destined to become the star principal dancer of her studio. But Rosa would do anything for one hour in the dance studio upstairs where Prince, the Purple One himself, is in the house.
After her father announces their upcoming auditions for a concert with Prince, Rosa is more determined than ever to succeed. Then Nikki–the cross-dressing, funky boy who works in the dance shop–leaps into her life. Weighed down by family expectations, Rosa is at a crossroads, desperate to escape so she can show everyone what she can do when freed of her pointe shoes. Now is her chance to break away from a life in tulle, grooving to that unmistakable Minneapolis sound reverberating through every bone in her body.
.