By Jennifer Torres
Escalon is a Spanish word that means "step" or "stepping stone." It is also a small town in the heart of California's agricultural Central Valley, surrounded by dairies and almond orchards. Just off Main Street there, across from American Legion Post 263, is the library where Melissa, an eighth grader, volunteers to read to younger children, sometimes in English and sometimes in Spanish.
"I think it's important to read to kids because they get to know new things when they read a book," she told me. Melissa's own favorite books, she said, are mystery and fantasy novels. "It's like a whole new world."
Just like Melissa, many of the children who visit the Escalon Library are the sons and daughters of Mexican immigrants, families who saw, in the United States, a step toward opportunity and who courageously took it.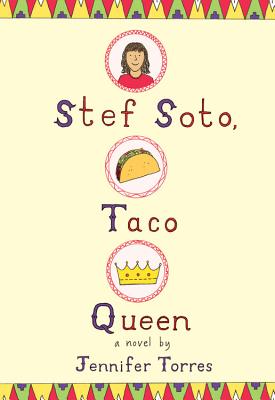 Those stories are American stories, and I hope that readers will recognize them in Stef Soto, Taco Queen.
The fictional Stef Soto, like millions of very real children in the United States who have immigrant parents, is a first-generation American.
Just like Melissa, Stef sometimes translates for her mom and dad.
Just like Stef, Melissa has parents whose hearts thunder with hope and ambition for their daughter.
"I want her to remember where she comes from, but her future is here," Melissa's mom, Adriana, told me in Spanish as she helped her daughter lead an arts-and-crafts project at the library. (She credits the San Joaquin County Office of Education's Migrant Education department for encouraging her to become an advocate for Melissa's learning). "I want her to graduate, to go to college, to have a better quality of life."
She and her husband have encouraged Melissa to begin investigating colleges, to think about what she wants to study, who she wants to be.
"I've decided I want to go to the Massachusetts Institute of Technology," Melissa said, braces glinting. "I think that's a good one for what I want to do."
What she wants to do is teach math. When I asked her what grade, she hesitated, sheepish about correcting me.
Finally, she shook her head. "No, I want to be a math professor. Like at a university."
Just like I did—in a family that includes first-, second-, third- and fourth-generation Americans, as well as some who still live in Mexico—Stef is growing up speaking and listening to a vibrant mix of English and Spanish. We both find comfort in friends and family and warm tortillas, smeared with butter.
And just like all of us, I think, she is trying hard to figure out exactly where she belongs. Too often, for too many, it can feel like a here or there question.
But as I have learned, as students like Melissa remind us, and as characters like Stef discover, our stories are so much richer than that.
"I get to have both cultures," Melissa said. "And I want people to know that immigrants are people—smart people—who want a better future, and so they came to this country. I think it's really brave of them."
From the author's website: Hi there. I'm Jennifer. I live with my family in California's Central Valley, and I write stories. I used to work as a newspaper reporter, writing stories about real people, whose lives told us something about our world and maybe about ourselves. Now, I write books for young readers—books with make-believe characters whose stories, I hope, are just as full of life and truth as the real ones.
Check out my picture book, Finding the Music, published by Lee & Low Books, and look out for my debut middle-grade novel, Stef Soto, Taco Queen, coming January 2017 from Little, Brown Books for Young Readers.