We are back from our summer break with lots of great, new interviews, book reviews, and events planned. We start today with a Q&A with middle grade author Rebecca Balcárcel, who is celebrating the recent release of her debut novel The Other Half of Happy.
By Cindy L. Rodriguez
This is the 11th in an occasional series about middle grade Latinx authors. We decided to shine a spotlight on middle grade writers and their novels because, often, they are "stuck in the middle"–sandwiched between and overlooked for picture books and young adult novels. The middle grades are a crucial time in child development socially, emotionally, and academically. The books that speak to these young readers tend to have lots of heart and great voices that capture all that is awkward and brilliant about that time.
Today, we highlight Rebecca Balcárcel.
Rebecca Balcárcel authored THE OTHER HALF OF HAPPY, a middle-grade novel from Chronicle Books . Rebecca took her MFA from Bennington Writing Seminars and received their Jane Kenyon Poetry Prize. Her work has appeared in journals such as Third Coast and North American Review. Pecan Grove Press of St. Mary's University published her book of poems, Palabras in Each Fist. Find her on YouTube as the Sixminutescholar. She loves popcorn, her kitty, and teaching her students at Tarrant County College as Associate Professor of English.
It was released August 20, 2019!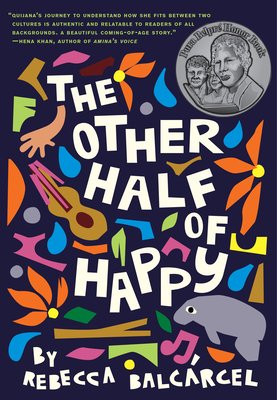 Here is the publisher's description:
Quijana is a girl in pieces. One-half Guatemalan, one-half American: When Quijana's Guatemalan cousins move to town, her dad seems ashamed that she doesn't know more about her family's heritage. One-half crush, one-half buddy: When Quijana meets Zuri and Jayden, she knows she's found true friends. But she can't help the growing feelings she has for Jayden. One-half kid, one-half grown-up: Quijana spends her nights Skyping with her ailing grandma and trying to figure out what's going on with her increasingly hard-to-reach brother. In the course of this immersive and beautifully written novel, Quijana must figure out which parts of herself are most important, and which pieces come together to make her whole. This lyrical debut from Rebecca Balcárcel is a heartfelt poetic portrayal of a girl growing up, fitting in, and learning what it means to belong.
Rebecca Balcárcel
Q. Who or what inspired you to become a writer?
A. Storytellers, books, and teachers! My father is an entertaining storyteller, and I absorbed much from his natural sense of drama and comedic timing. He'll also suddenly quote a poem with misty eyes and point out the beauty of Spanish sounds. All of this gave me a heightened awareness of language's power. Books served as my dearest friends throughout childhood. From the magic of picture books before bedtime to full novels, I loved being transported to fictional worlds. I always dreamed of creating that experience for others. I still read to apprentice myself to great authors and learn their craft. And a shout out to my third grade teacher, Miss Valentine, who read Where the Red Fern Grows aloud to us chapter by chapter after lunch. I cried in school, but it was worth it! Later teachers encouraged me to write, and their confidence in me helped me take my writing seriously.
Q: Why did you decide to write a middle grade novel?
A: Can you believe that when I started writing, I didn't know that this book was middle grade, nor that it was a novel?! Trained as a poet, I started writing prose poems in the voice of a bi-cultural twelve-year-old. She had a lot to say, and in one summer, I created about 40 little scenes. I wasn't sure, though, if this was an adult looking back or a true MG project. It was my agent who said, "I think this would sing as a middle-grade novel." I decided to go for it! It took two years of revision and rewriting to turn my stack of poems into a novel. It turns out, I love writing middle grade. That age is a time of deepening self-knowledge and broadening world-knowledge, the pivot point between child and adult. So much of who we are emerges in those years. It's a psychologically rich moment to write about.
Q. What are some of your favorite middle grade novels?
A. So many! The classics, like Charlotte's Web and Bridge to Terabithia, still make me cry. But I'm thrilled to be reading many new novels of worth. This year, I've especially enjoyed Caterpillar Summer by Gillian McDunn, which has a child with autism like my book does, and the just-released For Black Girls Like Me by Mariama Lockington, whose main character straddles two cultures, as mine does. I've sought out Latina writers, and have found an amazing community. Las Musas Books (https://www.lasmusasbooks.com/) is an entire collective of new YA and MG novelists! I've also loved Me, Frida, and the Secret of the Peacock Ring by Angela Cervantes and Stef Soto, Taco Queen by Jennifer Torres. And let's not leave out this year's Newbery winner, Merci Suarez Changes Gears by Meg Medina. Great books!
Q. If you could give your middle-grade self some advice, what would it be?
A. Don't be embarrassed by what moves you! If a song or an idea touches your heart or blows your mind (in a good way), keep exploring in that direction. That's the direction in which you will find kindred spirits, true friends, and your own growth. Ignore the people that pooh-pooh your music, your style, or whatever you geek out on. Fly that freak flag and own your joy!
Q. Finish this sentence: Middle grade novels are important because…
A.  . . . they inspire us to be our best selves!
Cindy L. Rodriguez was a newspaper reporter for The Hartford Courant and researcher at The Boston Globe before becoming a public school teacher. She is now a reading specialist at a Connecticut middle school. Cindy is a U.S.-born Latina of Puerto Rican and Brazilian descent. She has degrees from UConn and CCSU. Her debut contemporary YA novel, When Reason Breaks (Bloomsbury 2015). She also has an essay in Life Inside My Mind (Simon Pulse 2018). She can be found on Facebook, Twitter, and Goodreads.