.
We are an affiliate with Indiebound and Bookshop. If If you make a purchase through these links, at no additional cost to you, we will earn a small commission.
The Pura Belpré Award is named after Pura Belpré, the first Latina librarian at the New York Public Library. The Pura Belpré Award, established in 1996, is presented annually to a Latinx writer and illustrator whose work best portrays, affirms, and celebrates the Latino cultural experience in an outstanding work of literature for children and youth.
We will be marking the award's 25th anniversary in different ways on the blog. Today, Dr. Sonia Rodriguez and Dora M. Guzmán talk about Snapshots from the Wedding by Gary Soto, illustrated by Stephanie Garcia. The book won the 1998 Pura Belpré Illustration Award.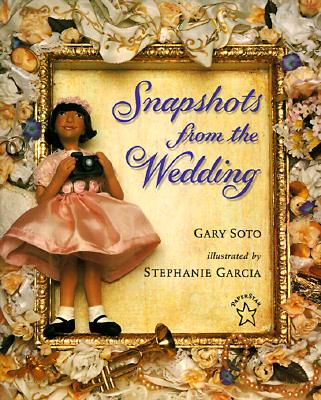 ABOUT THE BOOK: Being a flower girl has never been so exciting.
Meet Maya, Isabel's flower girl, as she describes in vivid detail the exciting wedding day. Maya introduces us to Danny, the ring bearer; Aunt Marta, crying big tears; Uncle Trino, jump-starting a car in his tuxedo; and Rafael, the groom, with a cast on his arm. Of course, the big day also includes games, dancing, cake, and a mariachi band that plays long into an evening no one will ever forget.
Snapshots from the Wedding captures the unique moments of a special occasion–the big scenes as well as the little ones–that together form a rich family mosaic.
.
.
.
Sonia Alejandra Rodriguez, PhD is an Associate Professor of English at LaGuardia Community College (CUNY) where she teaches composition, literature, and creative writing. Her academic research focuses on decolonial healing in Latinx children's and young adult literature. Sonia is a Mellon Emerging Faculty Leader.
.
.
.
.
Dora M. Guzmán is a bilingual reading specialist for grades K-5 and also teaches college courses in Children's Literature and Teaching Beginning Literacy. She is currently a doctoral student with a major in Reading, Language, and Literacy. When she is not sharing her love of reading with her students, you can find her in the nearest library, bookstore, or online, finding more great reads to add to her never-ending "to read" pile!