.
By Cecilia Cackley
This is the eighth in a series of posts spotlighting Latinx illustrators of picture books. Some of these artists have been creating children's books for many years, while others will have their first book out soon. They come from many different cultural backgrounds, but all are passionate about connecting with readers through art and story. Please look for their books at bookstores and libraries!
.
Juliet Menéndez
Juliet Menéndez is a Guatemalan American author and illustrator living between Guatemala City, Paris, and New York. While working as a bilingual teacher in New York City's public schools, Juliet noted the need for more books that depicted children like the ones in her classrooms. She studied design and illustration in Paris and now spends her days with her watercolors and notebook. Latinitas is her first children's book.
Q: What or who inspired you to become an artist?
A: My family is full of art and artists. My grandmother was a poet, my grandfather was a painter, my father is an architect, my mother is an art enthusiast who lined all of our walls with bookcases full of art books, and I have aunts, uncles, and cousins on both sides of my family who are musicians, photographers, designers, and filmmakers. So, I have been surrounded by art for as long as I can remember.
But I do have a particular memory of when I started to feel like an artist myself.
When I was four, my older sister bought me a little easel with paints on one side and pastels on the other. It was immediately my favorite toy and when friends would come over I would ask them to "play easel." Most of my friends insisted that it wasn't a game, but one little boy, my best friend at the time, was happy to "play easel" with me and we would have so much fun painting together, adding little things to each other's drawings, and timing each other to see what we could come up with before the timer went off. It sounds so incredibly nerdy, but we loved it.
I think that is really when I began thinking of art as something I could do. And the idea of art being a form of play has stayed with me. Even now, illustrating sometimes for 14 hours at a time, I still try to make it feel a bit like a game, giving myself the chance to experiment and "play."
Q: Tell us something about your favorite artistic medium–why you like it, when you first learned it, etc.
A: The work I do now is all done in watercolor. I wouldn't say I ever really learned watercolor technique and it probably shows. The only ones I use now are Old Holland and they are really more like gouache than watercolors and I use them that way.
I had always worked with mixed media before: inks, pens, collage, oil pastels. But on a freezing cold day walking to the subway in New York, I popped into the art store to warm up. I stumbled upon these adorable Old Holland watercolors locked away in a fancy glass case. I think I must have been staring at them like pastelitos and a sales assistant asked me if I needed him to open the case. I really didn't have the money to be buying anything at all, but somehow I said yes and picked out four little tubes and walked out with them in a tiny paper bag.
To be honest, I thought about returning them. But the colors… rose, emerald, honey yellow, and manganese blue were just so beautiful. They reminded me of the painted signs, advertisements, menus, and sun bathed street murals in Guatemala. I don't know if it was the memories of being warm that made me keep them, but once I used them, I was hooked.
Q: Please finish this sentence: "Picture books are important because…"
A:…they are children's first windows into worlds outside of their own and connection to the people in it.
.
Juliet Menéndez's debut is Latinitas. Click on the cover for more information.
We are an affiliate with Indiebound and Bookshop. If If you make a purchase through these links, at no additional cost to you, we will earn a small commission.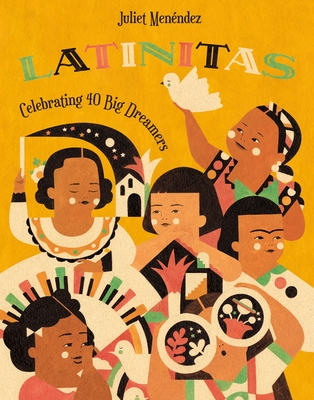 .
.
Cecilia Cackley is a Mexican-American playwright and puppeteer based in Washington, DC. A longtime bookseller, she is currently the Children's/YA buyer and event coordinator for East City Bookshop on Capitol Hill. Find out more about her art at www.ceciliacackley.com or follow her on Twitter @citymousedc