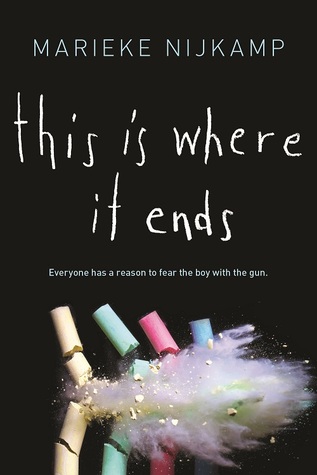 By Cindy L. Rodriguez
This Is Where It Ends, Marieke Nijkamp's debut novel, captures 54 harrowing minutes of a high school shooting through the perspectives of four students who have personal connections to the shooter. They are alternately hurt, betrayed, confused, and guilt-ridden about their possible roles in the tragedy and what they could have done to stop it. Two of the main characters are Tomás and Sylvia, unspecified Latin@ twins. Sylvia is trapped in the auditorium with the shooter, while Tomás is among those outside and trying to help. Author Marieke Nijkamp joins us today to answer a few questions about her intense debut.
CINDY: What inspired you to write about a U.S.-based school shooting? What kind of research did you do to capture the intensity of this kind of tragedy?
MARIEKE: A lot of it—from before I started drafting through final edits. I read firsthand accounts of shootings, I listened to 911 calls, I plowed through hundreds of pages of investigative reports, I talked to people, I kept up with news and social media feeds as active shooter situations emerged, I familiarized myself with the psychology of being held at gunpoint. As much as possible, I immersed myself in what we know about school shootings (which is both a lot and not a lot at all). And I tried to translate that to the book.
Even now, when shootings happen, my first instinct is to drop whatever I'm doing and absorb what is happening, listen to people as they share their experiences.
CINDY: Using present tense and limiting the time frame to 54 minutes puts the reader in the moment. As a writer, what made you decide to tell this story as it unfolds?
MARIEKE: When I set out to tell this story, I wanted to tell the story of a school shooting. Not the lead up, not the aftershocks, but the shooting itself. So I knew early on I wanted that limited timeframe, because I wanted, as much as possible, to recreate the experience and the feeling that, from one moment to the next, your entire life can be upended.
It presented some challenges while writing – not just because of the timeframe, but also because most of the action takes place in the same building and even the same room. But I'm a plotter at heart. And I spreadsheeted to my heart's content.
CINDY: The novel alternates first-person perspectives, but the one person we don't hear from directly is Tyler. He causes the tragedy, and we find out about him through the other characters, but we never get inside his head. As a reader, I found this powerful because whenever something like this happens, we want the shooter to explain why, but no answer to that question is ever enough. For me, seeing the story through everyone else reinforced this idea, but I'm curious about why you chose not to give Tyler one of the first-person POVs?
MARIEKE: For me, that was actually one of the main reasons to not include Tyler's point of view. Because, like you say, we are all looking for answers, and they're never enough. Besides which, we don't have a singular profile of a shooter, beyond some general elements (most shooters are white, male, and often though not always dealing with loss, grief, resentment). I didn't want to recreate a profile based on one interpretation, because it's always going to be exactly that: one interpretation.
Beyond that though, for all that Tyler is a central character in this story, it's not his. It's Tomás and Fareed's story. It's Sylvia and Autumn's story. It's Claire story. To me, the story always belong to them, to the victims and the survivors.
CINDY: Because of your work with DiversifYA and We Need Diverse Books, I wasn't surprised by your novel's diverse cast of characters, including an interracial/ethnic lesbian couple (sooooo few depictions of such couples, so *applause*). Although, since it's set in a small, fictional Alabama town, you could have resorted to creating a less diverse cast of characters. Why was it important to include so much diversity? 
MARIEKE: You know, I never get asked why Claire is straight, white, non-disabled. And that is as much a choice as all the others are.
The thing is, when I set out to write THIS IS WHERE IT ENDS, I wanted to be as respectful and as true to life as possible. When I did take poetic license, I did so by keeping in mind the adage I talked about with many other WNDB team members: first, do no harm.
To me, that didn't just mean doing the academic research; it meant reflecting life as I know it and as so many friends and so many of my teen readers do. School shootings do not just affect non-marginalized, affluent teens. And even if Opportunity were 95% white and straight, that doesn't erase the other 5%. Why should they not be the heart of the story?
CINDY: As you begin your debut year, do you have any advice for pre-published writers?
MARIEKE: I've come to learn that no advice fits all, but to aspiring authors, I'd say: tell your stories, the stories your most passionate about, in your own way. To pre-published writers anticipating their debut: be  grateful to be on this journey, and be mindful to enjoy it. It's a wild ride and it's a wonderful one, too. And it's so, so worth it.
ABOUT THE AUTHOR: Marieke Nijkamp was born and raised in the Netherlands. A lifelong student of stories, language, and ideas, she is more or less proficient in about a dozen languages and holds degrees in philosophy, history, and medieval studies. She is a storyteller, dreamer, globe-trotter, geek. Her debut young adult novel This Is Where It Ends, a contemporary story that follows four teens over the course of the fifty-four minutes of a school shooting, will be published by Sourcebooks Fire in January 2016. She is the founder of DiversifYA and a senior VP of We Need Diverse Books. Find her on Twitter.