.
We are an affiliate with Indiebound and Bookshop. If If you make a purchase through these links, at no additional cost to you, we will earn a small commission.
By Cindy L. Rodriguez
This is an occasional series about middle grade Latinx authors. We decided to shine a spotlight on middle grade writers and their novels because, often, they are "stuck in the middle"–sandwiched between and overlooked for picture books and young adult novels. The middle grades are a crucial time in child development socially, emotionally, and academically. The books that speak to these young readers tend to have lots of heart and great voices that capture all that is awkward and brilliant about that time.
Karla Arenas Valenti is an author of picture books and middle grade novels. She loves writing stories that take readers into unexpected places (emotionally and intellectually), pushing them to explore the boundaries of what they know about themselves and the world around them. She also loves playing with magical realism, bending the worlds of her stories to create intriguing spaces for readers to explore.
Karla is the creator of the "My Super Science Heroes" series (Sourcebooks), an exploration of key historical figures depicting science as it truly is: an epic adventure with super heroes, super evil, and super science powers! Her picture book, Maria Mariposa (Chronicle) is a bilingual story about a girl who receives a gift from her home in Mexico on her first day of school in the U.S.—and how she finds a way to share the magic of that gift with everyone around her.
Karla's debut middle grade novel, Loteria (Knopf) takes readers deep into the heart of Mexican culture, mythology, and lore in a story about free will and a simple game of chance with and life-and-death stakes. Karla lives in the Chicagoland area with her husband and three kids, two cats, and hundreds of books.
Here is the publisher's description of Lotería, Karla's middle grade debut, which just released on Tuesday!
HAPPY BOOK BIRTHDAY!!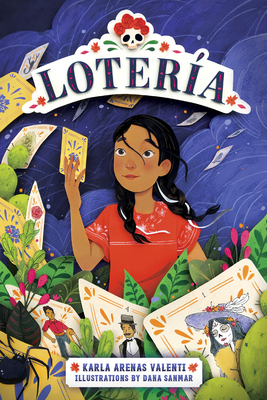 The turn of a card could change your destiny in this captivating middle grade adventure based on the Lotería card game and perfect for fans of Coco. While searching for her missing cousin, a young girl is transported to a mythical kingdom, becoming entangled in a perilous game of chance.
In the hottest hour of the hottest day of the year, a fateful wind blows into Oaxaca City. It whistles down cobbled streets and rustles the jacaranda trees before slipping into the window of an eleven-year-old girl named Clara. Unbeknownst to her, Clara has been marked for la Lotería.

Life and Death deal the Lotería cards but once a year, and the stakes could not be higher. Every card reveals a new twist in Clara's fate—a scorpion, an arrow, a blood-red rose. If Life wins, Clara will live to a ripe old age. If Death prevails, she'll flicker out like a candle.

But Clara knows none of this. All she knows is that her young cousin Esteban has vanished, and she'll do whatever it takes to save him, traveling to the mythical Kingdom of Las Pozas, where every action has a price, and every choice has consequences. And though it seems her fate is sealed, Clara just might have what it takes to shatter the game and choose a new path.

Karla Arenas Valenti weaves an adventure steeped in magic and mythology—gorgeously illustrated by Dana Sanmar—exploring the notion of free will in a world where fate holds all the cards.
.
Karen Arenas Valenti
1. Who or what inspired you to become a writer?
I have always been a writer. In fact, I have been writing stories since I was in kindergarten. That said, I wasn't able to truly focus on becoming an Author until about ten years ago. I loved writing, and I knew I had "some" talent. However, I still had a lot to learn about the craft of storytelling and kidlit publishing in general. SCBWI was invaluable in this regard, as was connecting with a community of writers (in my case through Julie Hedlund's 12×12 Picture Book Challenge).
2. Why do you choose to write middle grade novels?
I love writing for middle graders because they are in a wonderful phase of transformation where they are growing into a new self, conscious of how big the world is and how much more meaningful their role can be. This can be at once empowering, but also so terribly intimidating. To put a book in a reader's hand at this point is to give them a tool of self-discovery that can have a great impact on their lives. I am honored to be a part of that process. I also love writing about middle graders, for they see a world that is at once real but also teeming with magic (magical realism!). This is my tribe.
3. What are some of your favorite middle grade novels?
This is a tough question to answer, so perhaps I can answer a slightly different one – favorite 2020 and 2021 MG novels? In no particular order, I loved WHEN YOU TRAP A TIGER (Tae Keller), ECHO MOUNTAIN (Lauren Wolk, and also BEYOND THE BRIGHT SEA which I am now reading), WOLF FOR A SPELL (Karah Sutton), MAÑANALAND (Pam Muñoz Ryan), RED, WHITE AND WHOLE (Rajani LaRocca), and THE NIGHT DIARY (Veera Hiranandani).
4. If you could give your middle-grade self some advice, what would it be?
You're right to feel confused and unmoored. This is a time of transition and growth. It will pass, and you will find a new version of yourself. Which is not to say this isn't the most important thing happening to you right now! It is. You are in the middle of a momentous event: you are becoming.
5. Please finish this sentence: Middle grade novels are important because…
Middle grade novels are important because they allow readers to journey through experiences that challenge them to grow and evolve in important ways within the confines of a safe space. That safe space is crucial, because it gives readers the confidence to lose themselves and experiment with the new ideas, feelings, and selves that will shape them.
.
.
.
Cindy L. Rodriguez is a former journalist turned teacher and children's author. She is a middle school reading specialist in Connecticut, where she lives with her family. Cindy is a U.S.-born Latina of Puerto Rican and Brazilian descent. Her debut contemporary YA novel is When Reason Breaks (Bloomsbury 2015). She also has an essay in Life Inside My Mind (Simon Pulse 2018) and wrote the text for three Jake Maddox books: Volleyball Ace (2020), Drill Team Determination (2021), and Gymnastics Payback (2021). Upcoming books are The Doomed Search for the Lost City of Z (Capstone, 2022), and Three Pockets Full: A story of love, family, and tradition (Cardinal Rule Press, 2022). She can be found on Facebook, Twitter, and Goodreads.