Review by Sanjuana Rodriguez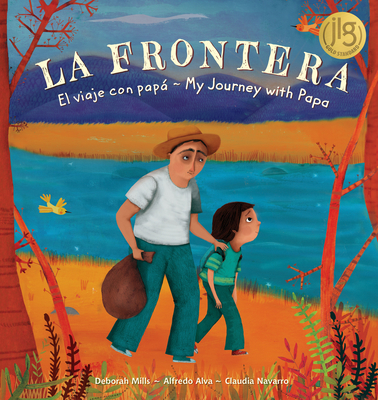 DESCRIPTION OF THE BOOK: Based on a true story! Join a young boy and his father on an arduous journey from Mexico to the United States in the 1980s to find a new life. They'll need all the courage they can muster to safely cross the border — la frontera — and to make a home for themselves in a new land. Inspired by the childhood immigration experience of co-author Alfredo Alva, this story of perseverance is told in both Spanish and English to empower language-learning. Includes 4 pages of endnotes that unpack facts about Alfredo's story and other stories like his and borders around the world to help parents and educators talk with children about immigration, resilience, empathy and belonging.
MY TWO CENTS: This bilingual picture book tells the story of Alfredo Alva (a co-author) who leaves his family and home in Mexico to make the journey to the United States with his father. Told from the child's perspective, Alfredo tells the reason why his father makes the difficult decision to make the harrowing journey to the U.S. by stating that he "could no longer provide for our growing family" (n.p.). The language that is used is simple, yet powerful. Alfredo makes the poignant statement in thinking about leaving his Mama and brothers: "I was hungry, yes, but I did not want life to change" (n.p.).
Their journey, like that of so many, is difficult and they pay a coyote to guide them in their journey across the border to the U.S. Alfredo and his father are abandoned by the coyote, and they must make the journey through the dessert on their own and on foot. Alfredo documents how they traveled and the dangers they encountered, "We started walking at dawn every day, and we walked for five days. There was no path, and the brambles ripped my clothes. I had many cuts. When I sat or slept on the ground, I got bitten by fire ants, and I was always watching for scorpions and snakes." Eventually, they reach their destination. Alfredo begins to attend school, he learns English, and makes friends. Alfredo and his father are able to begin the long process of applying for citizenship through President Reagan's amnesty program. Alfredo does not see his mother and brothers for four years.
The illustrations in this book are vivid and bring life to the experience that Alfredo is describing. They also depict the sense of sadness that Alfredo feels when he finds out he will be separated from his family, they depict the harshness of the trip, and also capture the closeness and love of family.  This is a timely and very important book that shows the difficult choices that parents must make to provide a better life for their children. It also showcases the love that Alfredo's father has for him as he carries him through some of the journey and tries to provide comfort in any way to his son. The book also showcases the difficulties that children experience when they leave their families behind, travel through the dangerous terrain, and begin life in a different country. This book provides an excellent space for discussions about the immigration experience, the journey that families make, and the difficulties in adjusting to a new life. One of the best features is that it is told through the perspective of a child and therefore can provide a window into the difficulties into the immigration journey that so many children experience. The educational end notes provide four pages detailing Alfredo's story, describing borders and cultures, and reasons why people immigrate. The end notes also provide real pictures from Alfredo's family. This book is a heartfelt and moving depiction of a family's difficult decision to immigrate and a child's experience in that journey. It is a must have in classrooms and libraries.
Click on the video below for an introduction to La Frontera by Barefoot Books:
ABOUT THE AUTHORS: Alfredo Alva was born in La Ceja, Mexico. He came to Kerrville, Texas, with his father when he was eight years old. He is now married with two children and runs a successful masonry business. He wanted to share his story because he sees immigrants facing the same difficulties today that his family faced over thirty years ago.
Deborah Mills studied architecture and worked in the field while living overseas with her husband and five children. She now divides her time between Kerrville, Texas, and Thousand Islands, New York. When she met Alfredo's family and learned his story, she wanted to write it down and share it. She believes that all children everywhere need to understand this important piece of history.
ABOUT THE ILLUSTRATOR: Claudia Navarro studied at the Escuela Nacional de Artes Plásticas UNAM in Mexico City, and has illustrated for clients around the world. She lives in Mexico City.
ABOUT THE REVIEWER:  Sanjuana C. Rodriguez is an Assistant Professor of Literacy and Reading Education in the Elementary and Early Childhood Department at Kennesaw State University. Her research interests include the early literacy development of culturally and linguistically diverse students, early writing development, literacy development of students who are emergent bilinguals, and Latinx children's literature. She has published in journals such as Journal of Language and Literacy Education, Language Arts, and Language Arts Journal of Michigan.