Review by Cris Rhodes & Mimi Rankin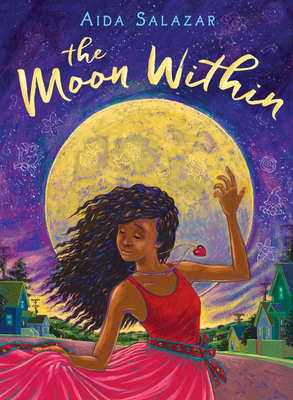 DESCRIPTION OF THE BOOK: Celi Rivera's life swirls with questions. About her changing body. Her first attraction to a boy. And her best friend's exploration of what it means to be genderfluid. But most of all, her mother's insistence she have a moon ceremony when her first period arrives. It's an ancestral Mexica ritual that Mima and her community have reclaimed, but Celi promises she will NOT be participating. Can she find the power within herself to take a stand for who she wants to be?
The Moon Within releases tomorrow, February 26, 2019.
CRIS RHODES'S REVIEW: Aida Salazar's debut verse novel unfolds through metaphor, captivating poetry, and unabashed discussions of menstruation and maturation. I have never read a book where menstruation has been explored with such openness—and that's even as Celi does everything in her power to dodge and delay the moon ceremony her Mima wants to throw upon Celi's first period! Celi's unease with her body's changes resonated with me. At the risk of oversharing—I remember that anxiety and the strange sense of loss when starting one's period well. Salazar adds complexity to this already confusing time by layering Celi's menstrual journey with her first real crush and the dawning realization that her best friend, Marco, is genderfluid.
Salazar's choice to utilize Indigenous Mesoamerican terms to explain Marco's (I'm using this name as Salazar switches to using it nearly exclusively in the latter half of the text, though Marco's feminine name is still occasionally used) gender identity is intriguing. Salazar writes, "Marco has Ometeotl energy / a person who inhabits two beings / the female and the male at once." I don't think I can adequately explain the beauty of this explanation. On the other hand, I want to be clear that, at the same time as it's a big step to have a genderfluid Latinx character in children's fiction, this construct could've been pushed further. We experience Marco through the filter of Celi. When reading, I found myself having to temper my disappointment that the queered character was not the main character with my admiration for the open and honest way with which Celi's maturation (both physical and mental) is handled. I cannot be too disappointed though, because, ultimately, The Moon Within does so much to further representation in Latinx children's literature. Its unapologetic depictions of Afro-Latinx identity, menstruation, gender, sexuality, bullying, colonialism, just to name a few, are invaluable.
One of the most intriguing parts of The Moon Within, for me, was Celi's mother and Moon Ceremony. When I was reading, I was reminded of one of my favorite slam poems: "The Period Poem" by Dominique Christina. Celi's mother wants her to be empowered by her period. And there is power in the period. But when you're a kid, the only power it wields is embarrassment—a power Celi perfectly embodies. I found myself chuckling at Celi's embarrassment in one line, and in the next, Salazar would sweep me off my feet, and I'd be cringing and hiding alongside Celi. I'd wager many a person who's had a period can relate to Celi's impulse to hide from her family and to downplay her maturing body. Nevertheless, Mima's insistence that Celi have a Moon Ceremony is rooted in not just a desire to ensure her daughter not feel shame at the natural functions of her body, but also in a personal conviction to reclaim her Indigenous Mexican heritage. Celi feels an intimate pull toward the Moon, la Luna, and in her later discussions of the moon as Coyolxauhqui, the Aztec goddess, we see her start to embrace her mother's mission.
For readers who are torn by their culture, by their bodies, by their friendships, The Moon Within is a must-read. And, honestly, I think it's a must-read for anyone, anywhere. This verse novel's melodious language, unapologetic tone, and loving care for its characters and readers is evident and shouldn't be missed.
MIMI RANKIN'S REVIEW: I discovered this book from the author herself during the USBBY's Outstanding International Books presentation. Following the committee members' comments on the themes of the list, Salazar was presented as the keynote speaker. She spoke about the importance of language for Latinx people, particularly children. Latinx children in the United States grow up in between worlds; they are often the very definition of "third culture kids." Salazar opens up an interesting set of questions regarding this language use for Latinx kids with her novel, The Moon Within, written in verse.
Celi Rivera is a biracial, multicultural preteen girl in Northern California who loves to dance the Puerto Rican Bomba. Celi is on the brink of womanhood, and she certainly does not want to discuss it with her Mima, Papi, or little brother Juju. Mima prepares her Moon Ceremony, an ancient indigenous Mesoamerican celebration of a girl's first menstruation, while Celi begins developing her first crush on the skateboarding Ivan. After one of Celi's Bomba performances with her best friend, drummer Magda, Ivan insults Magda's gender-bending style and appearance.
This coming-of-age story about first heartbreak, identity of both gender and culture, and how to decipher, for the first time, your own beliefs is even more powerful through the use of verse. The style allowed me to more fully connect to Celi's perspective emotionally and emphasized the universality of what it means to be a young woman regardless of culture. Still, the beauty of this title is not just that Salazar fearlessly and effortlessly discusses the female body and menstruation in a way that has not been done since Judy Blume's classic Are You There God? It's Me, Margaret, but that she enlightens the world to the Mexica reverence to the woman.
What I love about this book is that it is not only a point of mirroring and relation for Latinx children, but it is a point of education for non-Latinx children. Only occasionally interspersed with Spanish, the story feels both personal and universal; duality is a later theme in the text, so this may have been intentional on the part of Salazar.
Another exciting aspect of Salazar's book is the perspective on sacred Mesoamerican spiritual beings, particularly the xochihuah. This gender-expansive being was "more often seen through a sacred lens, with respect" as "some evidence shows". In this claim and the one that follows in the author's note, this being that was neither exclusively female nor male may very well not have been revered. Still, in this not knowing, Salazar makes a conscious choice to utilize the ancient being from her ancestors and speak to a modern audience on allowing children to wholly be themselves. Continuing with the integration of Mesoamerican cultural practices into this text, Salazar includes an English translation from scholar David Bowles of The Flower Song. According to Salazar, this is the only known piece of literature documenting the Moon Ceremony and it just so happens to be written in verse.
All in all, I thoroughly enjoyed this heartfelt and quick read and expect to see it making a lot of buzz for awards next year.
TEACHING TIPS FROM CRIS RHODES: The Moon Within would prove a lovely addition to any middle school classroom library (or high school, or elementary school—I maintain that anyone could and should read this book, though it does speak more clearly to readers of a similar age to its protagonist). It would be particularly useful in an ELA unit on poetry, but it would also be a great addition to a health class or sex education. It would also be a great way for students to experience traditional cultural practices—like the bomba dancing and drumming Celi and Marco practice.
ABOUT THE AUTHOR: Aida Salazar​ is a writer, arts advocate and home-schooling mother whose writings for adults and children explore issues of identity and social justice. She is the author of the forthcoming middle grade verse novels, THE MOON WITHIN (Feb. 26, 2019), THE LAND OF THE CRANES (Spring, 2020), the forthcoming bio picture book JOVITA WORE PANTS: THE STORY OF A REVOLUTIONARY FIGHTER (Fall, 2020). All books published by Arthur A. Levine Books / Scholastic. Her story, BY THE LIGHT OF THE MOON, was adapted into a ballet production by the Sonoma Conservatory of Dance and is the first Xicana-themed ballet in history. She lives with her family of artists in a teal house in Oakland, CA.
ABOUT THE REVIEWER: Cris Rhodes is a lecturer in the English department at Sam Houston State University. She recently completed a Ph.D. in English with an emphasis on Latinx children's literature. Her research explores the intersections between childhood activism and Latinx identities.
ABOUT THE REVIEWER: Mimi Rankin has a Master's Degree with Distinction in Children's Literature from the University of Reading in the United Kingdom. She is currently a Marketing Manager for a company working with over 25 publishers worldwide. Her graduate research focused on claims of cultural authenticity in Hispanic Children's Literature and her dissertation received highest marks.