.
Review by Maria Ramos-Chertok
DESCRIPTION OF THE BOOK: The situation is getting dire for Jews in Poland on the eve of World War II. Esther's father has fled to Cuba, and she is the first one to join him. It's heartbreaking to be separated from her beloved sister, so Esther promises to write down everything that happens until they're reunited. And she does, recording both the good–the kindness of the Cuban people and her discovery of a valuable hidden talent–and the bad: the fact that Nazism has found a foothold even in Cuba. Esther's evocative letters are full of her appreciation for life and reveal a resourceful, determined girl with a rare ability to bring people together, all the while striving to get the rest of their family out of Poland before it's too late.
Based on Ruth Behar's family history, this compelling story celebrates the resilience of the human spirit in the most challenging times.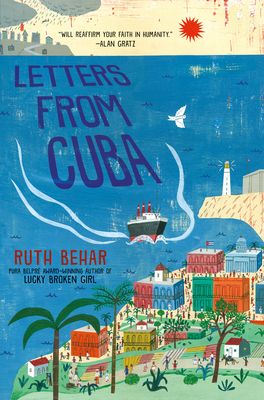 MY TWO CENTS: I am a big fan of Ruth Behar's and have enjoyed her adult books as much as her debut middle grade book that won the 2018 Pura Belpré Award, Lucky Broken Girl (2017). Her latest book Letters from Cuba doesn't disappoint.
I received an advance copy during the Covid-19 pandemic and had not read a book in several weeks because I'd been having trouble concentrating. Knowing I'd be writing this review, I finally gave myself a forced goal of sitting down and reading the first ten pages. I sat in bed with the book, read the first ten pages, and could not stop. I finished the book three hours later! I loved the characters, the epistolary format, and the way the main character Esther learns about Cuba.
The story begins in 1937 with an eleven-year-old (almost twelve) Polish girl writing to her father to ask that she be the sibling chosen to join him on the island of Cuba. Despite being the eldest, she suspects her younger brother, the oldest boy in the family, will be chosen. From the get-go, her feminist character takes form as she continues to show determination, fortitude, and creativity by making the journey to Cuba alone to meet up with her father and help him earn enough money to send for the rest of their family.
The theme of anti-Semitism is present at both the macro and micro levels, with the book set during the years leading up to the Holocaust and in the racist experiences Esther has in Cuba. Despite the disheartening reality of anti-Semitism, Esther shows us the beauty of embracing multiculturalism and how people from distinct religions, cultures, and ages can come together to form lasting bonds.
TEACHING TIPS: Given what is happening in the United States as this book is being published (August 2020), it is very timely. I can see using the book to discuss immigration in a Social Studies class or to discuss World War II in a History class. If using the book at a Jewish Day School, it can be used to teach about Jewish multiculturalism and the diaspora.
I can see the book being used to talk about discrimination and why some people hate others simply on the basis of their religion (as Esther experienced in Cuba). Religious persecution intersects with the theme of xenophobia in Letters From Cuba, which could also be connected to a larger discussion of racism. Since anti-immigrant rhetoric, anti-Semitism, and racism are currently several of the biggest themes used to create a platform for white supremacy in the United States, this book has the potential to help readers develop empathy for both the immigrant struggle and dangerous implications of hate.
For more information about the book, read my upcoming August 19, 2020 Blog Post interview with Ruth Behar at www.mariaramoschertok.com
.
.
ABOUT THE AUTHOR (from her website): As a storyteller, traveler, memoirist, poet, teacher, and public speaker, Ruth Behar is acclaimed for the compassion she brings to her quest to understand the depth of the human experience. Born in Havana, Cuba, she grew up in New York, and has also lived in Spain and Mexico. Her recent memoirs for adults, An Island Called Home and Traveling Heavy, explore her return journeys to Cuba and her search for home as an immigrant and a traveler. Her books for young readers are Lucky Broken Girl and Letters from Cuba. She was the first Latina to win a MacArthur "Genius" Grant, and her honors also include a John Simon Guggenheim Fellowship, a Distinguished Alumna Award from Wesleyan University, and an honorary doctorate in Humane Letters from the Hebrew Union College. She is an anthropology professor at the University of Michigan and lives in Ann Arbor, Michigan.
.
.
.
ABOUT THE REVIEWER: Maria Ramos-Chertok is a writer, workshop leader and coach who facilitates The Butterfly Series, a writing and creative arts workshop for women who want to explore what's next in their life journey. In December 2016, she won 1st place in the 2016 Intergenerational Story Contest for her piece, Family Recipes Should Never be Lost. Her work has appeared in the Apogee Journal, Entropy Magazine, and A Quiet Courage. Her piece Meet me by the River will be published in Deborah Santana's forthcoming anthology All the Women in my Family Sing (Jan 2018) http://nothingbutthetruth.com/all-the-women-in-my-family-sing/. She is a trainer with Rockwood Leadership Institute www.rockwoodleadership.organd a member of the Bay Area chapter of Write on Mamas. For more information, visit her website at www.mariaramoschertok.com