.
By Cindy L. Rodriguez
This is an occasional series about middle grade Latinx authors. We decided to shine a spotlight on middle grade writers and their novels because, often, they are "stuck in the middle"–sandwiched between and overlooked for picture books and young adult novels. The middle grades are a crucial time in child development socially, emotionally, and academically. The books that speak to these young readers tend to have lots of heart and great voices that capture all that is awkward and brilliant about that time.
Today, we highlight Chantel Acevedo.
Chantel Acevedo was born in Miami to Cuban parents. She is the acclaimed author of adult novels, including The Distant Marvels, which was a finalist for the Andrew Carnegie Medal for Excellence in Fiction, and she is also a professor of English at the University of Miami, where she directs the MFA program. Muse Squad: The Cassandra Curse is her debut middle grade novel. Chantel lives with her personal Muse Squad, aka her family, in Florida. You can visit her online at http://www.chantelacevedo.com.
.
Muse Squad: The Cassandra Curse just released last week, on July 7, 2020!
.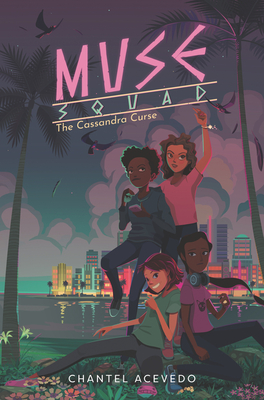 Here is the publisher's description:
Callie Martinez-Silva didn't mean to turn her best friend into a pop star. But when a simple pep talk leads to miraculous results, Callie learns she's the newest muse of epic poetry, one of the nine Muses of Greek mythology tasked with protecting humanity's fate in secret.
Whisked away to Muse Headquarters, she joins three recruits her age, who call themselves the Muse Squad. Together, the junior muses are tasked with using their magic to inspire and empower—not an easy feat when you're eleven and still figuring out the goddess within.
When their first assignment turns out to be Callie's exceptionally nerdy classmate, Maya Rivero, the squad comes to Miami to stay with Callie and her Cuban family. There, they discover that Maya doesn't just need inspiration, she needs saving from vicious Sirens out to unleash a curse that will corrupt her destiny.
As chaos erupts, will the Muse Squad be able to master their newfound powers in time to thwart the Cassandra Curse . . . or will it undo them all?
.
Chantel Acevedo
Q. Who or what inspired you to become a writer?
My earliest writing memories are from elementary school. I wasn't popular, or an athlete, or outgoing. But I could write, and I enjoyed crafting these little stories about my friends, slotting them into superhero roles, or imagining their happy futures. My friends loved seeing themselves on the page, and I loved that they enjoyed it so much. But I didn't think of writing as a career for a long time. I earned an MFA, published my first book, and even then, didn't think of myself as a "real" writer, whatever that meant. It took me years to shake that off!
Q: Why do you choose to write middle grade novels?
I've written four novels for adults before turning to middle grade. Partly, I'd been waiting patiently for the muses to send me a good kid-book idea, but also, I have two daughters who straddle the middle grade age bracket, and so their voices, and that of their friends, were swirling around in my head when I finally dreamed up MUSE SQUAD. I love this age, and these voices so much!
Q: What are some of your favorite middle grade novels?
There are too many! Anything by Kate DiCamillo. Anna Meriano's Love, Sugar, Magic series is such a delight, and I recommend it all the time to parents. I just finished and loved Adam Gidwitz's medieval story, The Inquisitor's Tale. And one I'm really looking forward to is Adrianna Cuevas' The Total Eclipse of Nestor Lopez!
Q: If you could give your middle-grade self some advice, what would it be?
First, I'd give myself the biggest hug. Then, I'd say, "Be yourself. I know it takes courage, but you've got that in spades. Dale, que tu puedes." I think I hid a lot of myself from others in middle school, thinking the things I liked were too uncool, or "little kid stuff." I wish I'd embraced what made me different a bit more.
Q: Please finish this sentence: Middle grade novels are important because…
Because middle grade is when that tiny, buzzing, critical voice starts to worm its way into our brains. Middle grade novels can help young readers see that they aren't alone in their worries, their fears, or their joy. Also, when main characters make mistakes and then problem-solve, readers do so along with them, and hopefully, the memory of these stories will be available to them when facing their own challenges.
.
.
Cindy L. Rodriguez was a newspaper reporter for The Hartford Courant and researcher at The Boston Globe before becoming a public school teacher. She is now a reading specialist at a Connecticut middle school. Cindy is a U.S.-born Latina of Puerto Rican and Brazilian descent. She has degrees from UConn and CCSU. Her debut contemporary YA novel is When Reason Breaks (Bloomsbury 2015). She also has an essay in Life Inside My Mind (Simon Pulse 2018) and wrote the text for Volleyball Ace, a Jake Maddox book (Capstone 2020). She can be found on Facebook, Twitter, and Goodreads.