Review by Corina Isabel Villena-Aldama, with Frederick Luis Aldama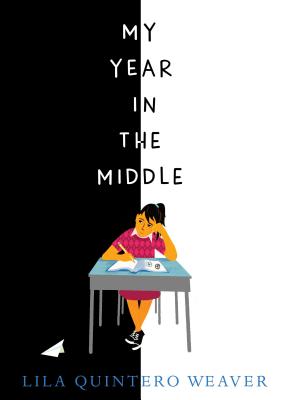 DESCRIPTION OF THE BOOK:  In a racially polarized classroom in 1970 Alabama, Lu's talent for running track makes her a new best friend — and tests her mettle as she navigates the school's social cliques.
Miss Garrett's classroom is like every other at our school. White kids sit on one side and black kids on the other. I'm one of the few middle-rowers who split the difference.
Sixth-grader Lu Olivera just wants to keep her head down and get along with everyone in her class. Trouble is, Lu's old friends have been changing lately — acting boy crazy and making snide remarks about Lu's newfound talent for running track. Lu's secret hope for a new friend is fellow runner Belinda Gresham, but in 1970 Red Grove, Alabama, blacks and whites don't mix. As segregationist ex-governor George Wallace ramps up his campaign against the current governor, Albert Brewer, growing tensions in the state — and in the classroom — mean that Lu can't stay neutral about the racial divide at school. Will she find the gumption to stand up for what's right and to choose friends who do the same?
MY TWO CENTS: Lila Quintero Weaver's My Year in the Middle (2018) might be set in 1970 and in an Alabama where racial lines continue to be drawn—and resisted and fought—but there's much that speaks to a 12-year-old like myself. There's the hallway chatter; catching those competitive sideways looks in gym; feeling those butterflies in the tummy when completing a math sum or a free write, knowing that your fave teacher will be grading it; avoiding those kids—the ones that push others around with looks and words—and occasionally with shoves; seeing in the cafeteria a sea that divides 6th from 7th and 7th from 8th graders; being the target of darting eyes of jealousy; getting caught sneaking a text—today's way for us to pass notes.
Quintero Weaver has a real ear and eye for description: the rotating sound of dialing an old phone as well as hand-drawn art of newspapers from the day. She breathes life into the main character Lu during this '70s period and southern region of the US. Quintero Weaver has an equally sharp ear for turns of phrases from this time and place, also adding to the realism of the story: "I don't say a dadgum word"; "pretend not to give a plug nickel"; "boocoodles of people."  Quintero Weaver is so good at conveying just how it feels for a middle-schooler like me to have someone come along and crush your hopes and dreams: "There I was, believing I was somebody, but now all kinds of darts are zigzagging back and forth inside my head" (24). And, Quintero Weaver really knows how to write about how someone like me struggles with being different. We see this with the food that Lu's parents prepare (empanadas, for instance), the way her hair stands like "porcupine quills" (37), and the deep feeling of not wanting to stick out as a Latina in a world filled with hate. At one point in the novel, we learn that Lu's mamá warns the older sister to be quiet about her progressive political views during a time of terrible racism and racial segregation. There are many times when those of us who are made to feel different—whether in the way we speak or look—are afraid to shout too loud.
As a middle-schooler in 2018, I can say that Lila Quintero Weaver has her work cut out for her. Why? Like many of my friends, we tend to reach for those high-octane novels like Divergent or fantasy novels like the Red Queen. When I first saw the novel with its stark black and white cover, I didn't think I'd like it. It seemed like it might be boring. Once I began reading, I couldn't put it down—and I understood why the cover had to be made up of those two big blocks: white and black, with a little girl caught in the middle. I can say that in the end, Lila Quintero Weaver pulls it off. She weaves together a story that I connected to. I can't tell you how different I feel growing up in Columbus and attending a school where I am the only brown Mexipina kid. Much like other authors who choose not to go the action-suspense way (some of my faves include The War that Saved My Life and Red Umbrella), Quintero Weaver creates an engaging story that really shows what it feels like to grow up different—and this still applies to today. My Year in the Middle keeps you glued all the way till the end.
ABOUT THE AUTHOR: Lila Quintero Weaver is the author of My Year in the Middle, a middle-grade novel published in 2018 by Candlewick Press. She's also the writer-illustrator of Darkroom: A Memoir in Black & White. Darkroom recounts Lila's experiences as a child immigrant from Argentina to Alabama during the tumultuous 1960s. The Spanish edition is now available, under the title Cuarto oscuro: Recuerdos en blanco y negro. Learn more about Lila on her website, and follow her on Twitter and Goodreads. To see background and educational material related to My Year in the Middle, visit this page.
ABOUT THE REVIEWER: Corina Isabel Villena-Aldama is a 7th grader at Jones Middle School in Columbus, Ohio, who likes to write and read fiction, watch movies, and do back handsprings. When it's nice weather she likes to walk her two Shih-Tzus, bike to the local library, or swim at the local pool.