Review by Emily R. Aguiló-Pérez
In the past year I have been immersed in numerous early readers and transitional chapter books as part of a research project that examines representations of Latinx characters in these kinds of texts. The Sarai book series has been one of my favorites to read!
While the short format of early readers and chapter books can sometimes limit how much character development and details authors can offer, the Sarai books don't fall short on these aspects. Sarai is free spirited, caring, creative, confident, and as a reader I got to know her personality (and her sisters' personalities as well) through her interactions with others and her many ventures.
The following are reviews for books 2, 3, and 4 of the series. Read our review of Sarai and the Meaning of Awesome (Sarai Book #1). All books in the series are now available in Spanish as Saraí #1: Saraí y el Significado de lo Genial, Saraí #2: Saraí en Primer Plano, Saraí #3: Saraí Salva la música, and Saraí #4: Saraí y la Feria Alrededor del Mundo.
Sarai in the Spotlight (Sarai Book #2)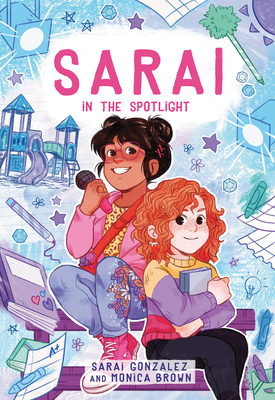 DESCRIPTION OF THE BOOK: When Sarai's best friend suddenly moves away, Sarai has to navigate school – and the unfriendly girls in the cafeteria – all by herself. Then, new girl Christina moves to town and the teacher volunteers Sarai to show her around. But Sarai thinks Christina is not at all like her–she never wants to play at recess, she's always got her head in a notebook, and she's so shy! But when Christina writes Sarai a spoken-word poem for her to recite at the class talent show, Sarai learns that sometimes winning teams are made from unlikely pairs!
MY TWO CENTS: Sarai's awesomeness continues in this second installment of the series. Her affirmation of being awesome continues in this book, especially when she shares with her family that some of the girls in her class bother her during recess (38). This demonstration of confidence continues when she stands up for herself during an incident with the same group of girls, doing so without putting anyone down. And that is the beauty of Sarai's proclamations of confidence: they highlight how awesome she is and feels without making anyone else feel bad about themselves. Further, she also shows a little bit of self-doubt, which is to be expected of a child growing up. She is finding herself and becoming her own person.
This book focuses on how Sarai deals with her best friend moving away and then how she slowly befriends the new girl, Christina. They don't have many things in common yet, which makes Sarai miss her friend Isa. However, Sarai is respectful about their differences and open to learning more about her new friend. As a result, they collaborate for the school's talent show, creating together a wonderful performance.
Sarai's blossoming friendship with Christina is as delightful to witness as her relationship with her sisters, Josie and Lucía. As she explains, they might sometimes fight and disagree, but they all stick up for each other. Each sister has a distinct personality, and we learn little bits about them throughout the story. For example, we learn that Lucía has a little bit of a temper, (11), and is also very empathetic: "Lucía used to have her own cafeteria card, but she kept buying food for everyone who she thought didn't have enough money to eat…" (16). We also continue to learn about Josie, who attends a different school from her sisters, wears cochlear implants, and communicates through a combination of signs and words. The sisters — along with their cousins Juju, Javier, and Jade — are part of the Super Awesome Sister-Cousin Fun Club, where they come up with awesome ideas.
With so many fun activities happening in Sarai in the Spotlight (like the kids' game of Rainbow Art Paint Tag) and all the relatable experiences Sarai goes through, readers will definitely enjoy this second book in the series.
TEACHING TIPS: Because this book introduces a new character, there is a good use of descriptions that help readers get to know her. In addition, readers learn more about Sarai, her sister, and her friend Isa. Teachers, then, can use the book to teach about character development through descriptions. Students can create profiles for the different characters in the book and then they could create and develop their own characters.
Sarai Saves the Music (Sarai Book #3)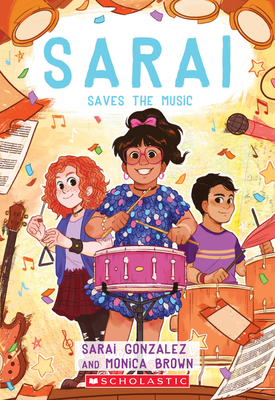 DESCRIPTION OF THE BOOK: They're cutting funding at Sarai's school and her band program is the first to go. That is totally not okay with Sarai. She decides to organize a benefit concert to raise money! When she and her bandmates promote the concert on their video channel, it catches the attention of Sarai's favorite singer, Sparkles Sanchez! Can Sarai save the music?
MY TWO CENTS: I have to admit that, while I enjoyed all four books in the Sarai series,  this one is my absolute favorite! In the third installment of the series, we witness how Sarai and Christina's friendship continues to grow, as they support and empower one another. When some of the girls at school keep teasing Sarai, Christina suggests that they are jealous because Sarai is "so smart, and because you're you!" (11).  Equally helpful are Sarai's neighbors and family, who continue to support the kids' many ventures. This is particularly evident when everyone bands together to help Sarai help save her school's music program.
It is this aspect that makes this book especially poignant. For one, it depicts the precarious state of the U.S. education system, where programs are being cut and teachers are losing their jobs. When Ms. Cruz — Sarai's music teacher– shares the news with the class that the school district is cutting the funds for elementary music programs, students are understandably upset. More so, they are worried about what this means for their teacher. When Sarai asks Ms. Cruz if she will lose her job, the teacher can't help but cry. This takes Sarai and the students aback, as they have "never seen a teacher cry before" and they "feel worried" (36). I truly appreciate the honesty from both Ms. Cruz and the students that is depicted here. Often, teachers are not encouraged to show vulnerability, even when their livelihood might be in danger, so Ms. Cruz's moment of honesty with her students allows them to understand her situation better– and in turn, readers can better understand the realities many of their own schools and their own educators might be facing.
"Isn't there anything we can do? Fundraise? Protest? Sign petitions?" Sarai asks, as the students try to figure out what they can do to save the music program and Ms. Cruz's job (36). Sarai, always having something up her sleeve, mobilizes her classmates, her family, and her community to effect some change. Through her new venture, Sarai's Garage Chat, a TV show she records with her sisters and cousins from their own garage, Sarai and her classmates are able to spread the word about the benefit concert they are organizing. It is important to note that Sarai takes action and mobilizes, but she creates a community and involves them. It is not a solo project. Everything is motivated and planned by the kids, and the adults are there to support them. One of the most moving moments in this book takes place when students are recording their plea to the community to attend their benefit and donate to the music program: each child made an argument about why music programs are so crucial.
In addition to its depiction of activism and empathy, this book continues showing readers all the awesome personalities in Sarai's group of friends and family. There is something with which readers can connect– whether it is the games and fun ideas Sarai and her family come up with or her obsession with Stephanie Sparkles Sanchez (who gave me major Selena Quintanilla vibes and I loved it!). Through her contagious upbeat personality, Sarai is following her musical idol's advice to "Spread the Sparkle!"
TEACHING TIPS: Teachers can use this early chapter book to discuss how the students in Sarai's school worked together to try to solve a problem and could ask students to identify an issue in their school or community they would like to address. They could propose ideas and consider what steps they would need to take toward making improvements. Teachers can also use this book to focus on argument writing; as each student in Sarai's class makes an argument for saving the music program, they put into practice appeals to logic and emotion.
Sarai and the Around the World Fair (Sarai Book #4)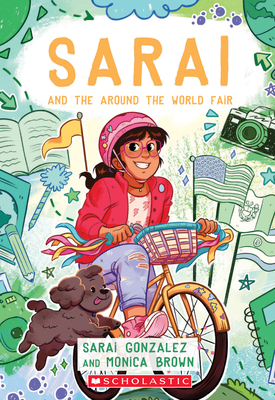 DESCRIPTION OF THE BOOK: When Sarai outgrows her bike, she worries she'll never get to travel anywhere. But when Martin Luther King Jr. Elementary hosts their first Around the World Fair, Sarai learns that with a little imagination you can go anywhere you want!
MY TWO CENTS: In this fourth installment there is no "big problem" that Sarai needs to or wants to solve. Rather, we continue to see her character development, getting to know her and her family. Mainly, Sarai's empathy and understanding of her family's needs come through again. This time, she has been eyeing a bicycle, yet Sarai understands her parents' financial struggles and doesn't ask for expensive things, including the new bike she really wants. Her inventive and resourceful Tata — her grandfather — however, decides to fix an old bike for Sarai. And though she is reluctant at first, not sure what the end product would be, Sarai ultimately enjoys helping her Tata fix the old bike and appreciates how great it turns out to be.
I found her reluctance to be relatable and so important to include. She is such a positive and upbeat character, and a wonderful role model for children, but I also appreciated that we get to see Sarai upset. Seeing a range of emotions (like frustrations and being upset) can be helpful for young readers, and it is especially important to show them that it is okay to feel upset and then demonstrate how they can deal with their different emotions. After Sarai has some time to work through her frustrations with Tata and the old bike he is trying to fix, she apologizes to him, and Tata apologizes to her as well.  This exchange not only shows that she is human– experiencing and expressing a range of emotions– but it also shows that adults need to understand what children are experiencing and show them they matter.
At school, Sarai must decide what country to research and present at the Around the World Fair. Embracing her parents' two countries — Peru and Costa Rica — she would love to feature both. She decides to do some "research to make an informed decision" (42). Funny as she is, Sarai, after doing some research, tells her friend Christina that one day, when they are "really old, like twenty" they could travel to Ireland, Peru, and Costa Rica, where their families are from. In the end, Sarai is able to present on her chosen country (I won't tell you which one). At the end of the book, readers will find a recipe and a step-by-step guide for making empanadas, like the ones she shares at the fair.
This fourth, and hopefully not the last, book in the series is truly delightful!
ABOUT THE AUTHORS: Sarai Gonzalez became an overnight sensation after appearing in Bomba Estero's, "Soy Yo," a music video about embracing yourself and loving your flaws. The video garnered over 75million views and The New York Times called Sarai a Latina icon. Sarai and the Meaning of Awesome is the first book in her new chapter book series inspired by her life. Sarai is now 13 years old and lives in New Jersey with her family.
Monica Brown is the award-winning author of super awesome books for children, including the Lola Levine chapter book series, Marisol McDonald Doesn't Match/no combina, Frida Kahlo and Her Animalitos, and Waiting for the Biblioburro. She is a professor of English at Northern Arizona University, specializing in Latinx and African American Literature. She lives in Flagstaff, Arizona, with her husband and her dogs, Lola and Finn. Visit her at www.monicabrown.net.
.
.
ABOUT THE ILLUSTRATOR: Christine Almeda is a Filipino-American freelance illustrator from NJ / NYC. She graduated from Montclair State University, earning a BFA and an Award for Excellence in Animation & Illustration, focusing on children's media. She believes in the power of storytelling and that art has the ability to make life a little more beautiful. You can learn more about her work at https://www.christinealmeda.com/about.
ABOUT THE REVIEWER: Emily R. Aguiló-Pérez is an Assistant Professor of English (Children's Literature) at West Chester University of Pennsylvania.  Her teaching and research are in the areas of children's literature (particularly Latinx literature), girlhood studies, and children's cultures. Her published work has focused on girlhood as represented in literature and Puerto Rican girls' identity formation with Barbie dolls. She has presented research on Latinx children's books at various conferences and has served on children's book award committees such as the 2017 Lee Bennett Hopkins Poetry Award and the 2018 Pura Belpré Award. Currently, she is part of the Pennsylvania Center for the Book's "A Baker's Dozen" committee.