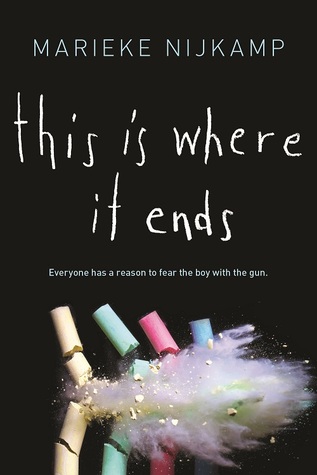 Reviewed by Cindy L. Rodriguez
DESCRIPTION OF THE BOOK:
10:00 a.m.
The principal of Opportunity, Alabama's high school finishes her speech, welcoming the entire student body to a new semester and encouraging them to excel and achieve.
10:02 a.m.
The students get up to leave the auditorium for their next class.
10:03
The auditorium doors won't open.
10:05
Someone starts shooting.
Told over the span of 54 harrowing minutes from four different perspectives, terror reigns as one student's calculated revenge turns into the ultimate game of survival.
MY TWO CENTS: As a parent and teacher, both at a middle school and community college, the possibility of an on-campus tragedy is my worst nightmare that proves to be a school's horrific reality on a too-regular basis. Author Marieke Nijkamp's debut novel chronicles a heart-wrenching 54 minutes of terror by dropout Tyler Browne, who returns to Opportunity High School the first day of a new semester to take revenge on the classmates he blames for his feelings of loss and abandonment. The story is told from four first-person perspectives: Claire, Tomás, Sylvia, and Autumn.
Claire, Tyler's ex-girlfriend, is outside the school when the shooting begins. She's a track star and JROTC member who runs for help with her best friend, Chris. Claire's brother, Matt, is inside the auditorium. Claire agonizes over what she could have done to stop Tyler. Did she see any signs? Did she know this would happen? She also feels helpless being on the outside and wants to do something, anything, to help.
Tomás and Sylvia are fraternal twins and unspecified Latin@s. Tomás and his friend, Fareed, who is Afghan, is inside the school but not among those trapped in the auditorium. Before today, they were most known for pranks and picking on Tyler, but now they call for help and plan a way to free those inside the auditorium, all the while worried about loved ones inside and whether their efforts will help or cause more harm.
Autumn is a ballerina, Tyler's sister, and Sylvia's girlfriend. Autumn and Sylvia are locked inside the auditorium and targeted by Tyler. Autumn's complex relationship with her brother and their abusive father in the wake of their mother's death is revealed trough flashbacks. Tyler blames his loneliness on Autumn's ambitious dance goals and her relationship with Sylvia.
The reader will get a fragmented picture of Tyler's good and bad sides: protective brother, comforting boyfriend, rapist, killer. When something like this happens, we often ask why and hope to get answers, but the reasons are never enough. Nijkamp explains in our Q&A that she made the decision to have this story not be about the shooter, but about the victims, which is why we never get his first-person point of view.
For me, not really knowing Tyler added to the story's intensity, leaving me feeling the kind of hurt, confusion, and uncertainty experienced by the fictional victims.
And since we're a site dedicated to Latin@ Literature, let's focus on Sylvia and Tomás for a moment. The two are loyal to friends, family, and each other, while having a typical sibling relationship that is sometimes loving, sometimes contentious. Sylvia is a Latin@ lesbian and a main character, which makes her one of the very few in the YA world. She is also accepted by her family when she comes out, as told in a flashback, which is refreshing because this counters the Latin@ families who reject a LGBTQIA+ member because of conservative religious or cultural beliefs. Coming out continues to be devastating for many LGBTQIA+ youth, unfortunately, but I appreciate that Nijkamp portrayed an accepting Latin@ family to show another possibility/reality.
This is Where it Ends, a gripping, heartbreaking thriller, released with Sourcebooks Fire on January 5, 2016. Click here for a discussion guide.
FOR MORE INFORMATION, check your local public library, your local bookstore or IndieBound. Also, check out Goodreads, Amazon, and Barnes & Noble.
ABOUT THE AUTHOR: Marieke Nijkamp was born and raised in the Netherlands. A lifelong student of stories, language, and ideas, she is more or less proficient in about a dozen languages and holds degrees in philosophy, history, and medieval studies. She is a storyteller, dreamer, globe-trotter, geek. Her debut young adult novel This Is Where It Ends, a contemporary story that follows four teens over the course of the fifty-four minutes of a school shooting, will be published by Sourcebooks Fire in January 2016. She is the founder of DiversifYA and a senior VP of We Need Diverse Books. Find her on Twitter.