.
We are an affiliate with Indiebound and Bookshop. If If you make a purchase through these links, at no additional cost to you, we will earn a small commission.
Reviewed by Sonia Alejandra Rodríguez, PhD & Ingrid Campos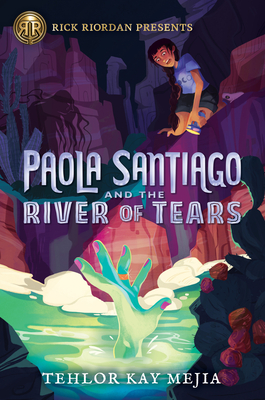 DESCRIPTION OF THE BOOK: Space-obsessed 12-year-old Paola Santiago and her two best friends, Emma and Dante, know the rule: Stay away from the river. It's all they've heard since a schoolmate of theirs drowned a year ago. Pao is embarrassed to admit that she has been told to stay away for even longer than that, because her mother is constantly warning her about La Llorona, the wailing ghost woman who wanders the banks of the Gila at night, looking for young people to drag into its murky depths.
Hating her mother's humiliating superstitions and knowing that she and her friends would never venture into the water, Pao organizes a meet-up to test out her new telescope near the Gila, since it's the best stargazing spot. But when Emma never arrives and Pao sees a shadowy figure in the reeds, it seems like maybe her mom was right.
OUR TWO CENTS: Tehlor Kay Mejia's Paola Santiago and the River of Tears (2020) presents a world of chupacabras, nightmares, and myths. Twelve-year-old Paola Santiago lives in Silver Springs, Arizona, and she's interested in all things science and space, making her a very rational person. Paola and her best friend, Dante, live in an apartment complex, while their other best friend, Emma, lives on the more affluent side of town. The three of them frequently go near the Gila River to play despite having been warned to avoid going there after the disappearance of Melissa Martínez. Paola's mom warns her of La Llorona, the wailing woman who haunts the river and takes children away from their parents, but Paola doesn't believe in myths and folktales because they're not scientifically sound. Their apartment is filled with the smell of incense and people who get their tarot cards read, and this bothers Paola because she wants a more rational, more grounded in reality, type of mother. One day, the trio plans to bring Emma's telescope to the Gila. Paola and Dante wait for Emma to come, but she never meets up with them that night. Emma is missing, and Paola and Dante go on a mission to find Emma. Paola will need to tap into her mother's lessons if she plans to save herself and her friends.
Paola has had to grow up fast due to her mother's work schedule and her mother's free-spirit. This coping mechanism has led to Paola leaning into science—where things make sense and answers are more definitive—and away from her mother—who's associated with myths, folktales, spirits, and spirituality. At the beginning of this middle grade novel, it's clear Paola is skeptical of her mother's stories: "But ghost? There is no scientific basis for them. No evidence at all that their existence was even possible let alone likely. An old folktale was definitely not a valid reason to change one's plans" (Mejia, 6). The resistance here, and through most of the novel, is not necessarily to the stories her mother tells but to the complicated relationship Paola and her mother have, wherein Paola must sometimes take care of herself and her own mother. The ghosts are not just the ghosts in her mother's stories but the ghosts in their relationship they each refuse to confront.
Paola is forced to rethink her relationship with her mother and how she sees her after her best friend Emma is taken to another world. Paola faces the monsters that resemble those in her mother's stories. And when rational thinking isn't enough to save her friends, Paola taps into what her mother's been telling her, her entire life, to save everyone. Such realization is significant for Paola's growth because she's making room for her culture's stories and mythology alongside her belief in science as part of how she understands herself. Her journey and fight to save Emma gave Paola an opportunity to celebrate her culture rather than reject it. As adult readers, we found this to be a powerful message about what should be considered knowledge and which types of knowledges should be respected. We believe this message—all knowledges, even those coming from family, have value—will also be empowering to young readers.
Not only does Mejia do an extraordinary job at including Mexican mythology in this novel, she also includes contemporary issues affecting Latinx communities at large, such as immigration and racial profiling. Sal is a memorable character in the River of Tears. Sal is a lost niño who used to live in Paola and Dante's apartment complex. Sal experiences an incident with ICE officers: "He always came to mind whenever she saw stories about tent cities on the news, showing women who like her mom cried over lost children who looked like Pao. Eventually, those stories went away as it became clear that viewers preferred to pretend that brown-skinned kids weren't disappearing but put into cages" (Mejia, 130). In a very emotional moment in the novel, Paola will meet Sal and the tragic truth of what could happen to children taken by ICE or thrown into cages will come to light. It's important that Mejia decided to let Sal tell his side of the story and that Sal finds agency in unexpected ways and in an unexpected world.
An overarching theme throughout the novel is class, which intersects with racial profiling. When Emma is first missing, Dante and Paola seek help from the police station. They encounter a police officer who shrugs them off. The officer says: "We've seen your kind here before. Trouble, all of you. Now, if you don't have business with us, you need to get out" (Mejia, 37). The officer talks down to Dante and Paola because he makes certain assumptions about them based on what they look like and where they live. This encounter leaves Paola feeling ashamed. It's only when Emma's white parents go into the police station and get involved that both she and Dante get taken seriously. The distrust for the police to find Emma, based on previous experiences, leads Paola's determination to find her friend herself.
Paola Santiago and the River of Tears is a novel about finding self-empowerment in one's culture in the face of systematic marginalization. Paola's mother and her neighbor give her the tools, all based in her Mexican American culture, to save her missing friend Emma. Although Paola may not necessarily understand, or even see these tools at first, they're there for her when she needs them the most. Mejia creates a brilliant, empathetic, and strong character in Paola Santiago. We need more books like this one that center brown girls interested in STEM, that tell readers to be proud of their culture, and that include magical chanclas as secret weapons.
The sequel to Paola Santiago and the River of Tears is Paola Santiago and the Forest of Nightmares, which released August 3, 2021.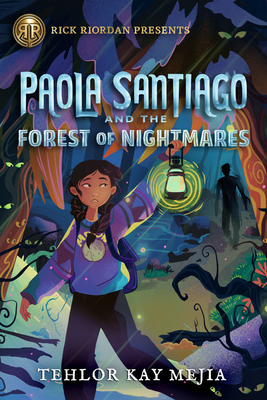 .
ABOUT THE AUTHOR: Tehlor Kay Mejia is the author of the critically acclaimed young adult fantasy duology WE SET THE DARK ON FIRE and WE UNLEASH THE MERCILESS STORM. Her middle grade debut, PAOLA SANTIAGO AND THE RIVER OF TEARS, released from Rick Riordan Presents in 2020 and its sequel PAOLA SANTIAGO AND THE FOREST OF NIGHTMARES released in 2021.
Her debut novel received six starred reviews, and was chosen as an Indie's Next Pick and a Junior Library Guild selection, as well as being an Indiebound regional bestseller. It was runner up for the Neukom Institute Literary Arts Award for Speculative fiction, awarded through Dartmouth College, was featured in Seventeen, Cosmopolitan, and O by Oprah Magazine's best books of 2019 lists, and was a book of the year selection by Kirkus and School Library Journal.
Tehlor lives in Oregon where she grows heirloom corn and continues her quest to perfect the vegan tamale.
.
.
.
ABOUT THE REVIEWERS: Sonia Alejandra Rodriguez, PhD is an Associate Professor of English at LaGuardia Community College (CUNY) where she teaches composition, literature, and creative writing. Her academic research focuses on decolonial healing in Latinx children's and young adult literature. Sonia is a Mellon Emerging Faculty Leader.
.
.
.
Ingrid Campos is a 19-year-old college student interested in Latinx Literature. After graduating from LaGuardia Community College (CUNY) this year with an associates in Writing and Literature, she will continue her studies at Queens College to earn her Bachelors in English Education 7-12 . Ingrid was born and raised in Queens, New York. As a Mexican-American living in Queens and graduating from the public school system, Ingrid is inspired to become a high school teacher. One of her main goals is to center academic curriculums around more diversity and inclusivity towards Black and Brown students.