.
We are an affiliate with Indiebound and Bookshop. If If you make a purchase through these links, at no additional cost to you, we will earn a small commission.
The Pura Belpré Award is named after Pura Belpré, the first Latina librarian at the New York Public Library. The Pura Belpré Award, established in 1996, is presented annually to a Latinx writer and illustrator whose work best portrays, affirms, and celebrates the Latino cultural experience in an outstanding work of literature for children and youth.
We have been marking the award's 25th anniversary in different ways on the blog. Today, Dr. Sonia Rodriguez and Dora M. Guzmán talk about Separate is Never Equal: Sylvia Mendez and Her Family's Fight for Desegregation by Duncan Tonatiuh. The book won the 2015 Pura Belpré Illustration Honor Award.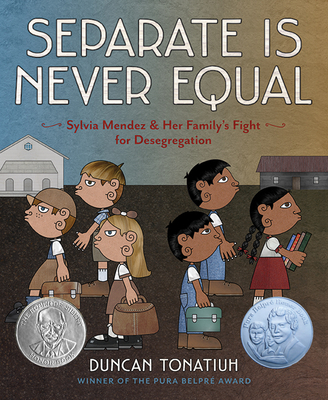 ABOUT THE BOOK: When her family moved to the town of Westminster, California, young Sylvia Mendez was excited about enrolling in her neighborhood school. But she and her brothers were turned away and told they had to attend the Mexican school instead. Sylvia could not understand why—she was an American citizen who spoke perfect English. Why were the children of Mexican families forced to attend a separate school? Unable to get a satisfactory answer from the school board, the Mendez family decided to take matters into its own hands and organize a lawsuit.

In the end, the Mendez family's efforts helped bring an end to segregated schooling in California in 1947, seven years before the landmark Supreme Court ruling in Brown v. Board of Education ended segregation in schools across America.

Using his signature illustration style and incorporating his interviews with Sylvia Mendez, as well as information from court files and news accounts, award-winning author and illustrator Duncan Tonatiuh tells the inspiring story of the Mendez family's fight for justice and equality.
You can find our book talks on our new YouTube channel!
.
.
.
.
Sonia Alejandra Rodriguez, PhD is an Associate Professor of English at LaGuardia Community College (CUNY) where she teaches composition, literature, and creative writing. Her academic research focuses on decolonial healing in Latinx children's and young adult literature. Sonia is a Mellon Emerging Faculty Leader.
.
.
.
Dora M. Guzmán is a bilingual reading specialist for grades K-5 and also teaches college courses in Children's Literature and Teaching Beginning Literacy. She is currently a doctoral student with a major in Reading, Language, and Literacy. When she is not sharing her love of reading with her students, you can find her in the nearest library, bookstore, or online, finding more great reads to add to her never-ending "to read" pile!