.
We are an affiliate with Indiebound and Bookshop. If If you make a purchase through these links, at no additional cost to you, we will earn a small commission.
Reviewed by Alexandra Someillan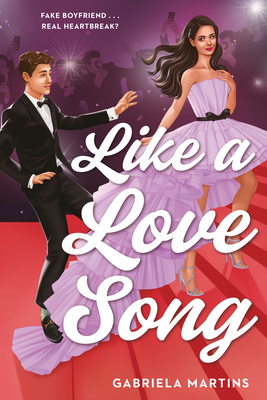 DESCRIPTION OF THE BOOK: Natalie is living her dream: topping the charts and setting records as a Brazilian pop star… until she's dumped spectacularly on live television. Not only is it humiliating–it could end her career.
Her PR team's desperate plan? A gorgeous yet oh-so-fake boyfriend. Nati reluctantly agrees, but William is not what she expected. She was hoping for a fierce bad boy–not a soft-hearted British indie film star. While she fights her way back to the top with a sweet and surprisingly swoon-worthy boy on her arm, she starts to fall for William–and realizes that maybe she's the biggest fake of them all. Can she reclaim her voice and her heart?
MY TWO CENTS: Like a Love Song was the ultimate light-hearted book to get me out of my book funk, and it was the kind of book that reminded me why I love rom-coms so much. Gabriela Martins captures pop culture celebrities today and what it's like living in a microscope. Natalie faces the pressures of being an international pop star as a young Latina trying to please everyone while dealing with one of the most humiliating breakup in front of the whole world.
As a registered celebrity-obsessed addict, nothing fascinates me more than a book that discusses the complexities of social media and how every move a celebrity makes is dissected and judged, even more so when it comes to young female stars. Natalie is the kind of character that reminds us of famous pop stars like Selena Gomez or Britney Spears and the intense media scrutiny they endure daily. She faces the heartbreaking reality of the constant expectation to be the poised and perfect pop star even after having her celebrity boyfriend break up with her on live television seconds before receiving her award.
Just like in the typical pop culture of today, Natalie getting dumped becomes a meme that is constantly posted and retweeted on social media. The author explores the distinction between male and female celebrities in a nuanced way and provides a realistic portrayal of who the public usually chooses to target in the aftermath of a scandal. Unfortunately, Natalie is the target, and her ex-boyfriend Trent comes out unscathed while her PR team scrambles to save Natalie's career. Of course, the PR strategy involves getting her a fake boyfriend when all Natalie wants is to hide under the covers and stalk her ex-boyfriend's Instagram.
Even though I thought that the relationship between Natalie and William was one of the most adorable opposites-attract love stories with all the rom-com feels, I came out of the story wanting more between these two characters. Normally, I am all about insta-love stories. Still, I felt that the relationship that developed between Natalie and William was a bit rushed, and this is probably due to the book being a relatively short read. Other than that, there were plenty of swoon-worthy parts in this book, and there were many times I caught myself smiling from ear to ear, loving the dynamic between a world-famous, glamorous pop singer and an indie actor with quirky socks.
One of Natalie's main struggles that I found deeply relatable revolves around the theme of identity and what it means to be Brazilian. Throughout the story, Natalie questions her heritage and feels alienated from her Brazilian family. She chooses to assimilate to American culture, but she knows deep inside that something is missing. I loved the journey that Natalie goes through to find herself, and it's something I can understand growing up Cuban-American in an extremely Americanized family.
This book is needed in Latinx publishing because it is one of the few rom-coms written by a Brazilian author, with a Brazilian main character, with queer representation, and features all the rom-com tropes we all know and love! Like a Love Song is the kind of story that reminds us to be ourselves instead of trying to meet other people's expectations. When you are yourself, the people who accept you are the people who will be around you for life.
TEACHING TIPS: Gabriela Martin's book could be used in a life skills class, where students could discuss the pressures of representing certain parts of yourself on social media and how to deal with online bullying.
The resource I recommend is from Mike's Math Mall on https://www.teacherspayteachers.com/Product/Anti-Bullying-Campus-Social-Media-Campaign-using-Language-Arts-Story-Elements-436818.
There is a great activity where you can divide students into groups of four. You can have them create a social media campaign poster, skit, video, Instagram post, or short story related to online bullying, challenging the pressures of social media and learning how to protect yourself from cyberbullying. The activity includes many graphic organizers and templates students can use to organize their ideas.
.
ABOUT THE AUTHOR (from her website https://www.gabrielawrites.com/): GABRIELA MARTINS is a Brazilian kidlit author and linguist. Her stories feature Brazilian characters finding themselves and love. She was a high school teacher and has also worked as a TED Ed-Club facilitator, where she helped teens develop their own talks in TED format to present. She edited and self-published a pro-bono LGBTQ+ anthology (KEEP FAITH) with all funds going to queer people in need. When she's not writing, she can be found cuddling with her two cats, or singing loudly and off-key.
.
.
.
.
.
ABOUT THE REVIEWER: Alexandra Someillan is a freelance book reviewer and teacher who lives in Miami, FL. She has written for Frolic Media, where she has raved about her favorite Latinx romances. Currently, she has been accepted in the Las Musas mentorship and is working on her Latinx contemporary novel with Nina Moreno. Usually, you can find Alexandra obsessing over nineties pop culture and eating too many pastelitos.