Reviewed by Caissa Casarez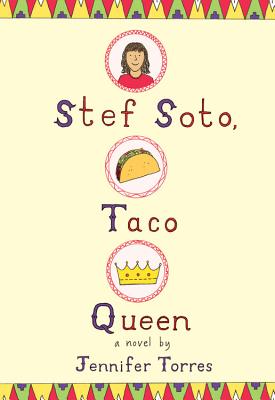 DESCRIPTION FROM THE BOOK'S BACK COVER: Estefania "Stef" Soto is itching to shake off the onion-and-cilantro embrace of Tia Perla, her family's taco truck. She wants nothing more than for Papi to get a normal job and for Tia Perla to be a distant memory. Then maybe everyone at school will stop seeing her as the Taco Queen.
But when her family's livelihood is threatened, and it looks like her wish will finally come true, Stef surprises everyone (including herself) by becoming the truck's unlikely champion. In this fun and heartfelt novel, Stef will discover what matters most and ultimately embrace an identity that even includes old Tia Perla.
MY TWO CENTS: Jennifer Torres doesn't waste any time introducing the readers to Stef and the people in her life, including Papi and her best friend Arthur in the first scene outside of their Catholic middle school. She notices Papi in his taco truck – known as Tia Perla for the rest of the book – and she gets angry because he had originally promised to let her meet him at a nearby gas station. This is the first of many conflicts Stef has with her parents about maturity at the seventh-grade level. The conflicts are about issues that come up in many houses of middle school students.
One of my favorite scenes of the book is in chapter 3, when Stef reminisces about the early stages of Tia Perla being in her family's life. From what Torres describes as "kitchen-table whispers" about the kinds of beans and salsa it'll feature ("nothing from a jar," insists Mami) to learning the origin of the name (Stef's pick), the entire scene was sweet and a key part of the story. The chapters in the entire book are short but detailed enough for readers of any age to get a glimpse into Stef's life.
Despite the joy Tia Perla once brought to Stef, she feels anything but joy about the beloved truck as the book goes on. She tries to be nice to former-friend-turned-popular-girl Julia by offering her a ride home in Tia Perla, but Julia turns around and calls Stef the "Taco Queen" behind her back. This comes after Julia makes a scene before the start of their English class by announcing she has tickets to see local pop sensation Viviana Vega in concert. Torres then takes the readers into more of Stef's life at Saint Scholastica School – trying to fit in and leave Tia Perla in the dust. Stef's favorite day of the week is Tuesday, which she realizes is not common, because it's when she has her art class. "And in art class," Torres writes, "I never hear Mami's voice telling me I'm too young, or Papi's nagging me to be careful. I am in charge of the blank piece of paper in front of me, and I can turn it into something as vivid and adventurous or as quiet and calm as I want." This part of the story stuck out to me because of the way Torres compares making art with wanting independence.
Stef spends every Saturday helping her Papi and Tia Perla during their busiest day of the week. They travel to farmers markets, parks, and other outdoor common areas in their city to feed the crowds with the scrumptious food they're known for. Even though Papi seems grateful every time Stef helps him out, she still wants nothing to do with Tia Perla, especially when it gets in the way of her independent life she's trying to create.
During a stop on one of Tia Perla's routine Saturdays, Stef visits her other best friend, Amanda, after her soccer game. While the two are cooling off with the help of strawberry soda, they listen to the radio and eventually win concert tickets to see Viviana Vega. Stef is cautiously optimistic about her parents letting the two attend the concert alone – until they say no, despite her papi giving her a cell phone she thinks is to check in with them at the concert.
The book then turns its focus to two more complex and meaningful issues previously introduced before Stef's blowup with her papi. Stef and her classmates decide to work together in a unique way to get more art supplies (hint: a school-wide event is included). And, in a move that impacts Stef more than she realizes, Papi's business (and Tia Perla) is threatened by new proposed city rules that would impact all food trucks in the area, specifically the taco trucks. Stef seems more mature than others her age when she mentions translating important notes for her papi and others from English into Spanish.
The book ends with a couple of different twists that I didn't see coming, but I believe both twists worked really well to help bring the story to a close. Stef learns to love all of the parts that make up her identity – even Tia Perla.
Torres does a wonderful job describing the characters and each place they're in throughout the book. I felt like I was following Stef and her family and friends through their adventures. The book addresses many important topics that may be tough for some kids and families to discuss, but I believe the issues were written in a way that kids can understand. I felt for Stef during some of the scenes with her parents.
There are some basic Spanish words and sentences in the book, most of which are italicized except for one – Orale! That word appears several times in the book with several different meanings, which I loved. It helped set the tone for each of the different chapters, especially when Stef described each way it was written for each scene.
Overall, Stef Soto, Taco Queen is a wonderful read. It's recommended for kids in grades 4-7 (ages 9-12), but I would suggest it to anyone looking for a story about a girl trying to find herself in this crazy world.
TEACHING TIPS: This book could be used to discuss the idea of working together to help solve problems, especially in the face of adversity. Stef's art teacher, Mr. Salazar, helped his class raise money to bring in more art supplies, even though he was skeptical about their idea at first. The book could also be used in a way to discuss local politics for students. Not many middle-school students get involved with politics in such a way that Stef did, but I believe the book would be a good way to teach students how to make a difference in their community.
ABOUT THE AUTHOR (from the book's back cover): Jennifer Torres was 17-years-old–a senior at Alverno High School in Sierra Madre, California—when the first time a story of hers was published in a newspaper. The story was about making tamales with her family, but it was also about love and tradition and growing up. She went on to study journalism at Northwestern University and the University of Westminster. Today, she works as a freelance journalist and is the author Finding the Music, a picture book from Lee & Low. Jennifer lives with her husband and two little girls in central California. Stef Soto, Taco Queen is her debut novel.
BOOK LINKS: Amazon, Barnes & Noble, IndieBound, GoodReads
ABOUT THE REVIEWER: Caissa Casarez is a proud multiracial Latina and a self-proclaimed nerd. When she's not working for public television, Caissa loves reading, tweeting, and drinking cold brew. She especially loves books and other stories by fellow marginalized voices. She wants to help reach out to kids once in her shoes through the love of books to let them know they're not alone. Caissa lives in St. Paul, MN, with her partner and their rambunctious cat. Follow her on Twitter & Instagram at @cmcasarez.