By Jenny Torres Sanchez
I visited New Mexico for the first time about twelve years ago. My in-laws live right on the border of Columbus, New Mexico and Palomas, Mexico. I was there for a funeral and it was a sad, somber time. Maybe that was part of the reason why it seemed such a lonely place to me, so desolate and bare.
On our way to the graveyard, I remember much walking and dust. There were rocks on tombstones to cover graves because there is no grass. And my husband's family members took turns, while weeping, to shovel dirt upon their loved one's grave. I felt then that I had come to a place of great despair. But also of great beauty. And I knew I would someday write a story that took place there.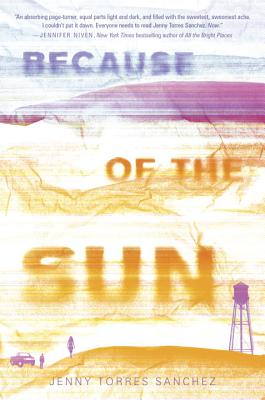 Years later, a story did come to me about a boy named Paulo living on that border. I tried writing it, but it never panned out and I abandoned the idea. Years later, another story came to me about an empty and unfeeling girl named Dani. Her story merged with that long ago abandoned one about Paulo. They meet as Dani is walking in the desert. He sees in her something he knows well: tragedy. And he feels drawn to her in that way we sometimes are to those who might share a similar pain. So he helps Dani and introduces her to his grandmother, who also helps her.
Paulo's grandmother is an interesting character to me because she is someone I have always known. In her I see my mother who came to the United States all alone after her mother died. I see my grandmothers, women whose faces I have imagined in those hot, dusty countries where they were born and lived unimaginably hard lives. And I see my mother in-law, an immigrant from Mexico, with her own share of stories of a hard life. She is the one who introduced me to teas and instilled in me a belief that different ones can cure different ailments and remedy almost anything.
I've been raised, nurtured, and surrounded by these strong women, women who are equal parts hard and loving. They've had to survive great hardships, broken dreams and tragedies. But they survived, thrived even. And I've elevated them to goddess-like statures. To me, they are magical in that there is nothing they can't do, nothing they can't endure and overcome. Paulo's grandmother is a culmination of the women I love. She is someone who has survived and helps others survive, who can bring back the dead even. She is always there, appearing even in dreams. Just like the women in my life.
I think it's interesting how stories are woven, how truth becomes inspiration that merges with lies and the imagined. I love seeing that thin thread of the real in my stories. I love seeing the people in my life, in some way, in some form or transformation, make their way into my stories. And while their stories are not the focus of mine, their influence is never far.
JENNY TORRES SANCHEZ is a full-time writer and former English teacher. She was born in Brooklyn, New York, but has lived on the border of two worlds her whole life. She lives in Orlando, Florida, with her husband and children. She is the author of The Downside of Being Charlie, Death, Dickinson, and the Demented Life of Frenchie Garcia, and Because of the Sun.