Reviews by Dora M. Guzmán
The following books are a wonderful addition to any classroom library, as well as reading about how art inspires young artists and the beauty of waiting. One teaching tip is to use Luis Paints the World and A Surprise for Teresita to compare and contrast the main characters and their response to the act of waiting. Teachers can also use Maybe Something Beautiful and Luis Paints the World to compare and contrast how the main characters use art to express their current feelings to themselves and the community. Also, teachers can use all three books to compare and contrast characters and other story elements, but most of all for young readers to experience inspirational and impacting characters and stories.
MAYBE SOMETHING BEAUTIFUL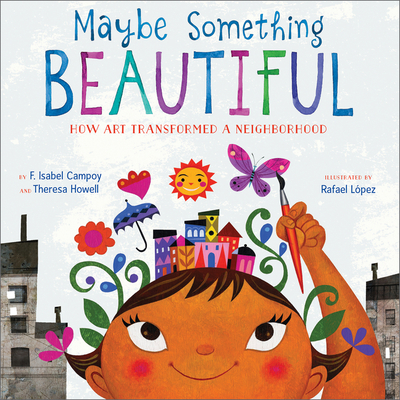 DESCRIPTION OF THE BOOK: What good can a splash of color do in a community of gray? As Mira and her neighbors discover, more than you might ever imagine! Based on the true story of the Urban Art Trail in San Diego, California, Maybe Something Beautiful reveals how art can inspire transformation—and how even the smallest artists can accomplish something big. Pick up a paintbrush and join the celebration!
MY TWO CENTS: A realistic fiction picture book in lyrical writing based on a true story, this book paints a picture of a diverse community coming together as artists to liven up the town, and their interpersonal relationships. Mira, a little girl, is an artist who decides to share her paintings with her neighbors. Soon after, the color fulfills the community's craving for life. Neighbors begin to also contribute their ideas to the town through murals and other creative expressions like dancing, Suddenly, a gray old town turns into a warm, colorful community.
I absolutely loved this book, especially the main character, Mira. She is young, but she contributed a transformative gift to her town by sharing her paintings. Great contrast in the illustrations while Mira literally brings color and life to a gray world. This picture book depicts an essential component of a community, which is to share our joys and contributions to further enhance our lives and surroundings.
TEACHING TIPS: A great read aloud for all ages, especially those in elementary schools (K-5). When reading, teachers can:
focus on retelling
model similes and metaphors
use it as a writing mentor text for descriptive words and language
analyze the use of onomatopoeia
describe how the illustrations support the text
The possibilities are endless!
ABOUT THE AUTHORS (from the book): Isabel Campoy is an author, anthologist, translator, and bilingual educator who has won many awards for her professional contributions. Her many accolades include ALA Notables, the San Francisco Library Award, the Reading the World Award from the University of San Francisco, the NABE Ramón Santiago Award, the International Latino Children's Book Award, and nine Junior Library Guild selections. She is a member of the North American Academy of Spanish Language. She lives in Northern California.
Theresa Howell is a children's book author and editor with many bilingual books to her credit. Mutually inspired by Rafael Lopez's efforts to transform communities through art, they combined their talents in the lyrical text of Maybe Something Beautiful. She lives in Colorado.
ABOUT THE ILLUSTRATOR: Rafael López is both the illustrator of this book and the inspiration for the character of the muralist. He was born and raised in Mexico, a place that has always influenced the vivid colors and shapes in his artwork. He now creates community-based mural projects around the world and illustrates award-winning children's books. Rafael López divides his time between Mexico and San Diego, California.
A SURPRISE FOR TERESITA / UNA SORPRESA PARA TERESITA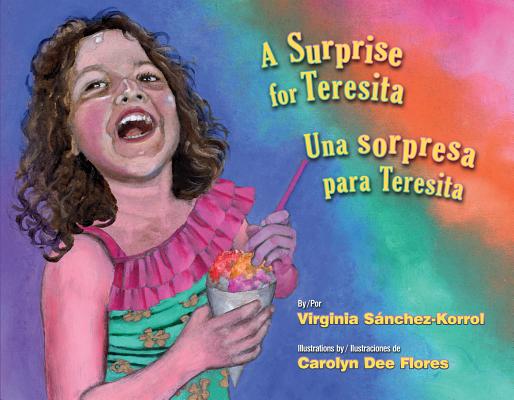 DESCRIPTION OF THE BOOK: In this bilingual picture book for young children, seven-year-old Teresita anxiously awaits her Tio Ramon, who has promised her a special surprise for her birthday.
MY TWO CENTS: This realistic fiction picture book in a bilingual English/Spanish text format is about a girl, Teresita, anticipating her uncle, Tio Ramon, and her birthday gift. As Teresita goes about her day, she meets other neighbors who are also anticipating her uncle's famous snow cones. Soon after, her Tio Ramon arrives and not only shares his refreshing snow cones, but did not forget about Teresita's unique birthday gift!
The main character, Teresita, is every child on their birthday, experiencing the anticipation of a birthday gift, but more importantly anticipating the visit of a loved one. The book also focuses on the joy that her uncle brings to the community, so the anticipation is shared between Teresita and the community. It reminds me of numerous memories of waiting for the raspados, paletas, and elotes. The moment when Tio Ramon arrives is an endearing moment for the reader and Teresita. Great character description throughout the story!
TEACHING TIPS: A great book to use for a read aloud at any age, especially elementary aged students. Reading and writing focuses can also include retelling, predicting, analyzing character feelings and/or traits, modeling narrative structure and writing.
ABOUT THE AUTHOR: Virginia Sánchez-Korrol is a Professor Emerita at Brooklyn College, CUNY. She is co-editor of the three volume Latinas in the United States and when she is not working on history brooks, she writes a blog for the Huffington Post.
ABOUT THE ILLUSTRATOR: Carolyn Dee Flores is a computer analyst turned rock musician turned children's illustrator who loves experimenting with unconventional art equipment and art mediums. She has won numerous awards. She is currently serving as the Illustrator Coordinator for the Southwest Texas Chapter of the Society of Children's Book Writers and Illustrators and mentor for the We Need Diverse Books movement.
For more information about Carolyn, check out this post, one in a series that highlights Latina illustrators.
LUIS PAINTS THE WORLD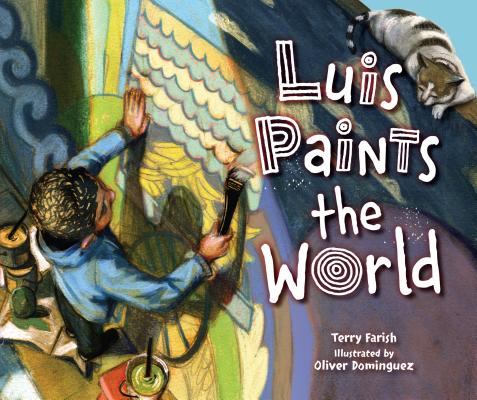 DESCRIPTION OF THE BOOK: Luis wishes Nico wasn't leaving for the Army. To show Nico he doesn't need to go, Luis begins a mural on the alleyway wall. Their house, the river, the Parque de las Ardillas—it's the world, all right there. Won't Nico miss Mami's sweet flan? What about their baseball games in the street? But as Luis awaits his brother's return from duty, his own world expands as well, through swooping paint and the help of their bustling Dominican neighborhood.
MY TWO CENTS: A sweet story between Luis and his brother, Nico, who is deploying to another country through the Army. The reader can sense the sadness and helplessness in Luis convincing his older brother, Nico, to stay home. Luis is then inspired to paint a mural in order to show the world to his brother. While Nico's departure is inevitable, Luis continues to paint and add to the mural, which then also inspires his mom and neighbors to add to the mural. The descriptive language changes throughout the seasons and is reminiscent of the unknown arrival of a loved one in the armed forces. Loved the story format and the thinking process behind Luis's mural additions. Art truly was Luis's form of therapy and measure of time of when his brother will come back home.
TEACHING TIPS: A great book to read aloud to any aged students, especially in the elementary grades. Readers can also focus on certain reading skills like retelling, questioning, and predicting throughout the story. Writers can focus on writing skills like narrative writing and adding descriptive language and adding dialogue.
ABOUT THE AUTHOR: Terry Farish's picture books, novels, and nonfiction works often focus on immigrant and refugee populations, informed by her early work for the Red Cross in Vietnam and continual research. Terry presents literacy programs for the New Hampshire Humanities Council, and she received the New England Reading Association 2016 Special Recognition Award for Outstanding Contributions to Literacy. She lives in Kittery, Maine.
ABOUT THE ILLUSTRATOR: Oliver Rodriguez was born and raised in Miami, where his family settled after leaving Columbia. As a child, Oliver loved the way illustrations could bring a story to life. He received his BFA in Illustration from the Ringling College of Art and Design in 2008 and has illustrated multiple picture books. He lives in Florida with his wife, two dogs, and a collection of unique hats.
ABOUT THE REVIEWER: Dora is a bilingual reading specialist for grades K-3 and also teaches an undergraduate college course in Children's Literature. When she is not sharing her love of reading with her students, you can find her in the nearest library, bookstore, or online, finding more great reads to add to her never ending "to read" pile!