By NoNieqa Ramos
"What are you?" I can't express how many times I've been asked this exact question by white girls. No joke. What preempted this comment, you ask? Perhaps I was wearing some sort of costume? Perhaps it was dark? Try again. It was because I was speaking in grammatically correct sentences and making allusions to books. Me. The same person who wore baggy pants, hoodies, bright red lipstick, had giant Dep-gelled hair, and dropped the F bomb.
I mean "word to your moms, I came to drop bombs. I got more lyrics than the bible got psalms."- House of Pain
Just sayin. But really who was I? Who am I as a person of color?
To Puerto Ricans on the island, I'm gringa city. And they are right. How can I understand what it is like for the President of the United States to throw me paper-freakin-towels when I'm dealing with the spill of a hurricane?
That being said, my great-grandmother came from the mountains of Puerto Rico and brought my great-aunts to the Bronx. To every POC I ever knew, I was 100 percent Boricua from my knock-off Timberlands to my hoopie earrings. To the principal at my high school who called me Ms. Ramirez, and responded to my correction with "same thing," I was everyone and nobody.  To the white girls at my high school, I was definitely not a virgin. For every book that I read as a kid, I didn't exist.
Even with the books I finally did find in GRAD SCHOOL, like "Like Water for Chocolate" or ANYTHING by Gabriel Garcia Marquez, I still didn't see myself. I grew up on rice and Goya oh Boya!–beans from a can–seasoned with jarred Sofrito, Recaito, sprinkled with Sazon.
My single-dad didn't have time to do all these romantic things to food that books like Isabel Allende described– like soaking the beans overnight–not getting them from a can–slicing up fresh avocado–in my childhood only white people getting their buzz on with Margaritas ate guacamole. You know how expensive avocadoes are?
Yet, there was never a time when the radio wasn't blaring with meringue, salsa, free-style music by TKA (Maria! The most beautiful sound I ever heard…), Jodeci, Gloria Estefan and the like. There was never a time when my dad wasn't telling me if I didn't get 99s, I was gonna end up cleaning floors for a living–like every brown person represented in all of the movies I had ever seen.
When I looked in the mirror, everybody else's image of what a Puerto Rican is supposed to be crowded in with my image of self. When I was sixteen, we moved out of the Bronx and into a white suburb of NJ. One day our white neighbors called my stepmother Rosie in alarm. She should call the police. "A black man" was on our property.
My stepmother had white skin and blonde hair, but she spent half her life in PR. In fact, she was the reason I grew up hearing Spanish. She was 100 percent Puerto Rican and 100 percent sure the "black man" on our lawn was my dad trimming the hedges. My dad.
100 percent used to this type of shit. 100 percent used to being called gringo by other Puerto Ricans for not speaking the Spanish he was forced to unlearn as a child. 100 percent representing the black and brown in our gene pool with his gorgeous face and fabulous mustache.
Who am I as a POC? On those surveys, I answer, race human. Ethnicity, Taino. Yes, Taino. Not white. I don't identify with the oppressors who slaughtered my people. I'm not the image that people want to project into my mirror, but that person in the mirror combing her bushy hair, dancing to old-school Eddie Palmieri. Getting ready to sit myself and my daughter down to learn Spanish from our tutors who come every Sunday to help us reclaim the language that should have been our own in the first damn place. So, quien soy yo?
Soy un maestra. Soy un autor. Soy un madre y un esposo. So un activista. Soy una Boricua. Lo entiendes, holmes?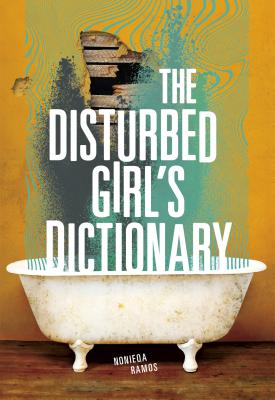 CLICK HERE  for our review of The Disturbed Girl's Dictionary.
CLICK HERE  for another guest post from NoNieqa.
NoNieqa Ramos spent her childhood in the Bronx, where she started her own publishing company and sold books for twenty-five cents until the nuns shut her down. With the support of her single father and her tias, she earned dual master's degrees in creative writing and education at the University of Notre Dame. As a teacher, she has dedicated herself to bringing gifted-and-talented education to minority students and expanding access to literature, music, and theater for all children. A frequent foster parent, NoNieqa lives in Ashburn, Virginia, with her family. She can be found on Twitter at @NoNiLRamos.