.
Review by Katrina Ortega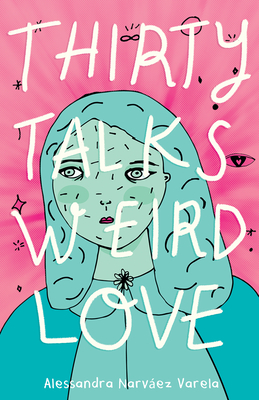 DESCRIPTION (from Goodreads): Out of nowhere, a lady comes up to Anamaría and says she's her, from the future. But Anamaría's thirteen, she knows better than to talk to some weirdo stranger. Girls need to be careful, especially in Ciudad Juárez, Mexico—it's the 90's and fear is overtaking her beloved city as cases of kidnapped girls and women become alarmingly common. This thirty-year-old "future" lady doesn't seem to be dangerous but she won't stop bothering her, switching between cheesy Hallmark advice about being kind to yourself, and some mysterious talk about saving a girl.
Anamaría definitely doesn't need any saving, she's doing just fine. She works hard at her strict, grade-obsessed middle school—so hard that she hardly gets any sleep; so hard that the stress makes her snap not just at mean girls but even her own (few) friends; so hard that when she does sleep she dreams about dying—but she just wants to do the best she can so she can grow up to be successful. Maybe Thirty's right, maybe she's not supposed to be so exhausted with her life, but how can she ask for help when her city is mourning the much bigger tragedy of its stolen girls?
This thought-provoking, moving verse novel will lead adult and young adult readers alike to vital discussions on important topics—like dealing with depression and how to recognize this in yourself and others—through the accessible voice of a thirteen-year-old girl. 
MY TWO CENTS: I'm always a proponent for books that take place in settings of which I'm familiar. Growing up in El Paso in the 90s, just across the international border from Ciudad Juárez, I found myself sucked into a world that I remember all too well while reading this. Narváez Varela paints a picture of the turn of the century border city with such precision, it felt like memory. The great thing is that, while I recognize and can envision what Anamaría sees when she's at school, and I can hear and see what music she's listening to and what TV she's watching, teens today will also be able to relate. They'll be able to see familiar faces in the students that Anamaría goes to school with, relate to her struggles with school and with her family, might recognize her grappling with mental illness threatening to take over her life, and might possibly understand what it's like to live in a reality where one's own life and well-being feels constantly threatened. 
Violence against women is not a new social ill throughout the Americas, as is evident in this book. Centering the femicides that happened in Ciudad Juárez in the 1990s-2000s as part of this story helps connect the extreme violence that plagued the community in that era with what continues to be the case today in many areas around the Americas. It also helps to show readers how much of an impact her environment has on Anamaría , which is unfortunately something that teens still have to manage today. 
Additionally, the focus on Anamaría's mental health is one of the standout components of this book and something that many readers, regardless of age, will recognize. The depression she's dealing with as a result of her environment and the state of her community is something that will resonate with many teens today. Her obsession with being the top student in her class, her inability to sleep, and her suicidal thoughts are all things that many teens deal with, even though it's just as unhealthy now as it was in the late 1990s. Readers, particularly teens, may find themselves easily identifying with Anamaría's situation and her frame of mind: she wants to please her parents, wants to be the best version of herself, and wants to win.
The use of a "mentor" like Thirty is an excellent device because it shows Anamaría (and readers) a future that is hopeful–one where the decisions that she makes today don't cease her existence, but instead create a new timeline that allows a wiser version of herself to show her all of the possibilities her future holds. The mentorship that Thirty offers to Anamaría prompts her to rethink her priorities, open up to her parents, begin to reflect on why she does what she does, and start healing herself by making choices that will improve her mental health, rather than sacrifice it for the sake of others. 
As a debut novelist, Narváez Varela does an incredible job of putting her verses together, so that they tell a clear narrative while also enticing the reader with beautiful language. Exposure to different kinds of poetry can be a wonderful introduction to literature for all readers, but is especially so for hesitant readers. Mixing both English and Spanish together in her verses will help any reader see the poeticism of the border language spoken in areas like Ciudad Juárez/El Paso, and Narváez Varela combines them in a way that is clear enough for any reader to understand. 
Finally, there was a perfect balance of reality and magic realism woven throughout this novel. Thirty's character, a visitor from the future who is there to try to change Anamaría's point of view (thereby changing the actions that she takes), is a believable one. She appears to be the same as any person on the street that Anamaría sees every day, rather than some mystical outsider. She gets along with people in Anamaría's life, and pops into her daily routine sparsely to give her more bits of the story from the future or nuggets of advice. The steadiness of her presence seems to bolster Anamaría throughout, and really makes the entire thing perfectly believable for the reader. 
Thirty Talks Weird Love was a powerful read that will resonate with readers of all ages. 
.
ABOUT THE AUTHOR: Alessandra Narváez Varela is a poet and teacher born and raised in Ciudad Juárez, México. 
Her first book, Thirty Talks Weird Love, a young-adult novel in verse, was published on November 2, 2021 by Cinco Puntos Press, an imprint of Lee and Low Books. The audiobook, narrated by the author, was released by Listening Library on the same date.
She has published her poetry in Poets.org, Huizache, Acentos Review, Duende, The Normal School and TAYO. She was featured in "Seeking a Voice, Via a Bilingual M.F.A., in Writing and in Life," an article in the New York Times Education Life section, where she spoke of her experience as a bilingual poet who writes mostly in English, instead of Spanish, her native tongue. Her, a chapbook, was published by the University of Houston, the Department of Hispanic Studies.
She holds an MFA in Creative Writing from the University of Texas at El Paso, where she is now a lecturer.
.
.
.
ABOUT THE REVIEWER: Katrina Ortega (M.L.I.S.) is the manager of the New York Public Library's College and Career Pathways program. Originally from El Paso, Texas, she has lived in New York City for six years. She is a strong advocate of continuing education (in all of its forms) and is very interested in learning new ways that public libraries can provide higher education to all. She is also very interested in working with non-traditional communities in the library, particularly incarcerated and homeless populations. While pursuing her own higher education, she received two Bachelors of Arts degrees (in English and in History), a Masters of Arts in English, and a Masters of Library and Information Sciences. Katrina loves reading most anything, but particularly loves literary fiction, YA novels, and any type of graphic novel or comic. In her free time, if she's not reading, Katrina loves to walk around New York, looking for good places to eat.