Review by Dora M. Guzmán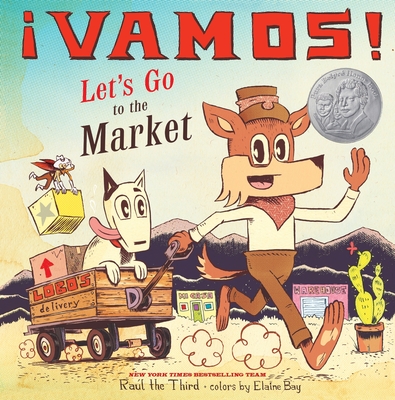 DESCRIPTION OF THE BOOK: Richard Scarry's Busytown gets a Mexican-American makeover in the marketplace of a buzzing border town from Pura Belpré Medal-winning illustrator Raúl the Third.
Bilingual in a new way, this paper over board book teaches readers simple words in Spanish as they experience the bustling life of a border town. Follow Little Lobo and his dog Bernabe as they deliver supplies to a variety of vendors, selling everything from sweets to sombreros, portraits to piñatas, carved masks to comic books!
MY TWO CENTS: Where to begin?! Raúl the Third's illustrations are unique and like no other. If you've read Lowriders in Space then you know what I am referring to. His attention to detail, and similar to a graphic novel format, adds another dimension of following Little Lobo to the market in a town in Mexico.
I learned so much about the daily ins-and-outs of this community through the text, but most of all, its illustrations. The number of illustrations and words reflect a life of the hustle and bustle of the town, while also showing the love of la comunidad. Overall, it's a fun and rich graphic picture book addition to add to your library. I highly recommend this book as a read-aloud at school and home, and an interactive text to use for students to learn about communities and the different pieces and people that make it thrive!
TEACHING TIPS: Many of these teaching moments can be implemented in a grades K-5 setting.
Use as a writing mentor text

for describing a small moment in time (a day at the market, shopping with family) or
writing about what makes their community a community
How the placement and use of illustrations enhance an author's writing and storytelling

Focus on cultural artifacts and items that represent their own culture or are similar to their culture
ABOUT THE AUTHOR-ILLUSTRATOR: Raúl the Third was born in El Paso, Texas, and grew up going back and forth between El Paso and Ciudad Juárez, Mexico. He is the Pura Belpré Award-winning illustrator of Lowriders to the Center of the Earth. Raúl lives in Boston, Massachusetts, with his wife, artist Elaine Bay, and son, Raúl the Fourth. Learn more about his work here!
---
Review by Dora M. Guzmán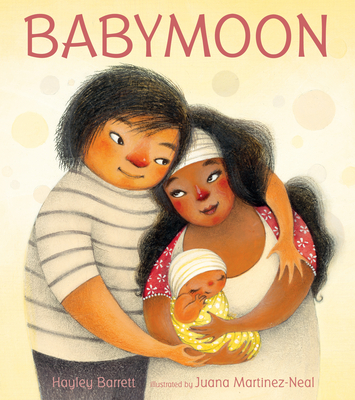 DESCRIPTION OF THE BOOK: In a perfect gift for new and expectant parents (and siblings), a gentle story pays tribute to the wonder and emotion of a family's first quiet days with a newborn.
The house is hushed. The lights are low.
We're basking in a newborn glow.
Inside the cozy house, a baby has arrived! The world is eager to meet the newcomer, but there will be time enough for that later. Right now, the family is on its babymoon: cocooning, connecting, learning, and muddling through each new concern. While the term "babymoon" is often used to refer to a parents' getaway before the birth of a child, it was originally coined by midwives to describe days like these: at home with a newborn, with the world held at bay and the wonder of a new family constellation unfolding. Paired with warm and winsome illustrations by Juana Martinez-Neal, Hayley Barrett's lyrical ode to these tender first days will resonate with new families everywhere.
MY TWO CENTS: A touching story to share with all about the blessing of a baby. The story begins from the outside where a sign is hanging on the door, "See you soon". The ambiguous message leaves readers to wonder if they are expecting someone soon, if the family is out of town, or if it is a message for visitors. A great moment to stop and give readers an option to infer from the title and the message on the door. The next page reveals a full spread of a family surrounding their new family member–a newborn. Words are weaved in and out of this new world that consists of long embraces, collaborative games, and peaceful smiles.
Juana Martinez-Neal does it again! The way she utilizes her strokes and warm palette adds a softness to all the images that leave readers with a peaceful feeling–the feeling of home. Many readers describe this feeling of a "warm hug" as we journey with this family's new life, and boy they are not wrong! The family's pet is also part of this new life, as the reader notices facial expressions and adds a comical and realistic experience for all animal lovers who welcome new babies (we all know that "look"!).
Overall, this is an amazing addition to your school and home library that represents the love that is multiplied in the family. I highly recommend this book as gifts for families expecting babies and a read-aloud for students who are expecting new siblings!
TEACHING TIPS: Many of these teaching moments can be implemented in a grades K-5 setting, with a focus on the primary grades.
Teaching descriptive vocabulary words and phrases
Lesson on phonemic awareness such as focusing on rhyming words
Focus on the illustrator's purpose of using certain colors or placement of illustrations to convey meaning and book themes
Great addition to any family unit in a reading curriculum
Mentor text for writing about family life, changes, or life moments.
ABOUT THE AUTHOR: Hayley Barrett is the author of three upcoming picture books, Babymoon (Candlewick 2019), What Miss Mitchell Saw (S&S/Beach Lane, 2019), and Girl Vs. Squirrel  (Margaret Ferguson Books/Holiday House, 2020). She lives outside of Boston with her husband John. Their two terrific kids have flown the coop.
ABOUT THE ILLUSTRATOR: Juana Martinez-Neal is the recipient of the 2018 Pura Belpré Medal for Illustration for La Princesa and the Pea (Putnam/Penguin 2017). Alma and How She Got Her Name (Candlewick 2018), her debut picture book as author-illustrator, was awarded the 2019 Caldecott Honor.
She was named to the International Board on Books for Young People (IBBY) Honor list in 2014, and was awarded the SCBWI Portfolio Showcase Grand Prize in 2012. She was born in Lima, the capital of Peru, and now lives in Scottsdale, Arizona, with her husband and three children.
ABOUT THE REVIEWER: Dora M. Guzmán is a bilingual reading specialist for grades K-5 and also teaches undergraduate and graduate courses in Children's Literature and Teaching Beginning Literacy. She is also a current doctoral student in NLU's EDD Teaching and Learning Program with an emphasis on Reading, Language, and Literacy. When she is not sharing her love of reading with her students, you can find her in the nearest library, bookstore, or online, finding more great reads to add to her never-ending "to read" pile!