By Cindy L. Rodriguez
This is the eighth in an occasional series about middle grade Latinx authors. We decided to shine a spotlight on middle grade writers and their novels because, often, they are "stuck in the middle"–sandwiched between and overlooked for picture books and young adult novels. The middle grades are a crucial time in child development socially, emotionally, and academically. The books that speak to these young readers tend to have lots of heart and great voices that capture all that is awkward and brilliant about that time.
Today, we highlight Mary Louise Sanchez.
Mary Louise Sanchez was born and raised in Rawlins, Wyoming. Family history on both sides of her family fuels her passion to tell the stories of her Hispanic gente who colonized present day New Mexico in 1598.
The Wind Called My Name is her debut novel. Here is the publisher's description: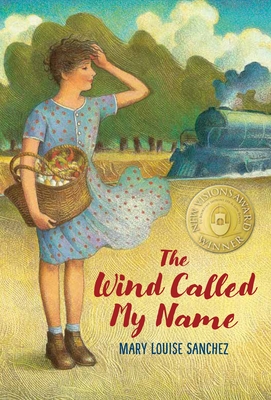 Some days, ten-year-old Margaríta Sandoval feels as if the wind might blow her away. The country has been gripped by the Great Depression, so times are hard everywhere. Then she has to leave her família in New Mexico — especially her beloved Abuelita — to move to Fort Steele, Wyoming, where her father has taken a job on the railroad.
When Margaríta meets Evangeline, she's excited to have a friend her own age in Wyoming. But it often seems like Evangeline, and everyone else in town, doesn't understand or appreciate the Sandovals' Hispanic heritage. At the same time, the Sandovals discover they might lose Abuelita's land and their ancestral home unless they can pay off her tax bill. Can Margaríta keep her friend, help her family in New Mexico, and find a place in Fort Steele for good?
The Wind Called My Name was one of three inaugural 2012 On-the-Verge Emerging Voices Awards from the Society of Children's Book Writers and Illustrators. It was awarded the New Visions Award from Tu Books in 2016. This debut book is based on the author's colonial Hispanic heritage and family history in New Mexico and Wyoming. The author is a retired teacher/librarian and lives in Thornton, Colorado with her husband. They have four grown children and eight grandchildren.
Mary Louise Sanchez
Q. Who or what inspired you to become a writer?
A. Ever since I read the Newbery Award book . . . And Now Miguel, I've been on a quest to read more fictional stories about my unique northern New Mexican culture. I've found some adult titles, but children's novels have been elusive, so I decided to try and write one that I wanted to read. I believe everyone has stories to share–including me.
Q. Why do you choose to write middle grade novels?
A. I tend to identify with my ten and eleven-year-old self more than my teen self; and thus, enjoy the middle grade books because the characters are becoming aware of their big wide world and yet, they are also learning how to navigate their own emotions and way in the world.
Q. What are some of your favorite middle grade novels?
A. Stories that touch my soul and linger there are favorites, like Wish, by Barbara O'Connor. A current favorite is Where the Watermelons Grow by a debut author, Cindy Baldwin. Another recent debut middle grade author, Kelly Yang, wowed me with her book, Front Desk. I also enjoyed living a vicarious Pakistani life in Amal Unbound by Aisha Saeed. Please see my growing list of middle grade books I've enjoyed on my Goodreads page.
Q. If you could give your middle-grade self some advice, what would it be?
A. Mary Louise, listen attentively to the details in the stories your grandparents and older relatives share. Their memories and yours will play an important part in your storytelling.
Q. Please finish this sentence: Middle grade novels are important because…
A. Middle grade novels are important because they are a way for readers to vicariously live many lives. The stories can also illuminate ways to interact in this world where you are leaving childhood behind and becoming more independent.
Cindy L. Rodriguez was a newspaper reporter for The Hartford Courant and researcher at The Boston Globe before becoming a public school teacher. She is now a reading specialist at a Connecticut middle school. Cindy is a U.S.-born Latina of Puerto Rican and Brazilian descent. She has degrees from UConn and CCSU. Her debut contemporary YA novel, When Reason Breaks (Bloomsbury 2015). She also has an essay in Life Inside My Mind (Simon Pulse 2018). She can be found on Facebook, Twitter, and Goodreads.