Review by Cris Rhodes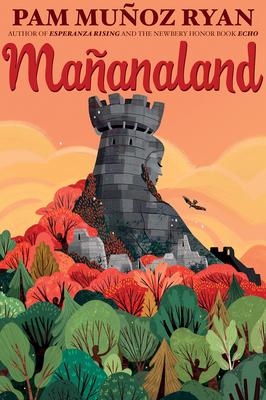 DESCRIPTION OF THE BOOK: Maximiliano Córdoba loves stories, especially the legend Buelo tells him about a mythical gatekeeper who can guide brave travelers on a journey into tomorrow.
If Max could see tomorrow, he would know if he'd make Santa Maria's celebrated fútbol team and whether he'd ever meet his mother, who disappeared when he was a baby. He longs to know more about her, but Papá won't talk. So when Max uncovers a buried family secret–involving an underground network of guardians who lead people fleeing a neighboring country to safety–he decides to seek answers on his own.
With a treasured compass, a mysterious stone rubbing, and Buelo's legend as his only guides, he sets out on a perilous quest to discover if he is true of heart and what the future holds.
MY TWO CENTS: Pam Muñoz Ryan is known for her immersive, fictional worlds and her sympathetic storylines. Mañanaland is no different, throwing its reader into Santa Maria and its mysterious history without preamble. Initially, I thought that this might be a fairytale land, populated with knights and princesses in castles, but Muñoz Ryan quickly smooths over that assumption by having Max, our earnest protagonist, be a soccer (fútbol) loving young man. Other indicators, such as the presence of cars, lend to the understanding that this is at least a quasi-modern world. Nevertheless, the bubble of fantasy remains throughout the reading, owing to Max's belief in the everyday magic of his world.
Max grew up on the tales of La Reina Gigante, the looming and off-limits tower in his hometown. Local folklore tells of its haunting by the "hidden ones," refugees escaping the neighboring country of Abismo. Fueled by his grandfather's, Buelo's, tales of his journeys and encounters with other mystical beings, Max entertains the idea that hidden worlds exist–perhaps even hidden worlds that contain his missing mother. 
The truth, however, blends the fantastic with the mundane. I'm hesitant to give anything away here, as I urge everyone to read Mañanaland for themselves. The reveal of Max's true past, his mother's fate, and his family's secret is worth the wait. And, if I could register one complaint with the book, it would be that: waiting. The pacing of the text is quite slow in the beginning, leaving the reader wondering alongside Max if he'll ever be trusted to learn or do anything. However, once Max understands his place in the world, the text whirls by–a journey of heart and valor.
Paralleling Mañanaland's plot, which Muñoz Ryan admits takes place "[s]omewhere in the Américas," is the real-world plight of our own hidden ones, the refugees entering the United States in search of something better. Santa Maria's legend holds the hidden ones as either victims or criminals. With anti-immigrant sentiment in our own country perpetuating the myth of immigrants fleeing their own Abismos as a threat, reading a book like Mañanaland unsettles that ideology, cracks it open to show its flaws. I find myself saying this in almost all of my reviews, but this book folds its sociopolitically exigency seamlessly into its pages. With so many young readers experiencing these dark messages either about themselves, their families, or people they know–a book like Mañanaland can help them understand and feel seen, but also look for ways they can help, just like Max.
All-in-all, I found Mañanaland to be a quick, immersive, and necessary read. For young readers graduating from shorter chaptered books, this would be a great introductory text to longer novels. Like Muñoz Ryan's other middle-grade works, however, Mañanaland appeals not just to a tweenage readership, but to many. It would be a great read aloud for younger readers and it would be something I'd put in the hands of my college seniors. With its emphasis on hope, growth, and change, Mañanaland will easily join the esteemed ranks of Muñoz Ryan's other works.
Mañanaland releases March 3, 2020.
ABOUT THE AUTHOR: Pam Muñoz Ryan is an American author and the 2018 U.S. nominee for the international Hans Christian Andersen Award. She is the author of ECHO, a Newbery Honor book and the recipient of the Kirkus Prize. She has written over forty books, including the novels ESPERANZA RISING, BECOMING NAOMI LEÓN, RIDING FREEDOM, PAINT THE WIND,  THE DREAMER, and ECHO. She is the author recipient of the National Education Association's Civil and Human Rights Award, the Virginia Hamilton Literary Award for Multicultural Literature, and is twice the recipient of the Pura Belpré Medal and the Willa Cather Award.
Her novel, ESPERANZA RISING, was commissioned as a play by the Minneapolis Children's Theatre and has been performed in many venues around the U.S. including The Goodman in Chicago, and the Majestic Cutler Theater, in Boston.
Other selected honors include the PEN USA Award, the Américas Award, the Boston Globe-Horn Book Honor, and the Orbis Pictus Award. She was born and raised in Bakersfield, California, (formerly Pam Bell) holds a bachelor's and master's degree from San Diego State University and lives near San Diego with her family.  Many of her stories reflect her half-Mexican heritage.
ABOUT THE REVIEWER: Cris Rhodes is an assistant professor of English at Shippensburg University of Pennsylvania. She teaches courses of writing, culturally diverse literature, and ethnic literatures. In addition to teaching, Cris's scholarship focuses on Latinx youth and their literature or related media. She also has a particular scholarly interest in activism and the ways that young Latinxs advocate for themselves and their communities