Review by Jessica Agudelo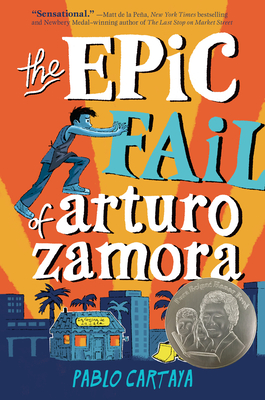 DESCRIPTION OF THE BOOK: Save the restaurant. Save the town. Get the girl. Make Abuela proud. Can thirteen-year-old Arturo Zamora do it all or is he in for a BIG, EPIC FAIL? For Arturo, summertime in Miami means playing basketball until dark, sipping mango smoothies, and keeping cool under banyan trees. And maybe a few shifts as junior lunchtime dishwasher at Abuela's restaurant. Maybe. But this summer also includes Carmen, a poetry enthusiast who moves into Arturo's apartment complex and turns his stomach into a deep fryer. He almost doesn't notice the smarmy land developer who rolls into town and threatens to change it. Arturo refuses to let his family and community go down without a fight, and as he schemes with Carmen, Arturo discovers the power of poetry and protest through untold family stories and the work of José Martí.
MY TWO CENTS: Much to my delight, there were a number of titles released in 2017 that filled me with pride and transported me back to my days as a middle school book worm. The Epic Fail of Arturo Zamora was among them. Arturo's story possesses familiar hallmarks of coming of age tales, a first crush, a crummy summer job as a dishwasher (albeit at his family's beloved restaurant, La Cocina de la Isla), and self-discovery. With equal measures of humor and heart, Pablo Cartaya's middle grade debut is sure to leave readers anxious for an invite to the Zamora family Sunday dinners. What truly makes The Epic Fail special, though, is how Cartaya burnishes deeper themes like family, community, gentrification, and cultural identity with nuance and irresistible charm.
When Wilfrido Pipo, a villainous real estate developer, saunters into Canal Grove looking to build a luxurious high rise, Arturo and his family fear the move will drastically alter their Miami neighborhood. Pipo intends to buy the city-owned lot next to La Cocina, which the Zamoras also planned to bid on, hoping to expand their restaurant. In order to convince community members to back his development plan, Pipo throws fancy events and raffles off all-expenses-paid trips. Arturo senses Pipo's duplicitous nature and is spurred into action by Vanessa, his activist cousin, and Carmen, his new crush. Together, they hatch plans, one involving a Hulk disguise, to further investigate Pipo's shady background and resist his ambitions. Gentrification and activism are timely topics, but their weightiness can feel overwhelming and disheartening, especially in light of news about Dreamers, to name one example. Cartaya does his best to impart readers with some hope. Arturo and his family picket and attend public forums at city hall, actions which, whatever the ultimate result, display a sense of agency, a power Arturo realizes he possesses.
At one protest, Vanessa holds a picket sign reading "Family is Community-Community is Family," a succinct summation of two overarching themes. For Cartaya, family is not just those related by blood, but those with whom you choose to spend time, and sometimes, inadvertently share space. We readily throw longtime friends under the family umbrella, but Cartaya implores readers to consider neighbors, even the most eccentric among them, as members of our extended families. La Cocina itself is an extension of the family's dining room, where an array of regulars eat, local businesses build partnerships (the restaurant buys its meat and greens from area vendors), and everyone is welcome.
Cartaya's portrayal of an ample list of secondary characters is one of his greatest successes. He depicts a variety of personalities using distinct and vivid details, bringing the community of Canal Grove to life. Whether it is Arturo's best friend Bren, a hopeless dork perpetually trying to look and sound like Pitbull, or Aunt Tuti, who has a penchant for dramatics, but is a fierce defender of her family, readers will surely recognize at least one, if not many, of Cartaya's characters. Arturo may be the hero of the story, but it is the people around him who inspire his actions and give his mission purpose. His fight to save the family restaurant is also a fight for the preservation of his hometown, a love he shares with the people of his community, who, in turn, make that community a place worth loving. In one passage, Arturo wonders where Pipo's own family might be, "All that success and I never heard him talk about anyone who he cared about." Arturo's realization reminded me of Harry Potter's own assessment of Voldemort in Order of the Phoenix, whom he pities for being equally rootless. A poignant message about community that traverses Hogwarts and Canal Grove.
As Arturo's Abuela's health declines, she gives Arturo a box of photos and letters from his Abuelo, which reference the poet José Martí. The poet is a link to his grandfather and his Cuban heritage. Arturo is pulled in by Martí, a figure emblematic of embracing multiple cultures and causes. Growing up in the U.S. has resulted in Arturo's imperfect Spanish, and yet, he "sometimes used Spanish words when English words couldn't fully explain what I needed to say." Although awkward in many aspects of his life, Arturo moves through his multitudes with spectacular ease. The narrative of struggling to balance cultural identities has shifted. Of course, stories about cultural struggle are necessary, but it was wonderful to see Arturo just be himself. It allowed me to let out a deep breath I didn't realize I was holding in.
I could go on and on about The Epic Fail of Arturo Zamora. How touched I was by the depictions of Abuela's tenderness, his mom's quiet struggle becoming matriarch of the family, Arturo's admiration for Carmen's colorful braces, and of course, the food (recipes included as backmatter). This novel was a true joy to read from beginning to end. A rare feat, even in children's literature.
ABOUT THE AUTHOR: Pablo Cartaya is the author of the acclaimed middle-grade novel, The Epic Fail of Arturo Zamora (Viking, 2017); Marcus Vega Doesn't Speak Spanish (Viking, 2018); and two forthcoming titles in 2019 and 2020 also to be published by Viking. He is a Publisher's Weekly "Flying Start" and has received starred reviews from Kirkus, Booklist, and Publisher's Weekly. For his performance recording the audiobook of his novel, Pablo received an Earphone Award from Audiofile Magazine and a Publisher's Weekly Audiobooks starred review. He is the co-author of the picture book, Tina Cocolina: Queen of the Cupcakes (Random House, 2010), a contributor to the literary magazine, Miami Rail; the Spanish language editorial, Suburbano Ediciones; and a translator for the poetry chapbook, Cinco Poemas/Five Poems based on the work of poet Hyam Plutzik. Pablo visits schools and universities throughout the US and currently serves as faculty at Sierra Nevada College's MFA in Creative Writing. http://www.pablocartaya.com / Twitter: @phcartaya
ABOUT THE REVIEWER: Jessica Agudelo is a Children's Librarian at the New York Public Library. She has served on NYPL's selection committee for its annual Best Books for Kids list, and is currently a co-chair for the 2018 list. She contributes reviews of English and Spanish language books for School Library Journal and is a proud member of the Association of Library Services to Children and REFORMA (the National Association to Promote Library and Information Services to Latinos and Spanish Speakers). Jessica is Colombian-American and was born and raised in Queens, NY.