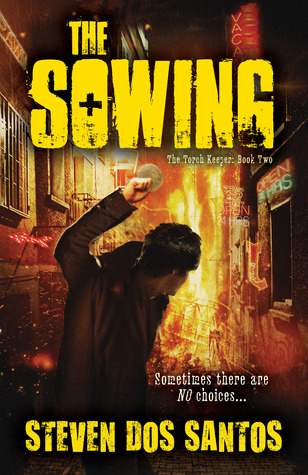 By Eileen Fontenot
DESCRIPTION FROM THE BOOK JACKET: "This time, there are no choices. Lucian "Lucky" Spark leads a double life. By day, he trains to become one of the Establishment elite. At night, he sabotages his oppressors from within, seeking to avenge the murder of his love, Digory Tycho, and rescue his imprisoned brother. But when he embarks on a risky plot to assassinate members of the Establishment hierarchy, Lucky is thrust into the war between the Establishment and the rebellion, where the lines between friend and foe are blurred beyond recognition. His only chance for survival lies in facing the secrets of the Sowing, a mystery rooted in the ashes of the apocalyptic past that threatens to destroy Lucky's last hope for the future."
MY TWO CENTS: Wow. When I say, the action doesn't stop, well, it just doesn't stop. The reader is taken immediately to a dramatic fight a couple of months after newly minted Imposer Lucky finishes the trials, portrayed in the first book, The Culling. The series is set in a post-apocalyptic future in which the totalitarian Establishment, led by Cassius Thorn, really enjoys keeping Parish citizens downtrodden.
We continue to view the world through Lucky's eyes – including struggle to protect his little brother, Cole, and the injustices he must now pretend to participate in, while actively working toward positive change. We can see that Lucky has grown and matured, but is weighed by his constant terror of losing Cole. As he is forced to return to the Trials, this time as an Incentive, he experiences old horrors in new ways – and we learn more about the mysteries of the first book as well. There are a couple shocking twists, that I won't mention here, but suffice it to say, this is one entertaining read. And readers can see that a bigger story line is building – bound to shake up Lucky's already precarious situation.
The amazing thing about this series, besides the edge-of-your-seat suspense that gives the reader inventively gory payoffs, is that the sexuality of the LGBTQ characters are treated totally matter of factly. In this horrific version of our future, at least society recognizes that love is love. I think LGBTQ teens who love dystopian thrillers like The Hunger Games will enjoy a similar story that focuses on sympathetic characters that just happen to be gay. Dos Santos doesn't make a big deal out of his characters' sexuality. Normalizing this aspect of society is a long time coming; I think today's teens deserve to envision a future without a closet and this series supports that idea. Although it would be nice if the other parts of the future didn't go down the drain!
This series would be great as a pick for a LGBTQ teen book group, whether for high school or in a public library. It's an excellent counterpoint for LGBTQ books that are serious or that focuses on sexuality as the actual story. Teens will also understand Lucky's growth and his love of family. But, most of all, it's just a fun read.
AUTHOR: Steven dos Santos was born in New York City and raised in south Florida. He began writing at 7, but didn't become a professional writer until after graduating with a communications degree and then spending time working in the field of law. The two books of The Torch Keeper series are his first professionally published works, and The Culling has been added to the 2014 ALA GLBTQ's Rainbow Project Reading List. He's currently at work writing the final book in The Torch Keeper series.
FOR MORE INFORMATION ABOUT Dos Santos and The Sowing, visit your local library or bookstore. Online he can be found at stevendossantos.com, worldcat.org, goodreads.com, indiebound.org, barnesandnoble.com and amazon.com.
Eileen Fontenot is a recent graduate of Simmons College Graduate School of Library and Information Science in Boston. She works at a public library and is interested in community service and working toward social justice. A sci-fi/fantasy fan, Eileen was formerly a newspaper writer and editor.