Review by Cris Rhodes: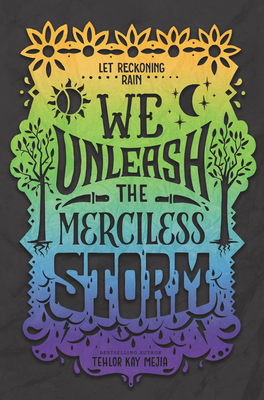 DESCRIPTION OF THE BOOK: Being a part of the resistance group La Voz is an act of devotion and desperation. On the other side of Medio's border wall, the oppressed class fights for freedom and liberty, sacrificing what little they have to become defenders of the cause.
Carmen Santos is one of La Voz's best soldiers. She spent years undercover, but now, with her identity exposed and the island on the brink of a civil war, Carmen returns to the only real home she's ever known: La Voz's headquarters.
There she must reckon with her beloved leader, who is under the influence of an aggressive new recruit, and with the devastating news that her true love might be the target of an assassination plot. Will Carmen break with her community and save the girl who stole her heart—or fully embrace the ruthless rebel she was always meant to be?
MY TWO CENTS: In this action-packed follow-up to her debut novel We Set the Dark on Fire, Tehlor Kay Mejia continues her revolutionary queer romance with a bang. Picking up moments after We Set the Dark on Fire ends, We Unleash the Merciless Storm shifts vantage points from Dani, the Primera wife whose secret identity as an undocumented immigrant from beyond Medio's rigid borders complicates her life and causes her to tenatively join the resistance, to Carmen, who seemed to embody the social mores of Medio's stratified and exclusive world, but is actually an undercover operative for the revolutionary group La Voz.
Readers will need to be familiar with We Set the Dark on Fire to fully grasp the extent of We Unleash the Merciless Storm. I found myself returning to the previous book to remember the intricacies of Medio's social codes and to remind myself of character names and traits. This is not a stand alone book, and, I would wager, it's a sequel best enjoyed immediately following reading (or rereading) the first novel.
The switch to Carmen as the main character proves an interesting counterpoint to Dani's narrative in the first novel. Whereas Dani is largely unaware of the mounting resistance to Medio's restrictive government, Carmen is deeply involved in the resistance. Carmen seems superficial and catty in the first novel, but We Unleash the Merciless Storm unravels that narrative, posing Carmen as an astute and powerful member of La Voz. But, her relationship with Dani was an unforeseen complication to her mission to unravel Medio from the inside.
It would be a typical narrative maneuver to have Carmen torn between her love for Dani and her loyalty to La Voz, but Mejia resists that stale plot. Rather, Carmen sees her loyalties to both Dani and La Voz as intertwined. Mejia's explorations of Carmen's motives seem authentic and they reflect the complex and competing emotions of resistance and love. Those who are looking for nonstop action may be frustrated with Carmen's frequent reflections on her relationship with Dani, but these thoughts don't seem out of place for someone like Carmen who was undercover for the majority of her formative years. Not only is Carmen contending with the loss of her love, but she's also relearning how to be a part of La Voz after years away. Carmen's wondering also reveals important questions about revolution. Is a political uprising necessarily violent? Can change be made without pain? As Carmen grapples with these questions, her loyalties to La Voz are questioned and she must prove herself while also remaining true to her values.
As with my feelings toward We Set the Dark on Fire, I found We Unleash the Merciless Storm to be the kind of novel that I longed for as a teenager (and, frankly, enjoyed immensely as an adult). The romance is there, of course, but it's not the entire focus–and it shouldn't be! I love a good romance, especially a queer romance, but the complexities of Medio's government and La Voz's revolutionary ideals give contemporary teens an important counterpoint to our own global politics.
ABOUT THE AUTHOR (from her website): Tehlor Kay Mejia is the author of the critically acclaimed young adult fantasy novel We Set the Dark on Fire and its sequel, We Unleash the Merciless Storm, and the forthcoming Miss Meteor (co-written with National Book Award nominee Anna-Marie McLemore). Her middle grade debut, Paola Santiago and the River of Tears, releases from Rick Riordan Presents in 2020.
Her debut novel received six starred reviews, and was chosen as an Indie's Next Pick and a Junior Library Guild selection, as well as being an Indiebound bestseller in the Pacific Northwest region. It has been featured in Seventeen, Cosmopolitan, and O by Oprah Magazine's best books of 2019 lists.
Tehlor lives in Oregon with her daughter, a dog that matches her hair, and several rescued houseplants. You can find her on Twitter and Instagram @tehlorkay.
Cris Rhodes is an assistant professor of English at Shippensburg University of Pennsylvania. She teaches courses of writing, culturally diverse literature, and ethnic literatures. In addition to teaching, Cris's scholarship focuses on Latinx youth and their literature or related media. She also has a particular scholarly interest in activism and the ways that young Latinxs advocate for themselves and their communities.