Review by Elena Foulis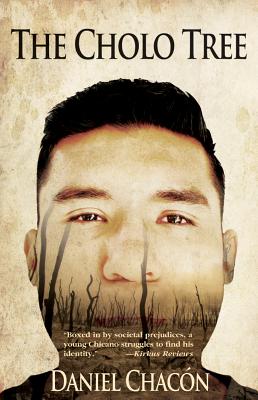 DESCRIPTION OF THE BOOK: "Do you know what a stereotype you are?" Jessica asks her son. "You're the existential Chicano." Fourteen-year-old Victor has just been released from the hospital; his chest is wrapped in bandages and his arm is in a sling. He has barely survived being shot, and his mother accuses him of being a cholo, something he denies.
She's not the only adult who thinks he's a gangbanger. His sociology teacher once sent him to a teach-in on gang violence. Victor's philosophy is that everyone is racist. "They see a brown kid, they see a banger." Even other kids think he's in a gang, maybe because of the clothes he wears. The truth is, he loves death (metal, that is), reading books, drawing, the cartoonist Lalo Alcaraz, and the Showtime series Weeds. He likes school and cooking. He knows what a double negative is!
But he can't convince his mom that he's not in a gang. And even with a genius girlfriend and an art teacher who mentors and encourages him to apply to art schools, Victor can't seem to overcome society's expectations for him.
MY TWO CENTS: Daniel Chacón's novel, The Cholo Tree, is a story that confronts stereotypes within one's own community and family. Told from the perspective of a young Chicano protagonist, this story exposes not only obstacles a young teen in a impoverished neighborhood might face, but also what contributes to perpetuating a cycle of violence, gang-culture, and drugs when young, Latino men repeatedly hear assumptions about who they might be or what they are destined to become. The protagonist, Victor, navigates hearing these messages from people like his own mother or teachers who assume he is a gangbanger, although he is not. Chacón tells the story of a young Chicano teen who is navigating school, a single parent household, and his gift as an artist.
After his near-death experience, Victor navigates high school life, confronting stereotypes on a daily basis. One thing that catches the reader's attention is the school administrators' and teachers' insistence that Victor must belong in a gang because he is Chicano, plus the clothes he wears and his attitude. However, this does not stop at school. Often, his own mother, who he calls Jessica, accuses him of being a gangbanger, a cholo. While Victor is no angel, the reader can come to understand the impact of placing labels on Latino youth, and how, in particular, young artists risk being boxed into stereotypes that see them as dangerous or a menace to society.
Victor is often a spectator, an observer of his environment and surroundings, which he realizes contributes to many of the negative labels society puts on young brown men like him. Indeed, through his interactions with a group of young men, who are involved in drug using and selling, he tries to rescue two sisters getting caught in this lifestyle. He uses his drawings to engage with them and possibly persuade them to see themselves as young women who deserve better lives, and he remembers what his friend Freddy once said to him when Victor became interested in Iliana, a genius girl he had met at a party and Victor's love interest,  "Every Chicanita is my sister."
One of the things that saves Victor is his relationship with an art teacher, Mr. García, who is possibly the only person who sees his gift as an artist and helps him see himself as something different than what society expects of him. Mr. García not only lets Victor use his own studio, he encourages Victor to apply to prestigious art schools, which he has not considered as a possibility for himself. Chacón uses imagery and fantasy and the complexity of family dynamics to make this a story worth reading.
ABOUT THE AUTHOR: Daniel Chacón is the author of Hotel Juárez: Stories, Rooms and Loops (Arte Público Press, 2013); Unending Rooms (Black Lawrence Press, 2008), winner of the Hudson Prize; and the shadows took him (Washington Square Press, 2005) and Chicano Chicanery (Arte Público Press, 2000). A professor at the University of Texas at El Paso, he is co-editor of The Last Supper of Chicano Heroes: The Selected Works of José Antonio Burciaga (University of Arizona Press, 2008).
ABOUT THE REVIEWER: Elena Foulis has a Ph.D. in Comparative Literature and Cultural Studies from the University of Arkansas. Her research and teaching interests include U.S. Latina/o literature, and Digital Oral History. Dr. Foulis is currently working on a digital oral history project about Latin@s in Ohio, which is being archived at the Center for Folklore Studies' internet collection. Some of these narratives can be found in her iBook titled, Latin@ Stories Across Ohio.