Review by Sonia Alejandra Rodríguez, PhD and Ingrid Campos
DESCRIPTION OF THE BOOK: In this new Vamos! title, Let's Go Eat, Little Lobo is excited to take in a show with wrestling star El Toro in his bustling border town. After getting lunch orders from The Bull and his friends to help prepare for the event, Little Lobo takes readers on a tour of food trucks that sell his favorite foods, like quesadillas with red peppers and Mexican-Korean tacos. Peppered with easy-to-remember Latin-American Spanish vocabulary, this glorious celebration of food is sure to leave every reader hungry for lunch!
OUR TWO CENTS: ¡Vamos! Let's Go Eat by Raúl the Third with color by Elaine Bay centers Little Lobo, his dog Bernabé, and his rooster friend, Kooky Dooky. Little Lobo takes his delivery services to El Coliseo to meet Luchador star, El Toro, who asks Little Lobo to get lunch orders for him and all of his famished wrestling friends before the big show that night. Little Lobo, Bernabé, and Kooky Dooky visit different food trucks and food stands in the area to find some of their favorite Mexican dishes such as tacos, tamales, churros, aguas frescas, and many more delicious treats.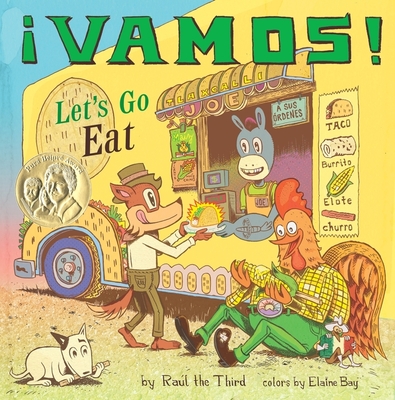 ¡Vamos! Let's Go Eat is crowded with fun, humorous characters from cover to cover: from a snake with a sombrero slithering up a utility pole, to a tortoise driving a "Tortas Tortuga" truck with "despacito" blazoned across the side, to "Armor Dillo," a luchador armadillo covered in armor, and so much more. The illustrations are also action-packed, mimicking the high energy of any good lucha match. The cars speed by leaving zig-zag "vroom" behind. The floor retumba like waves at the rumble of the luchadors' hungry tummies. Puffs of smoke or exhaust rise as Little Lobo dashes from one place to the next. Elaine's color choices bring the book to life–resembling Little Lobo's lively neighborhood. Additionally, readers will find many words for different types of foods, animals, and actions as part of the illustrations. On one spread, when Little Lobo first meets all the luchadores, their names are drawn to match their styles, like the "L" in "Lizarda" is as long as their tongue. On another page, when Little Lobo goes to pick up dessert, there are so many options that the words fill up half the page: "Flan," "arroz con leche," "churros," and more. Raúl and Elaine give every inch of the pages something new for readers to find with every read.
¡Vamos! is also an extraordinary book for showcasing bilingualism in Spanish and English. Some of the speech bubbles offer immediate translation of the Spanish words and phrases: "Un poquito de esto. Un poquito de lo otro. A little of this. A little of that." Other speech bubbles or words in the illustrations don't offer direct translations; instead, the illustrations serve as context for translation. An example of this is when Little Lobo sits to watch the lucha, and the vendor shouts, "¡Cacahuates! ¡Palomitas! ¡Soda!" There's no direct translation on the page but instead the reader can see the vendor toss a bag of peanuts at Little Lobo. On other pages, the English and Spanish serve as a call and response. When Little Lobo and Bernabé make it to El Coliseo for the first time, Little Lobo asks, "¡¿Qué es eso?!" and one of the luchadores responds with, "That's our bellies. We are very hungry." Additionally, there's a food glossary at the end of the book, which readers can refer to if they are unfamiliar with the words. The author also encourages readers to use a Spanish-English dictionary to look up words not found in the glossary, which is a significant way to encourage proactiveness and agency in young readers. 
The heart of this story is not only Mexican food but also love and respect for street food vendors. Raúl does an excellent job at representing the diversity of street food, the types of kitchens where the food is made, and kinds of characters who make the food. After getting the long list of food orders from the luchadores, Little Lobo, Bernabé, and Kooky Dooky head outside to shop from the different food vendors. The narration reads, "A food truck is a kitchen on wheels. Food of all kinds can be prepared there. Some food sellers used modified bikes or wagons." There are also food sellers selling out of a cooler and from a box around their neck. Additionally, in ¡Vamos!, Raúl shows that street food vendors are an important staple of any community and demonstrates how street food vendors support one another. For example, at one point in the story, Little Lobo notices: "At the elotero, the corn boils in the giant tub right on the cart. Macho gives all his husks to Tammy. She uses them to wrap her tamales." Here, the vendors support one another by sharing supplies to create food that'll feed a community, but the example also demonstrates how conservation is an innate part of many Latinx cultures; nothing goes to waste. 
By capturing the diversity and beauty of Mexican food and street food vendors, Raúl challenges negative stereotypes that currently may exist around both of these cultures. At a time when street vendors are under constant policing and harassment, a book like ¡Vamos! is essential reading to expand young peoples' understanding of culinary practices and respect for those who make the food and for those who deliver it.
.
ABOUT THE AUTHOR-ILLUSTRATOR: (From his website) Raúl The Third is an award-winning illustrator, author, and artist living in Boston. His work centers around the contemporary Mexican-American experience and his memories of growing up in El Paso, Texas and Ciudad Juarez, Mexico.
Lowriders in Space was nominated for a Texas BlueBonnet award in 2016-2017 and Raúl was awarded the prestigious Pura Belpré Award for Illustration by the American Library Association for Lowriders to the Center of the Earth. He was also a contributor to the SpongeBob Comics series.
¡Vamos! Let's Go to The Market! is Raúl's first authorial project, which he wrote and illustrated, and is colored by Elaine Bay.
.
.
ABOUT THE REVIEWERS: Sonia Alejandra Rodriguez, PhD is an Associate Professor of English at LaGuardia Community College (CUNY) where she teaches composition, literature, and creative writing. Her academic research focuses on decolonial healing in Latinx children's and young adult literature. Sonia is a Mellon Emerging Faculty Leader.
.
Ingrid Campos is a 19-year-old college student interested in Latinx Literature. After graduating from LaGuardia Community College (CUNY) this year with an associates in Writing and Literature, she will continue her studies at Queens College to earn her Bachelors in English Education 7-12 . Ingrid was born and raised in Queens, New York. As a Mexican-American living in Queens and graduating from the public school system, Ingrid is inspired to become a high school teacher. One of her main goals is to center academic curriculums around more diversity and inclusivity towards Black and Brown students.