.
We are an affiliate with Indiebound and Bookshop. If If you make a purchase through these links, at no additional cost to you, we will earn a small commission.
Review by Sanjuana Rodriguez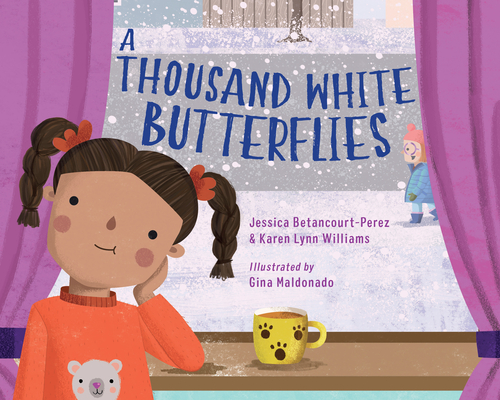 DESCRIPTION OF THE BOOK: Isabella recently immigrated from Colombia and is starting school midway through the year. But her first day is canceled due to snow, which looks like a thousand white butterflies as it falls. Being new to the United States is hard. Isabella misses Papa, and she's nervous about making new friends. But snow days are special days–and maybe there's a new friend waiting after all.
MY TWO CENTS: In the book A Thousand White Butterflies we meet a little girl named Isabella who has moved to the United States from Colombia. The book details her experience of moving to the U.S. while her dad stayed in Colombia. Isabella feels sad and misses her father. She is looking forward to the first day of school and sees it as an opportunity to make new friends. The next day, as she wakes up, she realizes that it is snowing outside and her first day of school in the U.S. will be cancelled. Isabella then sees a little girl playing outside and she decides to join her. Isabella and her new friend have fun playing in the snow, even though they are not able to understand each other.
This book is written for young readers and shares the immigration experiences through the eyes of a child. This book can teach children about the experience of feeling lonely and missing someone. The book is written in a simple way, but it does capture Isabella's big feelings of sadness, loneliness, and joy. There were two great things that stood out as I read the book. The book features an intergenerational relationship between Isabella and her abuelita. Her abuelita is actually the person who points out that the snow is white "everything is white, so white. Mariposa wings dance in the sky. It looks like a thousand white butterflies." I also like that there were words in Spanish that were used throughout the story and that these words were not followed by the direct translation of the words. The authors did provide a glossary at the end of the book for readers who are not bilingual.
The illustrations in the book are bright and colorful. The illustrations seem to fit the storyline and capture the complexity of Isabella's feelings. The illustrations also add to the storyline as they feature important items from Colombia such as the ruana and the sombrero vueltiao. The authors' note at the end of the book details how the authors met and also tell their own immigration stories. A section titled more info provides information about immigrants in the United States.
.
ABOUT THE AUTHORS: Jessica Betancourt-Perez is originally from Palmira, Colombia, and moved to the USA when she was 15 years old. She holds a bachelor's degree in Psychology from the University of Saint Joseph and a master's degree in School Psychology from Millersville University. She currently works as a school psychologist in a large suburban school district in York, Pennsylvania with children grades 4-6. She speaks English and Spanish fluently and has a passion for advocating for families and children in need. A Thousand White Butterflies is her debut picture book. Jessica lives in Pennsylvania with her family.
.
.
Karen Lynn Williams was born in Connecticut, and received her Master's degree in deaf education. She has lived in Africa and in Haiti. Karen had an early dream to be one of the youngest published authors, starting a writing club at ten. However, Karen's published works came later in life, after extensive travels and family experience. Karen's ability to draw from personal experience and adapt into writing forms for all ages and interests expresses her true gift.
.
.
.
ABOUT THE ILLUSTRATOR: Gina Maldonado is a Colombian illustrator and print designer based in Hong Kong. Her work is inspired by nature and she is passionate about creating colourful and charming illustrations for picture books, games and products for clients all around the world. Gina studied architecture and interior design in Colombia, Mexico, and Italy, but after working as an interior designer for a couple of years, she discovered that her real passion was illustration.
.
.
.
.
ABOUT THE REVIEWER: Sanjuana C. Rodriguez is an Assistant Professor of Literacy and Reading Education in the Elementary and Early Childhood Department at Kennesaw State University. Her research interests include the early literacy development of culturally and linguistically diverse students, early writing development, literacy development of students who are emergent bilinguals, and Latinx children's literature. She has published in journals such as Journal of Language and Literacy Education, Language Arts, and Language Arts Journal of Michigan.