Review by Mark Oshiro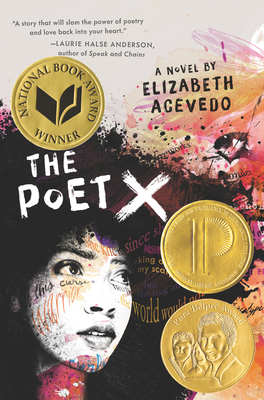 DESCRIPTION OF THE BOOK: Xiomara Batista feels unheard and unable to hide in her Harlem neighborhood. Ever since her body grew into curves, she has learned to let her fists and her fierceness do the talking.
But Xiomara has plenty she wants to say, and she pours all her frustration and passion onto the pages of a leather notebook, reciting the words to herself like prayers—especially after she catches feelings for a boy in her bio class named Aman, who her family can never know about.
With Mami's determination to force her daughter to obey the laws of the church, Xiomara understands that her thoughts are best kept to herself. So when she is invited to join her school's slam poetry club, she doesn't know how she could ever attend without her mami finding out. But she still can't stop thinking about performing her poems.
Because in the face of a world that may not want to hear her, Xiomara refuses to be silent.
MY TWO CENTS: I had a difficult childhood. I was queer and Latinx and stuck in a home with parents who did not understand either identity and certainly not the intersection of them. (I was adopted.) It meant that I felt that I existed in constant friction with them. That friction manifested in a deep, existential desire in me: I wanted acceptance. I wanted to live.
I found that same desire within the pages of The Poet X, Elizabeth Acevedo's masterful and gut-wrenching debut. Told in verse, I devoured this book in one sitting, only taking a break to wipe at the tears that welled in my eyes. Acevedo has crafted a living, breathing world in Xiomara, and you can tell that from the very first page. Her unique voice, coupled with an engaging story about acceptance, rebellion, and identity in this Dominican-American teen, makes The Poet X a powerful read.
There's nothing here I could nitpick, even if I tried. The pacing is brilliant, and my heart was racing as I approached the climax. Acevedo's prose, which is informed by her years of work in slam poetry, is vivid, lyrical, captivating. There were countless sentences or lines that knocked me flat on my ass, and you're certain to find one of your own. But it's the characterization that gripped me the most. I related so intensely to Xiomara's desire to live beyond the prescriptions of her mother's religion that at times, I felt that Acevedo had reached deep down into a well within me, extracting the pain, terror, and—ultimately—vindication I experienced when I clashed with my own parents about my sexuality, my body, and my need to be my own person. The supporting cast is well-rounded and memorable (particularly Xiomara's twin brother, Xavier, since I am also a twin), and they each affect the story in meaningful ways.
This is an astounding accomplishment, and I'm so thrilled that Dominican-Americans (and those who identify as Afro-Latinx) have a book that so brilliantly represents them. For fans of Jason Reynolds, Sandra Cisneros (particularly The House on Mango Street), and Liara Tamani's Calling My Name.
TEACHING TIPS: Another reason I admired The Poet X is because Acevedo so seamlessly addresses weighty topics with ease and care, and the book never feels like it's teaching you a lesson. The novel addresses issues such as sizeism, street harassment, homophobia, misogyny, sexual shame, and abuse, particularly when that abuse is paired with religion. Because the book is composed in verse that work like vignettes, it will be easy to assign essays or discussions based on specific poems. Acevedo's language is modern and youthful, so I expect teens will connect with it quicker than most other works.
WHERE TO GET IT: The Poet X released on Tuesday. To find it, check your local public library, your local bookstore, or IndieBound. Also, check out Goodreads, Amazon, and Barnes & Noble.
ABOUT THE AUTHOR (from her website): Elizabeth Acevedo was born and raised in New York City and her poetry is infused with Dominican bolero and her beloved city's tough grit.
She holds a BA in Performing Arts from The George Washington University and an MFA in Creative Writing from the University of Maryland. With over twelve years of performance experience, Acevedo has been a featured performer on BET and Mun2, as well as delivered several TED Talks. She has graced stages nationally and internationally including renowned venues such as The Lincoln Center, Madison Square Garden, the Kennedy Center of the Performing Arts, and South Africa's State Theatre, The Bozar in Brussels, and the National Library of Kosovo; she is also well known for  poetry videos, which have gone viral and been picked up by PBS, Latina Magazine, Cosmopolitan, and Upworthy.
Acevedo is a National Slam Champion, Beltway Grand Slam Champion, and the 2016 Women of the World Poetry Slam representative for Washington, D.C, where she lives and works.
Her poems have been published or are forthcoming in Puerto Del Sol, Callaloo, Poet Lore, The Notre Dame Review, and others. Acevedo is a Cave Canem Fellow, Cantomundo Fellow, and participant of the Callaloo Writer's Workshop. She is the author of the chapbook, Beastgirl & Other Origin Myths (YesYes Books, 2016)  and the forthcoming novel, The Poet X (HarperCollins, 2018).
ABOUT THE REVIEWER: Mark Oshiro is the Hugo-nominated writer of the online Mark Does Stuff universe (Mark Reads and Mark Watches), where he analyzes book and television series unspoiled. He was the nonfiction editor of Queers Destroy Science Fiction! and the co-editor of Speculative Fiction 2015. He is the President of the Con or Bust Board of Directors and is usually busy trying to fulfill his lifelong goal to pet every dog in the world. His YA Contemporary debut, Anger is a Gift, is out May 22, 2018 with Tor Teen.