Review by Maria Ramos-Chertok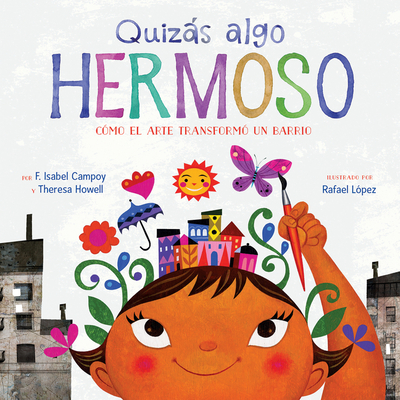 DESCRIPTION OF THE BOOK: Una edición en español lírica del aclamado e inspirador libro de cuentos ilustrados Quizás algo hermoso, ilustrado por el ganador de la medalla Pura Belpré, Rafael López.
Ganador del Premio Tomás Rivera
¿Qué pueden conseguir unas gotas de color en una comunidad gris? Viendo lo que Mira y sus vecinos descubren, ¡más de lo que nunca pudo imaginarse! Basado en una historia real, Quizás algo hermoso nos revela cómo el arte puede inspirar la transformación – y cómo incluso la más pequeña artista puede llegar a conseguir algo grande. ¡Toma un pincel y únete a la celebración!
A lyrical Spanish language edition of the acclaimed and inspiring picture book Maybe Something Beautiful, illustrated by Pura Belpré Medal winner Rafael López.
MY TWO CENTS: Quizás algo hermoso is hopeful and inspiring, not only because of its message, but because it is based on a true story.  In the book, we meet Mira, a young artist who uses colorful drawings to enliven her world and connect with people in her neighborhood.  When she meets a muralist in her community, her love of art takes on another dimension, and together they work to transform their surroundings by engaging in a collective art project.  Their desire to be inclusive shows their neighbors that artistic expression is accessible to anyone willing to pick up a paint brush. By doing so, they debunk the idea that the label "artist" should be reserved solely for those who pursue formal artistic training.   The permission to create, to unite for a common purpose, and to use beauty as a tool in community empowerment provide valuable motivation for readers imagining how to replicate this magical experience.
Aside from the message, readers will be delighted to know that the illustrator, Rafael López, is the muralist upon whom the story is based. López and his wife Candice, a graphic designer and community organizer, are the ones who envisioned this project in the East Village of San Diego, California. The illustrations are vivid, engaging, and inspiring. The art depicts a multiracial cast of characters, something I personally look for and value in picture books.
I've read both the English (2016) and Spanish (2018) versions of the book and thoroughly enjoyed both. I am thrilled that such a relevant and instructional book has been translated into Spanish because it allows the message to reach a wider audience.
TEACHING TIPS: At the most basic level, Quizás algo hermoso can be used to encourage children to engage in art by showing them that one does not have to be a self-identified artist to enjoy and benefit from an art project. Beyond that, the book can be used to introduce community-based art. Whenever possible, I would recommend bringing students on a field trip to view local murals. Part of that lesson might include a discussion about the value and purpose of engaging a neighborhood in such a project.
Aside from the uplifting aspects of the book, there is also a deeper layer to explore related to depressed communities – communities that are dilapidated and somber, like the one in which Mira lived. For students living in such an area, this could be a difficult conversation, but one that might give voice to some important discussions related to class, race, and community resources. There might also be an inquiry as to why pejorative words are sometimes used to describe communities (e.g., slums, ghettos) and how those words make people feel. I'd recommend this conversation for older students.
Teachers can also discuss the benefits of what happens when people come together to work on a common goal: meeting new people, talking to people you might not have otherwise spoken to, and seeing change happen. This could be an opportunity to have your class choose a group project and then have them journal throughout the process about what they are learning about themselves and others.
While the primary audience for this book is younger children, I see a benefit of using it with older children (through fifth grade), especially in bi-lingual classrooms and/or Spanish language classrooms.
ABOUT THE AUTHORS (from the book): Isabel Campoy is an author, anthologist, translator, and bilingual educator who has won many awards for her professional contributions. Her many accolades include ALA Notables, the San Francisco Library Award, the Reading the World Award from the University of San Francisco, the NABE Ramón Santiago Award, the International Latino Children's Book Award, and nine Junior Library Guild selections. She is a member of the North American Academy of Spanish Language. She lives in Northern California.
Theresa Howell is a children's book author and editor with many bilingual books to her credit. Mutually inspired by Rafael Lopez's efforts to transform communities through art, they combined their talents in the lyrical text of Maybe Something Beautiful. She lives in Colorado.
ABOUT THE ILLUSTRATOR: Rafael López is both the illustrator of this book and the inspiration for the character of the muralist. He was born and raised in Mexico, a place that has always influenced the vivid colors and shapes in his artwork. He now creates community-based mural projects around the world and illustrates award-winning children's books. Rafael López divides his time between Mexico and San Diego, California.
ABOUT THE REVIEWER: Maria Ramos-Chertok is a writer, workshop leader and coach who facilitates The Butterfly Series, a writing and creative arts workshop for women who want to explore what's next in their life journey. In December 2016, she won 1st place in the 2016 Intergenerational Story Contest for her piece, Family Recipes Should Never be Lost. Her work has appeared in the Apogee Journal, Entropy Magazine, and A Quiet Courage. Her piece Meet me by the River will be published in Deborah Santana's forthcoming anthology All the Women in my Family Sing (Jan 2018) http://nothingbutthetruth.com/all-the-women-in-my-family-sing/. She is a trainer with Rockwood Leadership Institute www.rockwoodleadership.organd a member of the Bay Area chapter of Write on Mamas. For more information, visit her website at www.mariaramoschertok.com