By Guadalupe Garcia McCall
Poetry is where I live. It is where I go when I am most wounded. Poetry is the place I hide when I am most vulnerable, but it is also the cloak I wrap around myself when I know I have to speak up because I have something important to say. Poetry gives voice to my fears. It allows me to express my concerns with bold and powerful words. I can say more with one line of poetry than I can with a paragraph because poetry lets me cut to the core.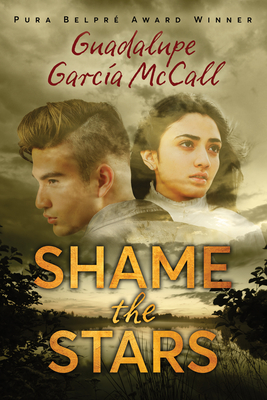 Poetry is my corazón, my coraje, my fuerza. So it came as no surprise to me that when the child of my heart, my beloved Joaquín del Toro, the embodiment of the men in my life, my courageous father, my brave husband, and my own three daring sons, first spoke to me, he spoke to me in verse.
The night I read Dr. Benjamin Johnson's book, Revolution in Texas, I heard Joaquín's voice for the first time. The first poem I wrote that night, among many others, was "Tejano," which is the poem that opens my third novel, Shame the Stars. It is a poem that speaks to the anger and frustration the people of south Texas must have felt as they watched their families and friends being subjugated, suppressed, and supplanted.
It also came as no surprise to me when the first draft of the original manuscript developed in verse. Poetry was the best way I could express myself as I tried to tell the story of Joaquín and Dulceña. It was the only way I could deal with the atrocities committed against our community the summer of 1915, when Texas lawmen declared war against Mexicans and Tejanos, summarily rounding up, lynching, and fusillading them without the benefit of legal proceedings, a dark time that is now referred to as La Matanza (The Slaughter).
As I did more research, the things I learned helped expand and shape the storyline. My editor at Tu Books, Stacy Whitman, believed Joaquín's voice was trying to break free of the constraints of the formatting. She was right about that. Poetry had created what my esteemed MFA professor at UTEP, Sasha Pimentel, calls "a very tight corset," which I think is appropriate for a reimagining of Romeo and Juliet, but which I have to admit, had become too restrictive for the novel.
As I revised Shame the Stars and Joaquín got wiser, as he became more outspoken, I had to cut him loose. Over a long period of months, I rewrote the entire novel-in-verse, turning the main narrative into prose. I let Joaquín breathe by allowing him access to the rest of the page. However, I just couldn't let his poetic heart go unheard. So I left Joaquín's most passionate poems intact and even created new, more rebellious poems to express his pain, his sorrow, his heartbreak.
I hope Joaquín's poems live on for many years to come. I hope they enlighten, embolden, and emphasize just how important our voices are and let everyone know we must stand up and speak up if we want to be heard.
Poetry can be beautiful. It can be lyrical and magical and romantic, and that's wonderful, but I hope my fans understand that poetry must also be strong and firm and sturdy if it is to bring us to light and to sight. A poem must have grit; it must push and shove and grind if it is going to propel us to change, to persist, to strive.
ABOUT THE AUTHOR: Guadalupe Garcia McCall is the author of Under the Mesquite (Lee & Low Books), a novel in verse. Under the Mesquite received the prestigious Pura Belpre Author Award, was a William C. Morris Finalist, received the Lee Bennett Hopkins/International Literacy Promising Poet Award, the Tomas Rivera Children's Book Award, and was included in Kirkus Review's Best Teen Books of 2011, among many other accolades. Her second novel, Summer of the Mariposas (Tu Books, an imprint of Lee & Low Books), won a Westchester Young Adult Fiction award, was a finalist for the Andre Norton Award for Young Adult Science Fiction and Fantasy, was included in the 2013 Amelia Bloomer Project List, the Texas Lone Star Reading List, and the 2012 School Library Journal's Best Books of the Year. Her poems for children have appeared in The Poetry Friday Anthology, The Poetry Friday Anthology for Middle School, and The Poetry Friday Anthology for Science. Ms. Garcia McCall was born in Piedras Negras, Coahuila, Mexico. She immigrated with her family to the United States when she was six years old and grew up in Eagle Pass, Texas (the setting of both her novels and most of her poems). She is currently a high school English teacher in San Antonio.