Review by Dora M. Guzmán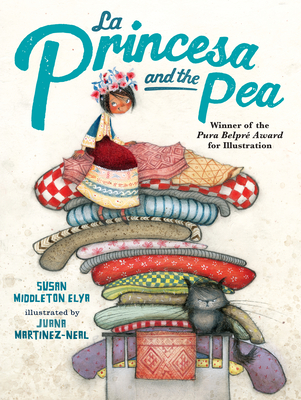 DESCRIPTION OF THE BOOK: The Princess and the Pea gets a fresh twist in this charming bilingual retelling. El principe knows this girl is the one for him, but, as usual, his mother doesn't agree. The queen has a secret test in mind to see if this girl is really a princesa. But the prince might just have a sneaky plan, too. Readers will be enchanted by this Latino twist on the classic story, and captivated by the vibrant art inspired by the culture of Peru.
MY TWO CENTS: In this beautifully illustrated book filled with rustic textures and warm colors comes a popular tale filled with humor and reminiscing of Latinx mother-son relationships. Readers are invited to join the quest as the queen and the prince (but mostly the queen) try to find his future wife. The queen's love for the prince is obvious, as she expects nothing but perfection for her son. The distinct comparison between the queen and her cat's facial expressions are priceless and bring to the reader's attention what else they have in common–cattiness and dominance. And rightly so; that's her hijito lindo. Then comes a fair maiden, ready to prove her love for the prince, as he also awaits her success in the queen's test. However, nobody is aware of this test besides the queen. The true test is if she feels the pea under twenty mattresses, then she's the one. Yes, TWENTY. VEINTE.
Will the maiden pass this impossible challenge? Will the prince be able to be with his one true love? Will the queen finally give her blessings to her son and his future wife?
If you grew up with a brother, you can totally relate to this mother-son relationship. The bond between mother and son is like no other, however this story will force you to reminisce about the times that your mom said, "Ay, mijito, let me warm your dinner" to your brother but then expected you to warm up your own dinner. Jealous? Maybe. As an adult reader, I couldn't help but chuckle at the realistic dialogue between the Queen and her Prince, as well as the perfectly paired facial expressions between the queen and her cat, which added to the character's moods. You can feel the prince's desire for love, but, at the same time, he wants to respect his mother's opinion.
This picture book's story line will keep you laughing, as it creatively tells the story of an unbreakable mother and son bond. I absolutely appreciate a picture book that can naturally weave in the Spanish language in dialogue and its narrative text without making it awkward for the reader. The Spanish vocabulary was also highlighted in a different text, to accent its beauty throughout the story. The words fit in a natural way of storytelling.
The illustrations were stunning. Upon reading the illustrator's note by Juana Martinez-Neal, readers discover that the illustrations are inspired by an indigenous group in Peru. The textiles and the culture's tradition of weaving and embroidery were inspirations for the illustrations and use of color. Martinez-Neal's attention to detail and inspiration for her illustrations are remarkable and admirable.
TEACHING TIPS: Teachers of all grade levels can use this picture book as a reading mentor text to highlight various character traits and motives, with a focus on the queen. Also, for our younger readers, this text can be used during a phonemic awareness lesson on rhyming words in English.
The inspiration behind the illustrator's choice of texture and color can also be used in an art lesson about artists and how cultures and traditions inspire their work.
WHERE TO GET IT: To find La Princesa and the Pea, check your local public library, your local bookstore, or IndieBound. Also, check out Goodreads, Amazon, and Barnes & Noble.
ABOUT THE AUTHOR: Susan Middleton Elya is a popular children's author with over 22 picture books. Her series Say Hola to Spanish and Eight Animals are distinct in how they introduce the Spanish language to all age groups. Susan's journey as an author started at a young age with a passion for writing. Her love of language led her to study Spanish and incorporate the Spanish language and her teacher experiences within her children's books.
ABOUT THE ILLUSTRATOR: Juana Martinez Neal is an award winning illustrator and artist. Her passion for art started as a child and led her to study at one of the best schools in fine arts in Peru. Her journey as an illustrator led her to the United States, where she continues to illustrate a variety of children's books. Alma and How She Got Her Name, her debut picture book as an author illustrator, will be published in both English and Spanish by Candlewick Press on April 10, 2018.
ABOUT THE REVIEWER: Dora M. Guzmán is a bilingual reading specialist for grades K-5 and also teaches college courses in Children's Literature and Teaching Beginning Literacy. She is currently a doctoral student with a major in Reading and Language. When she is not sharing her love of reading with her students, you can find her in the nearest library, bookstore, or online, finding more great reads to add to her never ending "to read" pile!