Reviewed by Jessica Walsh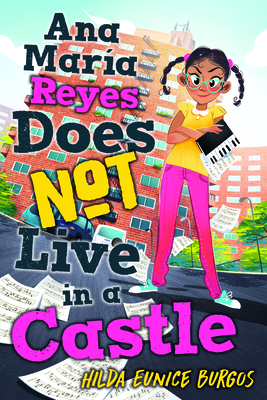 DESCRIPTION FROM THE PUBLISHER: Her last name may mean "kings," but Ana María Reyes REALLY does not live in a castle. Rather, she's stuck in a tiny apartment with two parents (way too loveydovey), three sisters (way too dramatic), everyone's friends (way too often), and a piano (which she never gets to practice). And when her parents announce a new baby is coming, that means they'll have even less time for Ana María.
Then she hears about the Eleanor School, New York City's best private academy. If Ana María can win a scholarship, she'll be able to get out of her Washington Heights neighborhood school and achieve the education she's longed for. To stand out, she'll need to nail her piano piece at the upcoming city showcase, which means she has to practice through her sisters' hijinks, the neighbors' visits, a family trip to the Dominican Republic . . . right up until the baby's birth! But some new friends and honest conversations help her figure out what truly matters, and know that she can succeed no matter what.
Ana María Reyes may not be royal, but she's certain to come out on top.
MY TWO CENTS: Ana María (Anamay to her family) is a 6th-grader, living in a two-bedroom apartment with Mami and Papi, her older sister Gracie (8th grade), and younger sisters Rosie (6) and Connie (3). With barely enough time and space to practice her beloved piano to prepare for her Lincoln Center performance, Anamay is less than excited when Mami and Papi announce that a new baby is expected to arrive in December.
It's no surprise that Ana María doesn't feel seen or appreciated at home until Tía Nona comes from the  Dominican Republic to visit. Tía Nona knows just how to make Anamay feel special with regular phone calls and praise for her piano-playing successes. When Tía Nona announces that she is getting married in the Dominican Republic, Papi quickly declares that they can't afford to pay for everyone to attend. But with a little convincing from Ana María, and a financial intervention from Tía Nona, the Reyes family soon finds themselves preparing for the big trip and the big day.
Tía Nona likes to have every comfort, and Ana María is no different. She feels like she connects best with Tía Nona out of everyone in her family…until they arrive in the Dominican Republic and everyone is witness to Tía Nona's cruel treatment of a young servant girl named Clarisa, whom Tía Nona calls "Cosita" (little thing). When Ana María sees Clarisa struggle to help her family eat, she gains a new perspective on her own privileges and life back home in New York…and a new perspective on Tía Nona.
As Ana María works to perfect her Lincoln Center recital piece, the lessons she learned in the Dominican Republic — about family, friendships, and what you're willing to put up with and what you're not — all lead Ana María to make some tough choices to make her dreams come true.
Ana María Reyes Does Not Live in a Castle has a lot of moving parts, each playing off the other to create a story with depth and heart, and Hilda Eunice Burgos weaves it all together like a master composer.
Lee & Low Books offers this Teacher's Guide for Ana María Reyes Does Not Live in a Castle.
ABOUT THE AUTHOR: Hilda Eunice Burgos has been writing for many years, but Ana María Reyes Does Not Live in a Castle is her first published novel. Her parents emigrated from the Dominican Republic before she was born, and she grew up in Washington Heights as one of four sisters. She now lives with her family near Philadelphia, where she works as an environmental lawyer. Please visit her website at hildaeuniceburgos.com.
Check out the Middle Grade Author Q&A she did with us: https://latinosinkidlit.wordpress.com/2018/10/22/spotlight-on-middle-grade-authors-part-7-hilda-eunice-burgos/
ABOUT THE REVIEWER: Jessica Walsh is a K-12 ELA Instructional Specialist from suburban Chicago. She has been a middle school teacher for twelve years. She holds degrees in Secondary English Education and Reading Instruction. She is a mom, an avid reader, and a strong advocate for equity in education. You can find her on Twitter at @storiestoldinsf.