The following book is a concept book around numbers in the Latinx culture. Readers who loved reading Green is a Chile Pepper and Round is a Tortilla will need to add this book to their collection!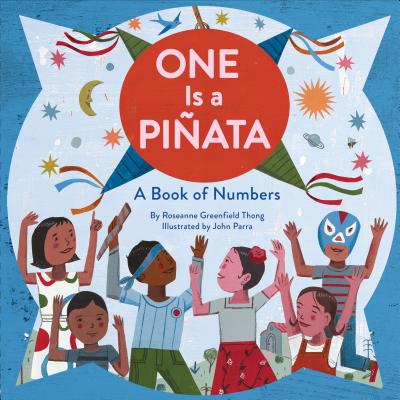 Review by Dora M. Guzmán
DESCRIPTION OF THE BOOK:
One is a rainbow.
One is a cake.
One is a piñata that's ready to break!
In this lively book, children discover a fiesta of numbers in the world around them, all the way from from one to ten: Two are maracas and cold ice creams, six are salsa and flavored aguas. With boisterous illustrations, a fun-to-read rhyming text, and an informative glossary, this vibrant book enumerates the joys of counting and the wonders all around!
MY TWO CENTS: This book takes you on a reminiscing journey of Latinx celebrations throughout the year. The cover reflects a diversity in ages, backgrounds, and interests that is clearly evident in all its illustrations and the use of English and Spanish words.
While the text is structured with rhyming phrases, the illustrations also open up opportunities for discussion and more counting of items that are culturally authentic to the Latinx culture. Spanish words are in bold, purposefully, so that readers can learn new words, engage with matching it to its bold illustrations, and count all at the same time! At the end of the picture book, a glossary includes the definitions of the included vocabulary in Spanish.
I absolutely love this entire collection and what it represents in the early childhood world, especially the Latinx diversity reflected in the text and John Parra's illustrations. I also appreciated the representation of the fruit truck and aguas frescas, because it is something I remember (and still love) fondly from my childhood.
Overall, a diverse addition to add to your primary concept library! I highly recommend this book as a read aloud at school and home and as an interactive text to use for students who are learning to count, especially for all students who need to see themselves and others represented in a beautiful way!
TEACHING TIPS: Many of these teaching moments can be implemented in a grades K-5 setting, with a focus on the primary grades.
Math mentor text for counting & identifying numbers in English and Spanish

Text introduces numbers
Illustrations leave ample room for readers to engage in finding and counting items

Lesson on phonemic awareness such as focusing on rhyming words
Focus on cultural celebrations and items that represent their own culture or are similar to their culture
ABOUT THE AUTHOR: Roseanne Greenfield Thong was born in Southern California where she currently teaches high school. She lived in Guatemala and Mexico where she studied Spanish and attended many fiestas with pinatas, aguas, and chocolate. She is the author of more than a dozen award-winning children's books, including Round is a Tortilla, Wish, 'Twas Nochebuena, Dia de Los Muertos, and Green is a Chile Pepper– a Pura Belpré Honor Book. Check out her website here!
ABOUT THE ILLUSTRATOR: John Parra is an award-winning illustrator, designer, teacher, and fine art painter whose work is avidly collected. John's books have received starred reviews and have appeared on the Texas Library Association's 2×2 Reading List. He has received the SCBWI Golden Kite Award for Illustration, the International Latino Book Award for Best Children's Book Illustrations, and a Pura Belpré Illustrator Honor for Gracias/Thanks, written by Pat Mora. Find out more about him on his website here!
ABOUT THE REVIEWER: Dora M. Guzmán is a bilingual reading specialist for grades K-5 and also teaches undergraduate and graduate courses in Children's Literature and Teaching Beginning Literacy. She is also a current doctoral student in NLU's  EDD Teaching and Learning Program with an emphasis on Reading, Language, and Literacy.  When she is not sharing her love of reading with her students, you can find her in the nearest library, bookstore, or online, finding more great reads to add to her never-ending "to read" pile!