By Cindy L. Rodriguez
This is the 14th in an occasional series about middle grade Latinx authors. We decided to shine a spotlight on middle grade writers and their novels because, often, they are "stuck in the middle"–sandwiched between and overlooked for picture books and young adult novels. The middle grades are a crucial time in child development socially, emotionally, and academically. The books that speak to these young readers tend to have lots of heart and great voices that capture all that is awkward and brilliant about that time.
Today, we highlight Ernesto Cisneros.
Ernesto Cisneros was born and raised in Santa Ana, California, where he still teaches. Efrén Divided is his first book. He holds an English degree from the University of California, Irvine; a teaching credential from California State University, Long Beach; as well as a master of fine arts in creative writing from National University. As an author, he believes in providing today's youth with an honest depiction of characters with whom they can identify. The real world is filled with amazing people with diverse backgrounds and perspectives. His work strives to reflect that. You can visit him online at www.ernestocisneros.com.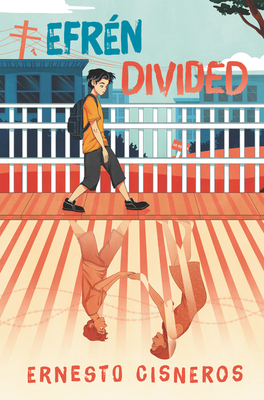 Here is the publisher's description:
Efrén Nava's Amá is his Superwoman—or Soperwoman, named after the delicious Mexican sopes his mother often prepares. Both Amá and Apá work hard all day to provide for the family, making sure Efrén and his younger siblings Max and Mía feel safe and loved.
But Efrén worries about his parents; although he's American-born, his parents are undocumented. His worst nightmare comes true one day when Amá doesn't return from work and is deported across the border to Tijuana, México.
Now more than ever, Efrén must channel his inner Soperboy to help take care of and try to reunite his family.
.
.
.
Ernesto Cisneros
Q. Who or what inspired you to become a writer?
A long, long time ago, during my senior year in high school, my teacher Sharon Saxton invited Helena Maria Miramontes to speak with our classroom about her anthology, The Moths and Other Short Stories. I was pleasantly surprised to find that someone else saw the world through a similar lens as me—same Latinx lens. Her story made me feel connected, grounded. This was the first time that the idea of being a writer ever entered my mind. It also served as my motivation for writing my first short story—which I am now turning into my very own YA novel, entitled: The Writing on the Wall.
Q. Why do you choose to write middle grade novels?
After giving up on a career writing screenplays, I decided to drop writing altogether and began teaching instead. The itch to write proved to be to powerful. I began writing short stories that served as prompts and writing samples for my students which they began to really enjoy. Before long, my students began pushing me to write. Eventually, I joined SCBWI and met a handful of individuals who helped me find my way.
Q. What are some of your favorite middle grade novels?
There so many fantastic middle grade novels out there, but the ones I turn to every time I need further encouragement are: Maniac Magee by Jerry Spinelli because of they way it deals with serious issues of race, running away, and mental health in a way that's accessible to young children. There's also Operation Frog Effect by Sarah Scheerger. I love the way she captures the voices of such diverse characters in an entertaining fashion—makes it all seem so effortless, although I know better.
Q. If you could give your middle-grade self some advice, what would it be?
My advice is to believe in myself and to value my heart. It is easily my most important asset I have because it definitely seeps its way into everything I write.
Q: Please finish this sentence: Middle grade novels are important because…
…they reach children while they are still at work shaping their views of the world. I feel that books can serve as moral compasses that can help instill morals, characters, and empathy—all things the world really needs.
Cindy L. Rodriguez was a newspaper reporter for The Hartford Courant and researcher at The Boston Globe before becoming a public school teacher. She is now a reading specialist at a Connecticut middle school. Cindy is a U.S.-born Latina of Puerto Rican and Brazilian descent. She has degrees from UConn and CCSU. Her debut contemporary YA novel is When Reason Breaks (Bloomsbury 2015). She also has an essay in Life Inside My Mind (Simon Pulse 2018) and wrote the text for Volleyball Ace, a Jake Maddox book (Capstone 2020). She can be found on Facebook, Twitter, and Goodreads